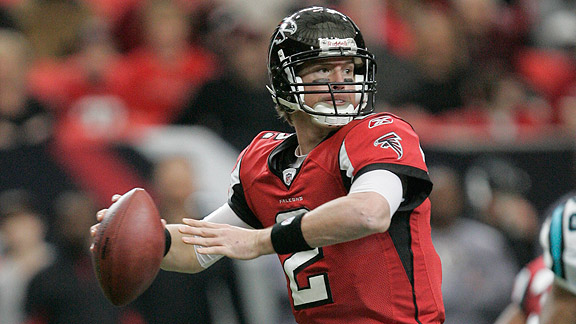 AP Photo/John Amis
JOHN CLAYTON QB RANKING (7)
: Matt Ryan has gotten the Falcons to the playoffs twice in his three seasons; Atlanta is hoping for some postseason wins in Year 4.
Expert Picks (Consensus: first)
The Falcons finished first in the NFC South last season with a 13-3 record. For more Falcons coverage, visit: Pat Yasinskas' NFC South blog ... on Twitter | Clubhouse | More predictions
ANALYST
PREDICTION
Pat
Yasinskas
ESPN.com

DIVISION FINISH: 2 Drafting Julio Jones and signing Ray Edwards show the Falcons believe they were only a few players away from contending for a Super Bowl title. They might be right, but I'm not picking the Falcons ahead of the Saints until they win a playoff game.
John
Clayton
ESPN.com

DIVISION FINISH: 1 "Matty Ice" Ryan could be on fire with the addition of powerful Julio Jones at wide receiver and a healthier Harry Douglas in the slot. This could be the Falcons' year.

Adam
Schefter
ESPN.com

DIVISION FINISH: 2 The Falcons lacked explosiveness last season; they added plenty of explosiveness this past offseason.
Jeffri
Chadiha
ESPN.com

DIVISION FINISH: 1 You have to like their potential on offense. You also have to wonder if they'll do a better job of pressuring quarterbacks this season.
Ashley
Fox
ESPN.com

DIVISION FINISH: 1 Matt Ryan enters his fourth year with monster expectations. He has gotten the Falcons to the playoffs twice. Now he needs to take the next step, and win a couple of playoff games.
Intelligence Report
Five things you need to know about the Falcons:
1. Julio Jones is going to be the real deal: The Falcons paid a hefty price to trade up for the rights to draft the receiver from Alabama. But this was a very well-researched decision. Last season's playoff loss to Green Bay showed the Falcons needed a receiver who could stretch the field and take some of the defensive attention away from Roddy White. Former starter Michael Jenkins was not a downfield threat and defenses knew that. Jones' speed means defenses have to account for him on every play. That's going to help White enormously, and Jones' presence is also going to have a trickle-down effect that will help quarterback Matt Ryan, tight end Tony Gonzalez and RB Michael Turner.
2. Harry Douglas will have a big year: The undersized wide receiver finally will get to enjoy a full season playing the position where he's best. That's slot receiver and Douglas can thank Jones for allowing that to happen. The Falcons wanted to use Douglas exclusively in the slot last year, but Jenkins was hurt early in the season. That forced Atlanta to play Douglas outside, where he's not nearly as effective. With White and Jones on the outside, Douglas should be able to get some favorable matchups against third corners, safeties or linebackers.
3. The gloves are coming off Ryan: His first three seasons have been very nice, but Ryan has yet to win a playoff game. That's something the Falcons are painfully aware of and all of their offensive moves this season were designed to help make him more dangerous. The lockout also might have been a blessing in disguise. It gave the coaching staff more time to evaluate its decisions and one of the realizations was it's time to allow Ryan to do more. The Falcons have openly admitted they're going to look to throw downfield more often and you also might see more of the no-huddle offense.
4. It all starts up front: The Falcons repeatedly used the word "explosive'' when they added Jones, but they also wanted to add an explosive player on defense. In their eyes, they did with the signing of defensive end Ray Edwards. They first made a run at Carolina's Charles Johnson, but backed off because the price was too high. Edwards has never been a dominant pass-rusher. His career high in sacks was 8.5 and that came while he was playing on a defensive line with Jared Allen, Pat Williams and Kevin Williams. Can he suddenly become a double-digit sack guy? Maybe, but that's not absolutely necessary. The Falcons simply want a decent pass-rusher to line up across from John Abraham. If Edwards can take a little blocking off Abraham, the Falcons would be happy if he produces somewhere around 8.5 sacks.
5. This finally might be Mike Smith's defense: It's a bit ironic that Smith is a coach with a defensive background, but he's never been able to fully play the aggressive style of defense he wants. In 2008, the team was focused on building an offense first. In 2009 and '10, some parts were added, but injuries got in the way of big results. Defensive tackle Peria Jerry, a first-round pick in 2009, and linebacker Sean Weatherspoon, last year's top pick, are healthy now and cornerback Dunta Robinson should have more passes thrown his way now that Brent Grimes is established as a solid starter. Smith might have the pieces now to truly play his style of defense.
-- Pat Yasinskas, ESPN.com
Inside The Numbers
The Falcons were anything but a big-play offense in 2010. Atlanta ranked last in pass plays of 30 or more yards with nine and tied for 12th in rushing plays of 20 or more yards with 12.
That lack of potency ultimately caught up to the top-seeded Falcons when they entered the locker room at halftime down by 14 to the Packers in the NFC divisional playoff round. Matt Ryan posted a passer rating of 106.0 in the second half but threw for 99 yards at only 6.2 yards per attempt. Despite trailing by as many as 28 points, Ryan attempted only two passes more than 20 yards downfield in the second half and neither was completed.
To address this issue, Atlanta selected Alabama wide receiver Julio Jones with the sixth overall pick. Jones averaged 14.8 yards per reception in three years at Alabama and has the size/speed combination to make things happen after the catch. He will join a receiving corps that lacked playmaking ability and ranked 30th in yards after catch per reception last season with 3.2.
With the Falcons' top playmakers approaching or well past 30 years old, Jones and change-of-pace back Jacquizz Rodgers will be called upon to add excitement to an already established offense. Rodgers, a fifth-round pick in April, accounted for 4,958 yards and 53 touchdowns in three years at Oregon State.
-- ESPN Stats & Information
Mel Kiper's Draft Class Watch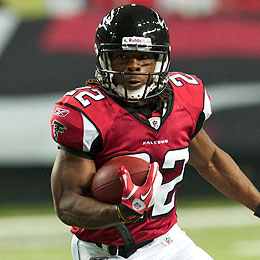 (Photo by Dale Zanine/US Presswire)
Jacquizz Rodgers: Third-down threat.
There has been no indication thus far that Atlanta expects anything less than stardom for No. 6 overall pick Julio Jones. You can understand that conviction given what the Falcons gave up to get him, and if you saw Jones at Alabama and have watched him thus far as a rookie in preseason, you'd be hard-pressed to disagree.
While Jones might not understand the nuances of route-running and the tricks to getting open as a true No. 1 wideout just yet, he already looks like a clear mismatch as a second option to Roddy White, which makes him more like option 1-A. He towers over corners, has the speed to demand a cushion, and even is a great edge blocker.
Another name to keep an eye on is Jacquizz Rodgers, the small but durable fifth-round pick from Oregon State who has a chance to catch a lot of passes and be a major threat on third down at running back. Rodgers' production at Oregon State was far better than his draft position, but he's one of those guys who will always have to win over the coaches.
-- Mel Kiper, ESPN NFL Draft Insider