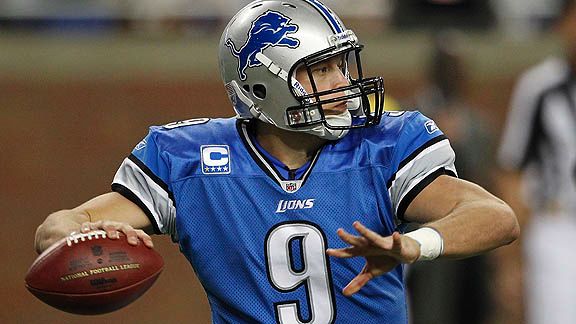 Leon Halip/Getty Images
JOHN CLAYTON QB RANKING (19)
: The Lions expect great things from Matthew Stafford, but they need to find a way to keep him on the field -- in two seasons, he has played only 13 games.
Expert Picks (Consensus: third)
The Lions finished third in the NFC North last season with a 6-10 record. For more Lions coverage, visit: Kevin Seifert's NFC North blog ... on Twitter | Clubhouse | More predictions
ANALYST
PREDICTION
Kevin
Seifert
ESPN.com

DIVISION FINISH: 2 I'm making the jump. Yes, the Lions had their share of injuries and aren't likely to get much from their draft class early on. However, I think they're ready to break through with an explosive offense and a defense that is going to cause a lot of trouble.
John
Clayton
ESPN.com

DIVISION FINISH: 3 Don't look back, Bears, because the Lions are catching up. If Matthew Stafford stays healthy, they could challenge for second place.

Adam
Schefter
ESPN.com

DIVISION FINISH: 2 If Matthew Stafford stays healthy all season, it's hard to see how the Lions wouldn't be competing for a playoff spot.
Jeffri
Chadiha
ESPN.com

DIVISION FINISH: 4 Another team that could be a sleeper. A lot depends on whether Matthew Stafford can stay healthy for an entire season.
Ashley
Fox
ESPN.com

DIVISION FINISH: 3 The Lions are taking baby steps, and should be better than last season's 6-10 team. A lot will depend on whether Matthew Stafford can stay on the field.
Intelligence Report
Five things you need to know about the Lions:
1. Matthew Stafford is primed and ready: Fully recovered from offseason shoulder surgery and newly muscled to withstand the rigors of a full season, the Lions' quarterback was zipping the ball all over the place in training camp and the preseason. His third season in offensive coordinator Scott Linehan's system has made him a confident field general and a burgeoning leader. Stafford's injury history has been well-chronicled, but the Lions are confident that none of his past ailments represents a chronic condition but rather all were part of a simple run of bad luck.
2. The dynamic duo: By all accounts, Stafford and WR Calvin Johnson have developed the kind of on-field relationship that comes only with time and hard work. Stafford has learned that Johnson can consistently catch his passes, even when he does not appear to be open. Johnson, meanwhile, now trusts that Stafford will deliver him the ball on time and in a favored spot. If everyone stays healthy, the Stafford-Johnson duo will be fun for both Lions fans and fantasy football owners.
3. Waiting on the ground game: The Lions have surrounded Stafford with a number of big-play passing targets in Johnson, Nate Burleson, Tony Scheffler, Brandon Pettigrew and rookie Titus Young. But the strength of their running game fell into doubt after rookie Mikel Leshoure ruptured his Achilles tendon in training camp. It's not clear if second-year pro Jahvid Best is suited for a 250-carry season, but it was difficult to judge the depth behind him this summer. Veteran Maurice Morris was sidelined by a fractured hand but should offer a decent alternative, as will Jerome Harrison.
4. A balanced defense: The Lions have systematically repaired their talent-deficient defense over the past few years and significantly narrowed its holes. Their defensive line is among the best in the game, thanks to defensive tackle Ndamukong Suh and the impending arrival of rookie Nick Fairley, who fractured his foot in training camp. They now have three credible starting linebackers in Stephen Tulloch, Justin Durant and DeAndre Levy. And their secondary shouldn't be as porous as in recent seasons after the acquisition of veteran cornerback Eric Wright and the return of cornerback Chris Houston. It's still a work in progress, but the Lions finally can see the light at the end of the tunnel here.
5. The Suh factor: After 10 sacks last season, Suh spent the offseason building his marketing brand and could be the next big star in the NFL. Everything we saw in the preseason suggested his on-field performance will match his new name recognition. His hit on Bengals quarterback Andy Dalton, and subsequent $20,000 fine, was a reminder both of how much havoc he can wreak and how closely the NFL already is watching him. Playing next to Fairley and fellow DT Corey Williams, and with the Lions' talented defensive end duo of Kyle Vanden Bosch and Cliff Avril, Suh is primed for a national breakout season.
-- Kevin Seifert, ESPN.com
Inside The Numbers
Ndamukong Suh helped give the Lions one of the best interior pass rushes in the league last season. Suh had 10 sacks (most by an interior defensive lineman), including seven when the Lions rushed four or fewer pass-rushers. In 2009, Detroit recorded a sack once every 29.5 quarterback dropbacks in those situations, which was fifth-worst in the NFL. With the help of Suh, Detroit improved to a sack once every 14.9 dropbacks (fifth in the NFL) last season.
The addition of first-round pick Nick Fairley should bolster the pass rush even more, once he rehabs from his foot injury, but Detroit's "Silver Crush" has some work to do before becoming the next "Steel Curtain."
The Lions struggled to stop the run in 2010, especially on rushes up the middle. Only the Jaguars allowed more yards per rush up the middle last season than Detroit's 4.9 average, and no team allowed more touchdowns on such runs than the Lions' 11.
• When the Lions throw into the end zone, odds are Calvin Johnson will be the intended receiver. Last season, Johnson had 24 of the 48 end zone targets for the Lions and caught more balls (9) than the rest of his teammates combined (7).
• Lions receivers led the NFL in drops last season, letting 41 balls slip through their hands. Brandon Pettigrew led the team with nine drops, which was also most among all NFL tight ends.
-- ESPN Stats & Information
Mel Kiper's Draft Class Watch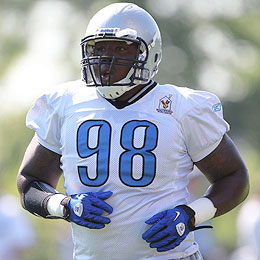 (Photo by Jonathan Daniel/Getty Images)
Nick Fairley: Another standout D-lineman.
Detroit's rookie class looked like a monster in terms of value on draft day, but the reality of the NFL is you get as much out of your draft class as possible only if everyone remains healthy.
A ruptured Achilles tendon has Mikel Leshoure, whom I expected to split carries with Jahvid Best and give the Lions a true power/speed balance in the backfield, out for the entire season. And while first-round steal Nick Fairley and third-round pick Titus Young have both faced injuries, each could be back soon, perhaps even by Week 1.
Fairley, a defensive tackle, makes an already fearsome defensive interior that much deeper, and look for defensive coordinator Gunther Cunningham to use Fairley in a rotation that will make the Lions difficult to handle up front late in games. Young, a wide receiver, should provide a good spark in the passing game, with work both behind Nate Burleson and potentially in the slot, and he also may be good in the return game. Young has great hands and can be elusive with the ball in space.
-- Mel Kiper, ESPN NFL Draft Insider