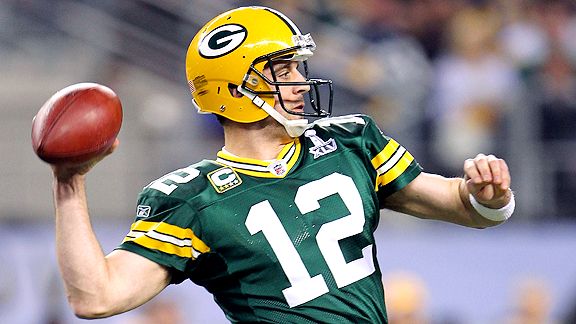 Jamie Squire/Getty Images
JOHN CLAYTON QB RANKING (2)
: Is there an MVP season (or two) in Aaron Rodgers' future? He has thrown for 86 touchdowns with only 31 interceptions over the past three seasons.
Expert Picks (Consensus: first)
The Packers finished second in the NFC North last season with a 10-6 record. For more Packers coverage, visit: Kevin Seifert's NFC North blog ... on Twitter | Clubhouse | More predictions
ANALYST
PREDICTION
Kevin
Seifert
ESPN.com

DIVISION FINISH: 1 The Packers have brought back most of the nucleus from the Super Bowl team and have multiple replacements for those who have departed. Led by one of the game's top QBs in Aaron Rodgers, they are poised for an extended period of success.
John
Clayton
ESPN.com

DIVISION FINISH: 1 While it's hard to repeat as Super Bowl winners, the Packers look like champions on paper. The roster is healthier and deeper than the one that beat Pittsburgh last season.

Adam
Schefter
ESPN.com

DIVISION FINISH: 1 If Rodgers stays healthy all season, it's hard to see how the Packers wouldn't be competing for a second straight title.
Jeffri
Chadiha
ESPN.com

DIVISION FINISH: 1 They won a Super Bowl with an assortment of key players on injured reserve. Imagine what they'll do when completely healthy.
Ashley
Fox
ESPN.com

DIVISION FINISH: 1 The Super Bowl champs lost a few players in free agency, but they got healthy in the offseason. Rodgers could be the league's MVP this season.
Intelligence Report
Five things you need to know about the Packers:
1. More firepower: With even with a moderate level of health this season, the Packers will have an embarrassment of riches at the skill positions. Tight end Jermichael Finley has returned from a knee injury to give the Packers a unique target who is as comfortable splitting out wide as he is lining up next to the left tackle. Receiver James Jones re-signed and is part of a group that also includes Greg Jennings, Donald Driver, Jordy Nelson and rookie Randall Cobb. Although Cobb was slowed by preseason injuries, he will eventually inject a new level of playmaking to the offense. Finally, rookie running back Alex Green appears to be an excellent receiver and open-field runner who will push hard to get playing time in an already-crowded backfield headed by veteran Ryan Grant and James Starks. Whew.
2. Backfield rotation: For the first time in coach Mike McCarthy's tenure, the Packers are in position to have a legitimate one-two (and perhaps one-two-three) punch in the backfield. Grant is back after an ankle injury cost him most of last season, and he doesn't appear to have lost any speed or quickness during the layoff. Starks' emergence in the playoffs all but guarantees him a prescribed role in 2011, and in the preseason both tailbacks worked with the first team. One or both could play on third downs as well, or the Packers could work Green into that role if he can get up to speed on blocking schemes.
3. Finley's career: In many ways, most of them exciting, Finley is entering the critical fourth season of his career. Finley has provided extensive glimpses of a superstar-in-waiting, but health issues have conspired to limit his time on the field. It's well documented that his rookie contract expires after this season, but the question of whether the Packers will re-sign him is far from answered. Offensive coaches and players believe they are a different team with him on the field, but if he has the kind of season they hope for, it will require a small fortune to bring him back. Hold on to your hats.
4. Defensive line in flux: The departure of defensive end Cullen Jenkins opened up a starting spot for Mike Neal, a second-round draft choice in 2010 who impressed the Packers with his strength and athleticism before shoulder surgery ended his season. A knee sprain slowed Neal's training camp progress, but the team maintains high hopes for him if he can get on the field. A three-man line of Neal, B.J. Raji and Ryan Pickett would give coordinator Dom Capers plenty of flexibility to utilize his unpredictable schemes. If Neal continues to have difficulty getting on the field, C.J. Wilson is another option. However, the Packers clearly favor Neal, and with good reason. He's a beast.
5. Kicking stability: After years of questions about place-kicker Mason Crosby and a revolving door of punters, the Packers have found a strong comfort level with their kicking duo. Crosby signed a five-year contract extension this summer, and Tim Masthay picked up in the preseason where he left off at the end of 2010. Masthay has established himself as an accurate punter, for lack of a better term, who can consistently place the ball in the corner, on the sideline or in some other place from which returns are difficult. His improvement last season, even as the weather worsened, was especially encouraging.
-- Kevin Seifert, ESPN.com
Inside The Numbers
The Packers were quiet in free agency, but the returns of Jermichael Finley and Ryan Grant could make Green Bay's offense even more potent.
Before his injury in Week 5, Finley was the Packers' top downfield threat. Through the first four weeks of the season, Finley led the team in receptions (9), yards (190) and first downs (9) on passes thrown 11 yards or more downfield. In Weeks 5-17, Packers tight ends combined to catch only four passes of that length, for a total of 92 yards.
Grant's return will give the running game more versatility. The Packers weren'ít able to run with as much success to the left or right once Grant went down in Week 1 last season. Over the past two years, Grant averaged 1.5 yards per rush more than all other Packers running backs on such runs.
James Starks was strong rushing up the middle, averaging 4.5 yards per rush in the regular season and postseason. On rushes to the left and right, however, Starks averaged just 3.4 yards per carry.
• It should come as no surprise that Aaron Rodgers lobbied for the return of James Jones, who led the Packers in targets, first downs and touchdowns on third down last season.
• Rodgers has been getting it done with his arm and his legs the past few seasons. Since 2008, Rodgers leads all quarterbacks with 854 scramble yards, 167 more yards than the next closest quarterback, Jason Campbell.
-- ESPN Stats & Information
Mel Kiper's Draft Class Watch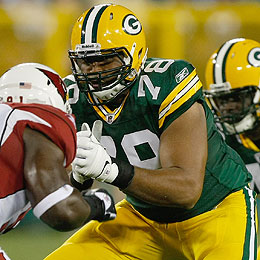 (Photo by Scott Boehm/Getty Images)
Derek Sherrod: A versatile lineman.
It's not easy to crack a loaded Super Bowl roster, much less the starting lineup, but Derek Sherrod appears capable of doing that for the Packers. A very good offensive tackle at Mississippi State, Sherrod could move inside to guard or see time at right tackle, giving the Packers more versatility. A Super Bowl win obscures what an adventure this offensive line was last year, and Sherrod's presence may help it regain some consistency. Getting the run game going will be a big priority.
Randall Cobb is another player I like, a shifty talent and converted quarterback. He looked good in the preseason, and to me is a prototype for the slot, causing matchup problems and using his quickness to turn short passes into big gains. Alex Green is also a very good player whom few got to see play at Hawaii. Packers fans are thrilled about the return of Ryan Grant, but Green could certainly work his way into the mix.
-- Mel Kiper, ESPN NFL Draft Insider