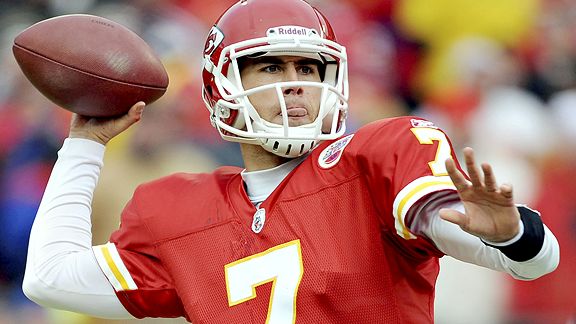 John Rieger/US Presswire
JOHN CLAYTON QB RANKING (15)
: Matt Cassel led the Chiefs back to the playoffs last season, but he may lack the big arm needed to advance the team further.
Expert Picks (Consensus: second)
The Chiefs finished first in the AFC West last season with a 10-6 record. For more Chiefs coverage, visit: Bill Williamson's AFC West blog ... on Twitter | Clubhouse | More predictions
ANALYST
PREDICTION
Bill
Williamson
ESPN.com

DIVISION FINISH: 2 The 2010 season was not a fluke. I think the Chiefs will be a wild card. If the Chargers slip, Kansas City could win the division. The schedule is tougher, but the offense has added Jon Baldwin and Steve Breaston and the defense should improve.
John
Clayton
ESPN.com

DIVISION FINISH: 2 The Chiefs surprised themselves by winning the division last season, but the schedule works against them. Regardless, a nine-win season would be respectable.

Adam
Schefter
ESPN.com

DIVISION FINISH: 2 With little fanfare, Scott Pioli and Todd Haley have cobbled together some good, young building blocks.
Jeffri
Chadiha
ESPN.com

DIVISION FINISH: 2 They've got more weapons in the passing game and more confidence after winning the division last season. A first-place schedule will bring them back to reality.
Ashley
Fox
ESPN.com

DIVISION FINISH: 3 The Chiefs have a potentially explosive offense, and Jamaal Charles is poised for a big year. But they play a brutal schedule. Can they make another postseason appearance?
Intelligence Report
Five things you need to know about the Chiefs:
1. Ready to air it out: The Chiefs' passing game excelled under former offensive coordinator Charlie Weis last season, and don't expect that to change now that Weis is at Florida. Offensive line coach Bill Muir has been promoted to offensive coordinator. Former Washington head coach Jim Zorn is the quarterback coach, and head coach Todd Haley will be involved in the passing game. Don't expect the Chiefs to shy away from throwing the ball. If you don't believe it, just look at two of their biggest offseason pickups -- receiver Jon Baldwin, their first-round pick, and free-agent slot receiver Steve Breaston.
2. It all starts with Jamaal Charles: The Chiefs are in fine shape at running back. They just signed fullback Le'Ron McClain, who runs the ball more than the typical fullback, and they still have veteran Thomas Jones. Those two will help keep pressure off star Jamaal Charles, who the team believes is most effective when he is fresh. Jones had 15 more carries than Charles last year. That will probably change because Charles is so explosive. According to the Football Scientist, KC Joyner, Charles is outstanding in his good blocking yards per attempt (GBYPA) metric. It gauges how productive a running back is when his blocking is effective. Charles had a 9.0 GBYPA last year, second best in the NFL.
3. Challenge will be stiffer in 2010: The Chiefs were a surprise division winner last year. They developed quickly and showed they are one of the NFL's most talented young teams. However, they benefited from an easy schedule. Kansas City played only two playoff teams in 2010. The schedule toughens this season. From Weeks 11 to 15, Kansas City plays five 2010 playoff teams, including the four teams that went to the conference championship games: Green Bay, Chicago, Pittsburgh and the New York Jets. The other 2010 playoff team in that mix is New England. Yes, it's brutal.
4. Varied weapons: Kansas City has a unique offense. No weapons are alike. The Chiefs will feature receivers Dwayne Bowe, Baldwin and Breaston. They all offer different things. Bowe is a classic No. 1 type. Baldwin is a big, vertical threat. Breaston is a chain-mover. Add field-stretching tight end Tony Moeaki and shifty running back/receiver Dexter McCluster, and the Chiefs will have many different schemes to keep defenses off balance.
5. Hali was not a one-hit wonder: Don't expect Tamba Hali to fade now that he got his big contract. The Chiefs recently gave Hali a five-year, $60 million deal with $35 million guaranteed. He is not a cash-grab type of player. He is very humble and is a hard worker. Expect Hali, who led the AFC with 14.5 sacks last season, to work even harder to live up to his big contract.
-- Bill Williamson, ESPN.com
Inside The Numbers
Matt Cassel had an impressive 2010 season, leading the Chiefs to a division title while throwing 27 TDs and only seven interceptions. Cassel's passer rating of 93.0 ranked eighth in the NFL.
In total QBR, however, Cassel ranked 16th among 33 qualified passers in 2010 with a 51.2 (average is 50.0). He ranked just behind Kerry Collins and just ahead of Ryan Fitzpatrick. Although Cassel's basic stats were impressive, the Chiefs' quarterback saw his performance dip in critical late-game situations, which are weighted more heavily in total QBR. He completed nine of 25 passes (36 percent) and was sacked three times in the fourth quarter when Kansas City was tied or trailing by a touchdown or less.
Cassel also did not do much to help the offense spread the field. He averaged just 8.0 air yards per pass attempt, which ranked 22nd among qualifying quarterbacks.
He made few mistakes, but they came at bad times. Of Cassel's seven interceptions, five came with the Chiefs tied or trailing by a touchdown or less.
• Dwayne Bowe led the league with 15 touchdown receptions, including eight of the team's nine touchdowns on throws 15 or more yards downfield last season. Bowe had 25 total receptions on throws of 15 or more yards; the rest of the team combined for 10.
• Tamba Hali finished second in the league in sacks with 14.5, including 9.5 when the Chiefs featured at least five defensive backs. Twenty-four of the Chiefs' 39 sacks came when they were playing at least five defensive backs.
-- ESPN Stats & Information
Mel Kiper's Draft Class Watch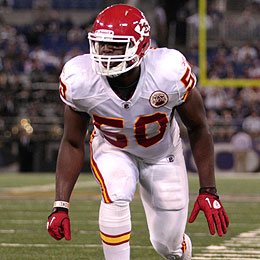 (Photo by Rob Carr/Getty Images)
Justin Houston: Pass-rush help.
Mike Vrabel is now coaching at Ohio State, and the Chiefs will be looking for more of a pass rush in their 3-4 defense. Enter Justin Houston, a first-round talent who fell all the way to Round 3 because of some baggage he brought with him. >
The Chiefs let rookies play early last year, but they have a little more depth in 2011, and after showing up to camp in poor shape, Houston has some work to do to prove to Todd Haley and Romeo Crennel that he's reliable. I do believe, however, that if they can get Houston playing to his potential and being responsible against the run, he could be an asset and a guy who will make his mark late this season.
First-round pick Jonathan Baldwin is off to a terrible start on and off the field, and it remains to be seen whether he can have the impact the Chiefs were counting on when they drafted him. He was a bit of a reach, I thought, but he was supposed to fill a specific need.
-- Mel Kiper, ESPN NFL Draft Insider