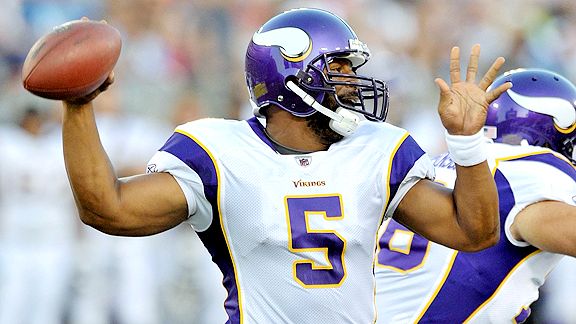 Jim Brown/US Presswire
JOHN CLAYTON QB RANKING (21):
Donovan McNabb's only season with the Redskins was far from a success -- he had 14 touchdowns, 15 interceptions and a 77.1 passer rating in 2010.
Expert Picks (Consensus: fourth)
The Vikings finished third in the NFC North last season with a 6-10 record. For more Vikings coverage, visit: Kevin Seifert's NFC North blog ... on Twitter | Clubhouse | More predictions
ANALYST
PREDICTION
Kevin
Seifert
ESPN.com

DIVISION FINISH: 4 The lockout came at a bad time for the Vikings, who have had to assimilate a new quarterback and install a new offense in short order. There are plenty of talented players on this team, but they're already in catch-up mode relative to the rest of the division.
John
Clayton
ESPN.com

DIVISION FINISH: 4 Donovan McNabb is now at the crossroads of his great career. It may be hard for him to make a playoff run, though, with no offseason to get to know his teammates and the problems the Vikings have had along the offensive line.

Adam
Schefter
ESPN.com

DIVISION FINISH: 4 With Brett Favre in Mississippi, the Vikings hand off their football team to Donovan McNabb, who has something to prove.
Jeffri
Chadiha
ESPN.com

DIVISION FINISH: 2 A lot of people think Donovan McNabb is done. I'm not one of them.
Ashley
Fox
ESPN.com

DIVISION FINISH: 4 Depending on how Donovan McNabb plays, the Vikings could surprise people. If McNabb struggles, Christian Ponder will be waiting.
Intelligence Report
Five things you need to know about the Vikings:
1. Crash course: For the first time in more than a decade, Donovan McNabb isn't playing in a West Coast scheme. Everything about what he's doing in Bill Musgrave's offense is different from what he grew accustomed to in Philadelphia and Washington during his career, from terminology to route structure to relationships with his receivers. The single biggest factor in the Vikings' success this season is how quickly McNabb can assimilate the scheme, find a comfort level and decide what he likes best. Musgrave will be flexible and is willing to tailor the scheme, but time is not on the Vikings' side. And, as McNabb well knows, first-round pick Christian Ponder is waiting in the wings.
2. Unsettled line: The Vikings opened camp by releasing longtime left tackle Bryant McKinnie, leaving a hole that could take years to fill. This year's stopgap is former Indianapolis Colts utility man Charlie Johnson, who is a gamer but probably not suited to go 16 games at such an important position. The Vikings might not have a better alternative, however. Meanwhile, right guard Anthony Herrera is still recovering from a torn anterior cruciate ligament and didn't get much practice time in training camp. The Vikings rotated a number of candidates through the position, but it's not totally clear how the position will shape up in the regular season.
3. Quick return: Cornerback Cedric Griffin has made a surprisingly smooth comeback from his second torn ACL, and by all accounts he appears ready to resume his role as a full-time starter. His return has been most welcome considering the shaky 2010 performances of young reserves Chris Cook and Asher Allen. Griffin will provide further stability for a defensive backfield that also includes veteran Pro Bowler Antoine Winfield.
4. Defensive line overhaul: Once upon a time, the Vikings had the top defensive line in the NFC North. However, they'll have at least two new starters in Week 1 this season after allowing defensive end Ray Edwards to depart via free agency and deciding against re-signing veteran nose tackle Pat Williams. Free-agent nose tackle Remi Ayodele will replace Williams and Brian Robison has the first chance at Edwards' job. Kevin Williams, meanwhile, is likely to miss two games at some point because of his long-awaited NFL suspension. Defensive end Jared Allen remains to provide elite pass rushing, but this group will have to prove itself once again.
5. All about Adrian: Given McNabb's steep learning curve and the uncertain state of the offensive line, expect running back Adrian Peterson to get as many touches as the Vikings can possibly hand to him this year. He is entering the final year of a contract that pays him $10.72 million and, barring a late-summer extension, Peterson will be on full display for anyone who might want to pursue him in free agency. It's hard to imagine the Vikings allowing Peterson to move on, but agreeing to a new long-term contract is a complicated matter at this point.
-- Kevin Seifert, ESPN.com
Inside The Numbers
If the Vikings are planning on spreading the field and using formations that feature three or more wide receivers, Donovan McNabb might not be the perfect quarterback for them. He struggled in those formations last season with the Redskins, completing only 58.1 percent of his passes but throwing nine of his 15 interceptions.
Although the Vikings had some bigger names in the receiving corps last season, their production was similar to the Redskins'. Minnesota receivers caught five more balls on six more targets, but averaged fewer yards per reception, had fewer first downs and recorded more drops.
• McNabb also struggled with his third-down passing last season, especially on passes thrown 10 yards or fewer. McNabb completed just 52.1 percent of his third-down passes from that distance with zero touchdowns, two interceptions and an average of 4.7 yards per attempt.
• Percy Harvin's contributions, in terms of total offense and number of touches, decreased over the course of games in 2010. In the fourth quarter last season, Harvin had 19 total touches (16 receptions, 3 rushes) and averaged only 9.7 yards per touch, compared with averages of 23.3 touches and 11.3 yards per touch through the first three quarters.
-- ESPN Stats & Information
Mel Kiper's Draft Class Watch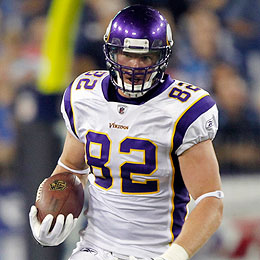 (Photo by AP Photo/Wade Payne)
Kyle Rudolph: Immediate threat.
Donovan McNabb loves to use tight ends, and when the Vikings use two-tight end sets expect a lot of catches for Kyle Rudolph, a second-round pick out of Notre Dame. At 6-foot-6, he can be a red zone post-up option early on, and diversify a passing offense that is pretty thin on the outside. Rarely do you see a rookie tight end come in and pile up the catches, but Rudolph could be a weapon because he's such a tough matchup.
While the Vikings don't figure to get a lot of help from the rookie class with quarterback Christian Ponder, the No. 12 overall pick, stored away on the bench in a developmental role, keep an eye on sixth-round pick DeMarcus Love. The blindside tackle for Ryan Mallett at Arkansas, Love fell far beyond where most expected him to be taken in the draft. With the skill set and proportions for either spot, Love could eventually develop into a starting right or left tackle.
-- Mel Kiper, ESPN NFL Draft Insider