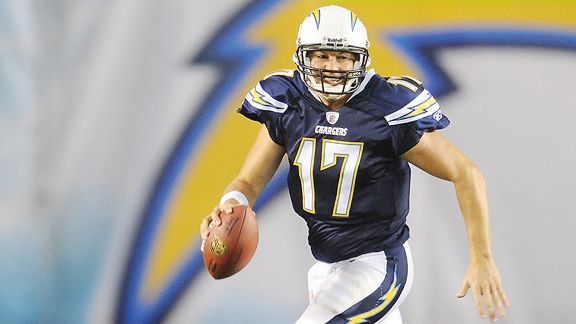 Jayne Kamin-Once/US Presswire
JOHN CLAYTON QB RANKING (6)
: Philip Rivers did not have his receiving corps at full strength most of last season. Look for him, and the Chargers, to rebound this season.
Expert Picks (Consensus: first)
The Chargers finished second in the AFC West last season with a 9-7 record. For more Chargers coverage, visit: Bill Williamson's AFC West blog ... on Twitter | Clubhouse | More predictions
ANALYST
PREDICTION
Bill
Williamson
ESPN.com

DIVISION FINISH: 1 This roster is loaded with key additions to the NFL's No. 1-ranked defense: safety Bob Sanders, linebacker Takeo Spikes and rookie defensive end Corey Liuget. The special-teams issues appear to be fixed. And they have quarterback Philip Rivers.
John
Clayton
ESPN.com

DIVISION FINISH: 1 The Chargers know the key to this season is getting off to a fast start. If they do, don't count them out for the Super Bowl.

Adam
Schefter
ESPN.com

DIVISION FINISH: 1 Slow starts and poor special-teams play have hurt the Chargers in recent seasons; hard to imagine they'll let that happen again.
Jeffri
Chadiha
ESPN.com

DIVISION FINISH: 1 Injuries and inconsistency ruined the Chargers' chances of maintaining their hold on the AFC West. If they can stay healthy, they'll be back on top.
Ashley
Fox
ESPN.com

DIVISION FINISH: 1 The Chargers are the most talented team in the division, but that was the case last year, too, and they got swept by the Raiders.
Intelligence Report
Five things you need to know about the Chargers:
1. Rivers is refreshed: This season ought to be easy for Philip Rivers. Last year, top receivers Vincent Jackson and Malcom Floyd and tight and Antonio Gates were on the field together for about a quarter of a game. Jackson held out much of the season. Floyd and Gates were hurt late in the season. By the end of the year, Rivers was throwing passes to street free agents. He threw to 17 different receivers. Yet Rivers managed to throw for a career-high 4,710 yards. Imagine what Rivers will do with a healthy receiving base.
2. The pass rush is on: KC Joyner, the Football Scientist, expects the Chargers to bring the heat this year. The Chargers had a very respectable 47 sacks last season. They have a chance for a lot more this season. Joyner said the Chargers' 2011 opponents allowed a combined 592 sacks last season. That total ranks as the seventh most in the league. Expect the Chargers to blitz often under aggressive new defensive coordinator Greg Manusky.
3. Tolbert will be a horse: Just because the Chargers plan to use second-year running back Ryan Mathews a lot, don't think sturdy tailback Mike Tolbert will be forgotten. The Chargers love this guy, and Mathews and Tolbert will both get a lot of carries. In fact, if Mathews' durability issues continue or if he is slow to develop, I could see Tolbert getting most of the carries. Coach Norv Turner completely trusts Tolbert and loves how hard he runs. Tolbert is a plus player in every facet of the Chargers' offense.
4. Liuget is legit: It's not often that the No. 1-ranked defense in the NFL adds a potentially dominant front-three player. That's exactly what the Chargers have done. They took Illinois defensive end Corey Liuget with the No. 18 pick. Liuget has been explosive, and he has been a playmaker in camp. He often gets into the offensive backfield. He is a humble player who is willing to learn. The Chargers can't wait to unleash him in their starting lineup, giving them a playmaker to pair next to standout nose tackle Antonio Garay.
5. Spikes and Sanders are on a mission: The Chargers added veteran safety Bob Sanders and veteran linebacker Takeo Spikes to their defense. For Sanders, it's a chance to show he can still be the player who won the NFL Defensive Player of the Year award in 2007. He has played a total of nine games in the past three seasons because of injury. He has been healthy this summer, and he looks like the old Sanders. This is Spikes' 14th NFL season. He has never been to the postseason. Spikes knows this year is his best chance, and his play this summer has been inspired.
--Bill Williamson, ESPN.com
Inside The Numbers
Although quarterback Philip Rivers finished with the most passing yardage in the NFL, the Chargers' most-targeted receiver, Malcom Floyd, caught just 49.3 percent of passes thrown in his direction. That was the fifth-worst mark in the league for players with at least 75 targets. When Floyd was targeted along the sidelines, his catch percentage was even lower, 35.7 percent (28 targets, 10 receptions), which left the Chargers with a questionable deep-threat option.
• For opponents trying to blitz Rivers, five defenders isn't going to cut it. When Rivers faced up to five pass-rushers, he completed 68.2 percent of his passes, threw 28 touchdowns and averaged 8.9 yards per attempt. He was less effective when he faced six or more pass-rushers, completing only 39.0 percent of his passes and averaging 6.5 yards per attempt.
• Chargers linebackers were dynamic in 2010 and were a big part of the reason the defense was second in the NFL in fewest yards per play (4.6). Chargers linebackers finished second in the NFL in sacks (31.5) and seventh in tackles for loss (28). And the San Diego linebackers finished in the top five in the league in interceptions (5) and passes defensed (15).
-- ESPN Stats & Information
Mel Kiper's Draft Class Watch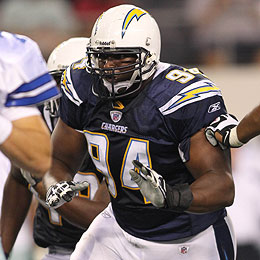 (Photo by Tim Heitman/ US Presswire)
Corey Liuget: Tough to run on.
The San Diego defense was very good in 2010, but the defensive line was depleted. Corey Liuget, a versatile rookie defensive lineman out of Illinois, should make the Chargers that much tougher to run on in 2011. Liuget plays with a great motor and should have his share of tackles for loss. The key with Liuget is his ability to play both the run and the pass. With this defense, getting up the field is key, but so is gap discipline.
Because the Chargers are thin at linebacker, I could see Jonas Mouton getting into the mix. Jordan Todman, who plays like a bigger version of Darren Sproles, looks like he could emerge as the designated change-of-pace back. He has the ability to be a home run hitter in the screen game.
-- Mel Kiper, ESPN NFL Draft Insider