Commentary
More good news for Pats, Packers
Mailbag: Is Cleveland making progress? Could Denver land Jones-Drew?
Originally Published:
August 27, 2012
By
John Clayton
| ESPN.com
What's amazing about having five rookie starting quarterbacks is the impact on the schedule.
QUESTIONS, PLEASE
Do you have a query for John Clayton?
Click here to send a note to his mailbag.
Ten quarterbacks taken in the past two drafts are now starting. The AFC South has three -- Andrew Luck in Indianapolis, Blaine Gabbert of the Jaguars and Jake Locker of the Titans. The AFC North has Brandon Weeden of the Browns and Andy Dalton of the Bengals. Russell Wilson won the Seahawks' starting job. Robert Griffin III is the Redskins' quarterback. Ryan Tannehill is undergoing his "Hard Knocks" in Miami. Christian Ponder is starting for the Vikings, and Cam Newton is entrenched in Carolina.
Knowing that first- and second-year quarterbacks often take two to four years to establish themselves, the benefactors of this youth movement are the AFC East and NFC North. Based on the schedule rotation, these divisions play the AFC South and NFC West, which feature four of the young quarterbacks -- Luck, Gabbert, Locker and Wilson.
I'm asked a lot how the Patriots and Packers ended up with the league's easiest schedules despite being No. 1 playoff seeds in 2011. That's because they drew eight games apiece against the AFC South and NFC West. Sure, the Texans and 49ers are formidable, but the other teams in those divisions remain full of questions.
Both New England and Green Bay also will have two games against young quarterbacks in their own divisions. The Pats face Tannehill twice, and the Packers draw Ponder twice.
The youth movement could help the Bills emerge as a potential wild-card team. They have seven games against young quarterbacks -- Tannehill twice, Gabbert, Luck, Locker, Wilson and Weeden. They also play Matt Cassel of the Kansas City Chiefs. The Jets, meanwhile, get a tougher call in non-common games, facing Ben Roethlisberger and Philip Rivers.
From the inbox
Q: This year's installment of the Browns feels much improved, doesn't it? I understand a lot of folks saying that the improvement might not show in the win column due to the brutal schedule, but this is a team on the rise, right?
Kovacs in Dallas
A: That was my opinion during my visit to Browns camp and having watched three preseason games. Compare the wide receiving corps for potential compared to what was there in the first year of the Eric Mangini administration. Greg Little, Josh Gordon and Travis Benjamin have great potential. There is more speed and athleticism. Brandon Weeden has more talent and potential at QB than Colt McCoy. In an offensive game, the team is moving in the right direction. But young offenses and inexperienced quarterbacks create turnovers. In a tough division and with a tough schedule, that's where the Browns will pay the price this year. The potential problem for the future is whether new owner Jimmy Haslam will make too many changes. I think the Browns are going in the right direction.
Short takes
Josh in Gallivare, Sweden wanted to make his push for more respect for 49ers quarterback Alex Smith. He concedes Smith might not be an elite quarterback, but he points out Smith did beat Drew Brees in the playoffs and went into overtime against Eli Manning. Good points. Smith's stock has risen considerable after so many bad years in San Francisco. He should be better this year. … Jay in Paris, France knows defensive coordinators have spent the offseason trying to scheme against the great offensive schemes in the league. He asks if there will be an offensive slump this year. I don't think so. The infusion of good, young quarterbacks over the past two years should keep offensive numbers going up. … Joe in Red Bank, N.J., wonders what Rex Ryan would do if Mark Sanchez suffers a season-ending injury. Would he go with Tim Tebow or Greg McElroy? Tebow, despite his throwing problems, is the backup. He gets the job. … Bill in Flemington, N.J., has a good one. He has watched the recent standout play of Dolphins LB Cameron Wake and Eagles DE Phillip Hunt and wonders if more teams will look to the CFL for players. Yes. There are about a handful of teams -- including the Eagles, Dolphins, Chargers, Seahawks and Vikings -- who bring in CFL prospects. There should be more. Wake became a star in Miami. Hunt looks promising in Philadelphia. The move to go back to more 4-3 defenses may get a few more teams on board to look at CFL pass-rushers. … Mark in Houston is puzzled why there is much talk about the Texans being Super Bowl contenders. Most people, including me, say the Texans will win the division. Once the Titans decided to go young at quarterback with Jake Locker, that adjusted my thinking on the Texans. I thought with their offseason personnel losses they would be a 10-win team. Now, I can see them winning 11 or 12. The Pats have the easiest schedule and Tom Brady, and most believe the road to the Super Bowl will be through Foxborough, which might be a tough place for the Texans to win. … Cal in Los Angeles hasn't heard any update on whether Marshawn Lynch will get a suspension for his DUI. I don't think he will. Only a conviction or a plae-bargain agreement will get him a suspension. The DUI policy is separate from player conduct until conviction. This is Lynch's first DUI accusation and he'll push the case until next year. … Tony in Plattsmouth, Neb., thinks the Giants' hazing of Prince Amukamara is ridiculous. He is angered Amukamara had no ability to stand up for himself. He thinks the league should look into it. You're right, but this happens all the time and will happen for many more years. Only a coach can stop it.
Q: Will the Jaguars end up trading Maurice Jones-Drew? If so, is there any way the Broncos would be interested?
Matt in Louisville, Colo.
A: Jaguars owner Shad Khan can't risk trading Jones-Drew. If Jacksonville trades him now and the team has a bad season -- which is very possible -- then more players would be inclined to ask for a trade. The other problem is value. It's hard to get more than a fourth-round draft choice in a trade for a running back. To get fair compensation for Jones-Drew, the Jaguars would need at least a first-rounder. That's not happening. As for Denver, the Broncos are pleased with Willis McGahee and Ronnie Hillman. They're good.
Q: With so many starting running back issues (Detroit, Pittsburgh, Jacksonville, etc.), do you see a major shift in philosophy from those teams, or will they look to bring in someone else to fill the void?
Don in Denver
A: I'm sure Detroit and Pittsburgh will be looking. I don't see a change in philosophy in Pittsburgh, because the Steelers feel as though they have enough backs to get by until Rashard Mendenhall is fully healthy. The Chargers feel the same way until Ryan Mathews is back. Jacksonville simply has to wait out MJD. I think the Lions need to shop. Their backs are coming off injuries, and they are all banged up. They need to look outside.
Q: Michael Vick left a preseason game early two weeks in a row. Taking into consideration his injury-ridden history, as well as the fact that the Eagles have so much invested in him, shouldn't Andy Reid take a page out of Bill Belichick's book and protect his players for as long as humanly possible? Vick has demonstrated time and time again that he isn't the best at protecting himself from unnecessary contact, so why isn't his coach protecting him until that contact becomes absolutely necessary?
Jonathan in Philadelphia
A: Reid and the offensive coaches offer as much protection as possible, but I think everyone has to understand Vick. He's a competitor. He's tough. He cares. But he's always going to get hurt. He doesn't have the body, but he has a big heart. He will sacrifice his body to make plays for his team. It's one of the things that makes him special. I'm sure he'd like to break tradition and have a 16-game season. If the Eagles can get 13 great games out of him, and win nine, they will make the playoffs. The key is keeping him healthy for the start of the playoffs.
Q: With the departure of Eric Winston and other offensive linemen from the Texans, will Arian Foster be able to keep up his productivity this season? If not, what will the impact be on the team, and how much does it affect any chance of a long playoff run?
Jacob in Houston
A: The Texans have a great blocking scheme, and they have two great backs -- Foster and Ben Tate. They were getting to the stage where they were probably going to replace Winston in the next couple years and opted instead to put money into the middle of the line with center Chris Myers and at left tackle with Duane Brown. With a tight salary cap, you can't pay everybody. There might be a slight drop-off running to the right, but I don't see any major drop-off for the running game as a whole.
Q: I am a Giants fan who is OK with Ahmad Bradshaw and trust in the team's selection of David Wilson, but I'm not a huge fan of D.J. Ware. How come the Giants have not looked into Ryan Grant, other than because of salary?
Rob in Rye Brook, N.Y.
A: Getting Wilson re-energizes the backfield and covers for any injury problem with Bradshaw. Ware is a good backup or No. 3 back. It would be hard for Grant emotionally to be a No. 3 back in that configuration. He'd rather be like Cedric Benson and wait for a team willing to give him first- or second-team options. It would be a bad strategic move for Grant to go to the Giants as a third-string insurance policy.
NFL senior writer
Senior NFL writer and commentator
Joined ESPN in 1995
Member of the writers' wing of the Pro Football Hall of Fame in Canton, Ohio
The NFL on ESPN.com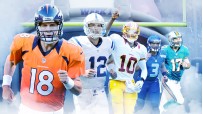 CLAYTON/FOX/SCHEFTER
MONDAY NIGHT FOOTBALL
WEEK 1 PICKS
BOUNTY BANS OVERTURNED
FINAL WORD
2013 NFL DRAFT
MORE NFL COVERAGE


MOST SENT STORIES ON ESPN.COM