Brace Hemmelgarn/US Presswire
JOHN CLAYTON QB RANKING (1)
: Aaron Rodgers was an easy choice for MVP in 2011 (4,643 passing yards, 45 TDs). He has a 131-37 TD-INT ratio in four years as the Packers' starter.
Expert Picks (Consensus: first)
The Packers finished first in the NFC North last season with a 15-1 record. For more coverage, visit: ESPN.com's NFC North blog … on Twitter | Clubhouse | More predictions
ANALYST
PREDICTION
Kevin
Seifert
ESPN.com

DIVISION FINISH: 1 They have the NFL's best player in QB Aaron Rodgers, an O-line that is coming of age and a defense that has been injected with youth and attitude. No team is perfect, but the Packers have the fewest problems and the most impressive attributes in the division.
John
Clayton
ESPN.com

DIVISION FINISH: 1 Coordinator Dom Capers is incorporating six rookie draft choices into a defense that was carved up last year. Speaking of carving up, Aaron Rodgers faces the league's second-easiest schedule. The Packers should be the No. 1 seed in the NFC.

Adam
Schefter
ESPN.com

DIVISION FINISH: 1 With an improved defense, this team simply is loaded and the NFC favorite.
Jeffri
Chadiha
ESPN.com

DIVISION FINISH: 1 They were the most dominant team in the league until the Giants upset them in last year's playoffs. They'll need to improve their defense to avoid a similar disappointment this season.
Ashley
Fox
ESPN.com

DIVISION FINISH: 1 This will be one of a handful of Super Bowl front-runners. The quarterback is quite good. Will the defense be?
Intelligence Report
Five things you need to know about the Packers:
1. Rodgers factor: No matter what else is happening around them, the Packers can take solace in knowing they have the NFL's best player on their team. Quarterback Aaron Rodgers, the reigning MVP, is 28 and entering the prime of his career. Everything the Packers are doing revolves around maximizing their window with him behind center. One way that has manifested itself: General manager Ted Thompson dipped several times into the free-agency waters to find immediate help from players he previously would not have considered adding to his draft-and-development program, from center Jeff Saturday to tailback Cedric Benson.
2. Running game: The Packers took a calculated risk in counting on James Starks as their primary tailback entering training camp. Starks has never been able to stay healthy dating to his college career, and a turf toe injury in the first week of the preseason set in motion a series of events that brought Benson to the roster. It wouldn't be surprising if Benson were the Packers' leading rusher in 2012. The Packers aren't about to rebalance their offense away from the passing game, but they had hoped to get more explosive plays from their running game. Benson is a good runner, but he doesn't bring a high threat to routinely break the line of scrimmage.
3. Line consistency: For the first time since Mike McCarthy became the head coach, the Packers opened training camp with their offensive line set. There were no competitions, and the Packers have combined a nice mix of experience and youth. Guards Josh Sitton and T.J. Lang, along with right tackle Bryan Bulaga, are long-term starters. Left tackle Marshall Newhouse is on his way toward becoming the same. An early-summer concussion, however, made clear the Packers don't have much in the way of depth behind Newhouse -- a scary proposition for securing Rodgers' safety.
4. Pass-rush elevation: Linebacker Clay Matthews declared midway through camp that the pass rush was back to 2010 standards after a concerted effort to add juice through new players. Two rookies, linebacker Nick Perry and defensive lineman Jerel Worthy, are among the players the Packers hope will help reach that goal. Overall, the Packers' defense will probably use four rookies in its rotation -- Perry, Worthy, cornerback Casey Hayward and safety Jerron McMillian -- at some point this season.
5. Woodson's role: After much offseason consternation, we learned that future Hall of Famer Charles Woodson will probably spend 25-30 percent of his time as a safety this season and the rest as a nickel cornerback. The move will give the Packers an extra cover man when they are in their base defense but isn't a dramatic change from what we've seen in recent years.
-- Kevin Seifert, ESPN.com
Inside The Numbers
Ever since his nine-reception, 140-yard breakout performance in Super Bowl XLV, Jordy Nelson has been a favorite target of Aaron Rodgers. In 2011, the duo flashed big-play production, especially after Greg Jennings' Week 15 injury. Nelson had 17 catches for 306 yards in the last three games of the season.
Nelson, whose rookie year was Rodgers' first as starter, has developed a strong chemistry with his quarterback. When Rodgers targeted Nelson last season, the pass was completed 75.6 percent of the time. Among quarterback-wide receiver duos with 50 attempts, only two tandems were better (Christian Ponder-Percy Harvin, Drew Brees-Marques Colston).
Nelson was Rodgers' favorite target on deep throws last season as well, with the QB targeting Nelson on 17 throws more than 20 air yards downfield. Rodgers was 13-of-17 (76.5 percent) when targeting Nelson, but completed just 50 percent of his attempts (17-of-34) to all other Packers receivers.
• Including playoffs, James Starks averaged a 20-plus-yard run once every 23.2 rushes, the eighth-best rate among running backs with 100 rushes last season. The rest of the Packers had two 20-plus-yard runs on 195 rushes.
• The Packers averaged a sack once every 34.3 drop backs when rushing four or fewer defenders last season, the third-worst rate in the NFL. The league average on such pass rushes was a sack once every 18.8 drop backs.
-- ESPN Stats & Information
ESPN The Mag: Insider's View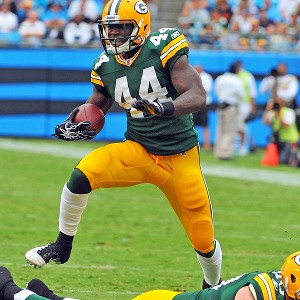 (Photo by Al Messerschmidt/Getty Images )
James Starks: Best of mediocre bunch.
Best Unit: Wide receivers/tight ends
Greg Jennings is the No. 5 WR in our Big Book, and Nelson would excel in any system with his large catch radius and deep speed. TE Jermichael Finley was plagued by drops last season, but his unspoken value is in the room he creates for the other receivers. Slot receiver Randall Cobb has big-play ability and elevates an already deep group. And we haven't even mentioned Donald Driver and James Jones. Frightening.
Worst Unit: Running backs
Understandably, Packers opponents shade toward stopping the pass. Even so, the Pack struggle with a pedestrian run game. James Starks has no special qualities but is still a step ahead of 2011 third-rounder Alex Green, who was derailed last October by an ACL tear. Look for Cedric Benson to spur competition.
-- Gary Horton
• AccuScore projects every team, every game