AP Photo/John Raoux
JOHN CLAYTON QB RANKING (32)
: Playing behind a shaky O-line and throwing to a suspect group of receivers, Blaine Gabbert had a rough rookie season in 2011 (40 sacks, 50.8 completion percentage).
Expert Picks (Consensus: third)
The Jaguars finished third in the AFC South last season with a 5-11 record. For more coverage, visit: ESPN.com's AFC South blog … on Twitter | Clubhouse | More predictions
ANALYST
PREDICTION
Paul
Kuharsky
ESPN.com

DIVISION FINISH: 3 The strength of this defense can be vastly underestimated, especially if the line can provide more of a pass rush. If Blaine Gabbert can play like an average quarterback or better on most Sundays, I believe the Jaguars can surprise.
John
Clayton
ESPN.com

DIVISION FINISH: 3 Blaine Gabbert is looking better at quarterback now that he's surrounded by legitimate wide receivers. Maurice Jones-Drew ending his holdout helps.

Adam
Schefter
ESPN.com

DIVISION FINISH: 4 So much hope pinned on Blaine Gabbert; he needs to improve dramatically -- or it's trouble.
Jeffri
Chadiha
ESPN.com

DIVISION FINISH: 3 New coach Mike Mularkey can rely on a promising defense and Pro Bowl RB Maurice Jones-Drew. The same can't be said about second-year QB Blaine Gabbert.
Ashley
Fox
ESPN.com

DIVISION FINISH: 3 Now that Maurice Jones-Drew has finally ended his holdout, he'll have to show he's in top form fast. Rashad Jennings has made an impression. Just saying.
Intelligence Report
Five things you need to know about the Jaguars:
1. Blaine Gabbert's gains: The quarterback has made steady progress, and he's far more comfortable in his second season. He's got better coaching and better weapons, and those will be a giant help. But the protection could be a continuing issue, as the starting line needs to improve, and the depth is very questionable. He did well to shrug off the pointed criticisms resulting from his terrible rookie year and knows that plenty of good quarterbacks struggled as rookies. The entire franchise is working to have Gabbert succeed, and that unflinching support has him feeling confident.
2. They won their standoff with Maurice Jones-Drew: His 38-day holdout ended Sunday and he didn't get even a hint of the new deal he wanted. I expect the Jaguars to be fair when deals expire -- they certainly were with defensive end Jeremy Mincey. But they didn't flinch when their best player took an unreasonable stance with two years left on his contract. In fact, I think they did some good team-building and showed faith in the rest of their roster by not showing any inclination to fold. Jones-Drew needs to get up to speed in a hurry now that he's finally face-to-face with Mike Mularkey and his staff.
3. There are outside options: The Jaguars threatened no one on the outside last season with a super-weak crew of receivers who were not well-coached. The additions of Justin Blackmon and Laurent Robinson fix that. They'll be able to make plays on the outside, stretch the field and gain chunks of yardage after the catch. As they force defenses to play the entire field, they'll open things up for whoever is running the ball and inside receivers such as tight end Marcedes Lewis and slot receiver Mike Thomas, if he recovers from a lousy 2011 and preseason.
4. A coordinated pass rush: The buzzword among the Jaguars' pass-rushers this offseason has been coordination. If the guys chasing quarterbacks have a better sense of what their teammates are doing, they'll be able to help each other be more productive. Jeremy Mincey was re-signed and is an effective, high-energy rusher. They need to play him a little less. Second-round pick Andre Branch is the new element here, and he brings great speed and cornering ability as the other starter.
5. Field position: The team stirred controversy with a third-round selection of punter Bryan Anger. He can certainly boom it, and punting problems cost the Jaguars in a big way during a few games last season. But Anger will have to consistently pin opponents inside the 20-yard line and force fair catches to begin to justify the pick, especially if the team's lack of depth at another spot is exposed by an injury.
-- Paul Kuharsky, ESPN.com
Inside The Numbers
As the Jaguars look to improve from last season's 5-11 record, their passing game will need to improve. The Jaguars were 31st in the NFL in touchdown passes and 32nd in both total offense and passing yards.
Jacksonville's offensive struggles stemmed from quarterback Blaine Gabbert, who struggled as a rookie. Among 34 qualifying quarterbacks in 2011, Gabbert ranked last with a 20.5 Total QBR. Additionally, Gabbert was the only quarterback in the NFL to have three games with a Total QBR of less than 10.
• In an effort to improve their passing game, the Jaguars used the fifth pick in the draft to select wide receiver Justin Blackmon. In his final two seasons at Oklahoma State, Blackmon compiled 232 receptions for 3,304 yards and 38 touchdowns. Blackmon also excelled in the red zone, catching 30 of 36 passes thrown to him last season, including 12 touchdowns. He also has 20 red zone touchdown catches since the beginning of 2010, most of any FBS player.
• The Jaguars also signed free-agent wide receiver Laurent Robinson, who established career highs in receiving yards (858) and touchdowns (11) last season with the Dallas Cowboys. Robinson caught all seven end zone targets thrown his way last year, the only player with a perfect reception percentage among players with more than two targets.
-- ESPN Stats & Information
ESPN The Mag: Insider's View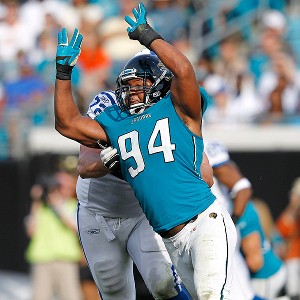 (Photo by Joe Robbins/Getty Images )
Jeremy Mincey: DE needs help.
Best Unit: Running backs
A healthy dose of Maurice Jones-Drew is what new head coach Mike Mularkey plans to give opposing defenses. A true every-down back, Jones-Drew is an excellent zone scheme runner with one-cut-and-go techniques. The Jags will even throw in some stretch plays to get him outside. Their best chance to be effective is in two-back sets with lead FB Greg Jones, keeping pressure off young QB Blaine Gabbert.
Worst Unit: Defensive line
The Jags sorely lack impact players up front. The key is at tackle, where Terrance Knighton and Tyson Alualu haven't been disruptive enough to help the outside rush. DE Jeremy Mincey's eight sacks surprised in 2011, but rookie Andre Branch will need to provide a major boost on the other edge.
-- Gary Horton
• AccuScore projects every team, every game