Jamie Squire/Getty Images
JOHN CLAYTON QB RANKING (20)
: Matt Cassel, whose 2011 season was cut short by a hand injury, has plenty of weapons at his disposal in Kansas City.
Expert Picks (Consensus: third)
The Chiefs finished fourth in the AFC West last season with a 7-9 record. For more coverage, visit: ESPN.com's AFC West blog … on Twitter | Clubhouse | More predictions
ANALYST
PREDICTION
Bill
Williamson
ESPN.com

DIVISION FINISH: 1 This may be a bit of a surprise, but I think this roster is the deepest in the division. If Matt Cassel can manage the offense, I see the Chiefs making a deep playoff run.
John
Clayton
ESPN.com

DIVISION FINISH: 3 With the offense healthy and Dwayne Bowe ending his holdout, the Chiefs have looked impressive in the preseason. The key to the season is how Cassel handles the offense.

Adam
Schefter
ESPN.com

DIVISION FINISH: 3 Enough talent to win the division, but the Chiefs have more quarterback questions than any AFC West team.
Jeffri
Chadiha
ESPN.com

DIVISION FINISH: 2 Kansas City will be better if it can avoid the devastating injuries that wrecked it last season. The Chiefs' ability to challenge for the AFC West will come down to how well Cassel and a promising defense play.
Ashley
Fox
ESPN.com

DIVISION FINISH: 2 This team is as deep as any in the league, but the Chiefs will need Cassel to improve his 59.5 completion percentage of last season.
Intelligence Report
Five things you need to know about the Chiefs:
1. Pick your poison: I know everyone is worried about Cassel. But he has a ton to work with. The Chiefs' offense is loaded. Bowe is back after sitting out all of camp, second-year receiver Jon Baldwin can be great, Steve Breaston is solid, and young receivers Dexter McCluster and Devon Wylie will get slot opportunities. Tight ends Tony Moeaki and Kevin Boss will give defenses fits and running backs Jamaal Charles and Peyton Hillis will keep defenses honest. Cassel doesn't have to be great. He just has to spread the ball to all his weapons.
2. Belief in leadership: There was little chance Romeo Crennel wasn't going to be promoted from interim coach to permanent coach in the offseason. Crennel's players love him. They love his calm personality, they love that he cares about them, they love that he is a proven NFL winner and they love that he treats them like men and he trusts them. This is a pretty happy place to be around these days.
3. Baldwin will be unleashed: The Chiefs are going to give Baldwin a chance to have a big season. He has been a training camp and offseason star, and he definitely benefited from the lack of Bowe at camp. But Baldwin will get his cracks in the regular season with Bowe around. Baldwin is an athletic freak who can make the spectacular catch look silly easy. He is a big threat in the deep game. He will be fun to watch.
4. Back end of defense key: The Chiefs' secondary has a chance to be stellar. Safety Eric Berry, who was a star as a rookie in 2010-11, is back after tearing an ACL in Week 1 last year. Fellow safety Kendrick Lewis is an underrated young player, and cornerbacks Brandon Flowers and Stanford Routt are a stout pairing. There is plenty of depth in the secondary, starting with cornerback Jalil Brown. This unit has a chance to be tremendous.
5. Poe no instant savior: The Chiefs took Memphis' Poe with the No. 11 overall pick because the athletic nose tackle fills one of their last needs. He will get a chance to play as a rookie, but don't expect him to instantly become one of the team's best defensive players. He is going to be a work in progress. Playing nose tackle is one of the more difficult assignments on the field, and Poe will have an adjustment period. The Chiefs just want to see him blend into the defensive line and give a full effort as a rookie. The dominance can come later.
-- Bill Williamson, ESPN.com
Inside The Numbers
Cassel may have taken a step backward last season after leading the Chiefs to a 10-6 record in 2010-11. Cassel completed 59.5 percent of his passes with a plus-1 touchdown-to-interception differential last year after a plus-20 differential in 2010-11. The Chiefs were 4-5 in games started by Cassel last season.
Cassel ranked 20th in the NFL among qualified QBs with a 48.8 Total QBR last season, a dip from his 50.9 rating in 2010-11 and 60.9 rating in 2008-09 with the Patriots. Cassel struggled most throwing downfield, throwing three times as many interceptions (six) as touchdowns (two) on throws of 15-plus air yards last season. He had a paltry 35.9 completion percentage on such throws.
• Bowe had seven drops on passes intended for him last year, and Chiefs quarterbacks were intercepted seven times when targeting Bowe. The 14 combined drops and interceptions were tied for the second-most in the NFL. Baldwin was not much better, dropping 12 percent of his targets, worst in the NFL among players with 50 targets.
• The Chiefs' rushing game should get a boost from the return of Jamaal Charles and signing of Peyton Hillis. Last season, Kansas City averaged the fewest yards (3.2) per rush up the middle and second-fewest yards after contact (1.5) per rush.
• The Chiefs excelled when Crennel took over as interim head coach in Week 15 of last season. The Chiefs' defense allowed three touchdowns over the last three games, tied for second-best in NFL, and was one of three defenses to average under 300 yards allowed per game (Eagles and Steelers).
-- ESPN Stats & Information
ESPN The Mag: Insider's View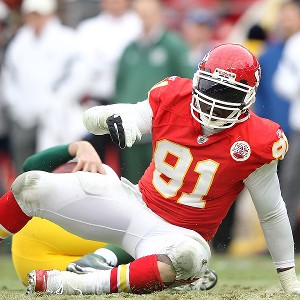 (Photo by Jamie Squire/Getty Images )
Tamba Hali: All-around defensive force.
Best Unit: Linebackers
Since 2009, when Tamba Hali switched to OLB in the Chiefs' new 3-4, his 35 sacks rank third in the NFL and his 12 forced fumbles are tied for fourth. This fast-flow unit uses a lot of pre-snap movement and creative blitz packages. ILB Derrick Johnson (131 tackles last season) doesn't have a weakness in his game. If second-year OLB Justin Houston improves on his 5.5 sacks from last season, this will challenge for best linebacker corps in the NFL.
Worst Unit: Defensive line
First it was Glenn Dorsey in 2008, then Tyson Jackson in '09 and Dontari Poe in '12. The Chiefs have spent three of their past six first-round picks on boom-or-bust D-linemen. DEs Dorsey and Jackson head one of the most underachieving units in the league (26 tackles for loss since '10, 27th in the NFL).
-- Gary Horton
• AccuScore projects every team, every game