Doug Pensinger/Getty Images
JOHN CLAYTON QB RANKING (4)
: Ben Roethlisberger had his second career 4,000-yard passing season (4,077) in 2011, carrying the Steelers' offense despite playing in pain.
Expert Picks (Consensus: first)
The Steelers finished second in the AFC North last season at 12-4. For more coverage, visit: ESPN.com's AFC North blog … on Twitter | Clubhouse | More predictions
ANALYST
PREDICTION
Jamison
Hensley
ESPN.com

DIVISION FINISH: 1 With all of the camp drama now over, Pittsburgh has the fewest questions of any team in the division. As long as Roethlisberger remains healthy and the defense remains in the top five, the Steelers are the class of the division.
John
Clayton
ESPN.com

DIVISION FINISH: 1 They've lost some older defenders, and the running game is a mess because of injuries. Still, the Steelers have Roethlisberger and a top-notch defense and should squeeze out the division.

Adam
Schefter
ESPN.com

DIVISION FINISH: 1 Defense is getting older, but it's still fast and dominant.
Jeffri
Chadiha
ESPN.com

DIVISION FINISH: 2 Expect a more balanced offense from a team that has been far too pass-happy in recent years. What's harder to predict is whether an aging team can remain as consistent as it has been in the past.
Ashley
Fox
ESPN.com

DIVISION FINISH: 2 The Steelers have a new offensive coordinator in Todd Haley and a revamped offensive line that will need to mature and jell quickly.
Intelligence Report
Five things you need to know about the Steelers:
1. They want to run the ball: At least, run the ball more than they did last season, when they kept it on the ground 42 percent of the time. The 434 rushing attempts in 2011 were the Steelers' second-fewest total in the past 20 years. New offensive coordinator Todd Haley has returned the fullback to the Steelers' offense and set the tone in training camp by running on nearly every play in the first full-team drill. With starting running back Rashard Mendenhall (knee) expected to miss the first month of the season, the Steelers are turning to Isaac Redman, who has averaged 4.5 yards per carry in his two-year career and ran for 121 yards in the playoff loss at Denver. Durability is a question mark for Redman because he's had double-digit carries in only four career games and missed time this preseason with an injured hip.
2. Top-ranked defense isn't satisfied: The Steelers' defense finished No. 1 last season for the third time in Mike Tomlin's five years as coach, but the players don't feel as if they were dominant on that side of the ball. Pittsburgh was tied for 17th in the NFL with 35 sacks and ranked last with 15 takeaways. The Steelers either had no takeaways or just one in 13 of 17 games last season (including the playoffs). Increasing the pressure on quarterbacks should increase turnovers. Healthy versions of James Harrison and LaMarr Woodley -- they missed a combined 11 games last season -- would boost both sacks and takeaways.
3. Stability on offensive line is much-needed: The blockers for quarterback Ben Roethlisberger were stuck in a bad game of musical chairs last season. The Steelers used a league-high 25 different offensive-line combinations, and they started four players at left guard. Pittsburgh showed its commitment to creating some continuity on the line by selecting offensive linemen with its first two picks in the 2012 draft (guard David DeCastro and tackle Mike Adams) and by re-signing tackle Max Starks. The Steelers moved Willie Colon from tackle to left guard and started DeCastro at right guard from the start of the preseason. DeCastro, injured in the preseason against Buffalo, may not play this season, however. Starks and Adams are battling for the left tackle job.
4. Cornerbacks will get tested: Even though the run defense dropped from first to eighth last season, the target is on the Steelers' unproven cornerbacks. Keenan Lewis, the nickelback last season, is taking over for William Gay. Lewis has fought through injuries in training camp to keep the starting job from Cortez Allen, who is expected to be the third corner. Quarterbacks aren't going to be throwing in the direction of Ike Taylor. Only 41 percent of passes were completed against the seven-year starter last year. That means the pressure is on Lewis and Allen, who have combined for one start and one interception in their careers.
5. Timing is right for Roethlisberger: The two-time Super Bowl winner turned 30 this year, hitting the prime of his career. And with the retirement of Hines Ward, all eyes are on Roethlisberger to lead this offense. The key to Roethlisberger has been and always will be his health. He's recovered from an ankle injury that derailed his season and he doesn't seem concerned about a small tear in his rotator cuff. Roethlisberger, who has been sacked at least 40 times in five of his past six seasons, has built a reputation of playing through pain. Imagine what he could do in an injury-free season.
-- Jamison Hensley, ESPN.com
Inside The Numbers
Steelers wide receivers combined for a league-leading 161 first downs last season, with playmakers Antonio Brown and Mike Wallace moving the chains a combined 111 times. Brown and Wallace excelled as deep threats, as Brown recorded 26 first downs and Wallace caught five touchdowns on passes of at least 15 air yards, each ranking in the top five among wide receivers last season.
The home run ball was a consistent weapon for Ben Roethlisberger in 2011, but the true value of his wide receivers was displayed on shorter passes. On throws of 14 air yards or shorter, they posted 112 first downs (first in NFL), six receptions that resulted in plays of 30-plus yards (second), 10.1 yards per catch (third), and a combined 2.8 drop percentage (tied for fourth).
• Pittsburgh's defense was stellar in preventing the deep ball last season (32.4 completion percentage and 7.8 yards per attempt -- each mark led the NFL) but struggled in the confines of the red zone. The Steelers ranked 18th in completion percentage in the red zone and posted just two sacks, tied for 25th in the league.
• Roethlisberger has been sacked 168 times since 2008 (the most in the NFL) and at least 40 times in three of the past four seasons. Among current starters, the Chiefs' Matt Cassel is the only other quarterback to reach the 40-sack mark twice.
-- ESPN Stats & Information
ESPN The Mag: Insider's View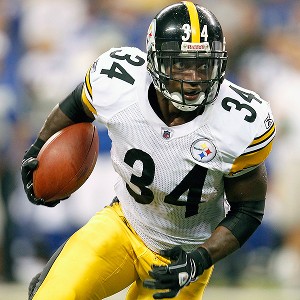 (Photo by Sam Riche/MCT via Getty Images )
Rashard Mendenhall: Still healing.
Best Unit: Linebackers
The Steelers' window is beginning to close, but this is still a dominating unit -- if it can stay healthy. OLBs James Harrison and LaMarr Woodley generate sacks in bunches, ILBs Lawrence Timmons and Larry Foote are solid in run and pass containment, and Jason Worilds and Chris Carter provide good depth.
Worst Unit: Running backs
When healthy, Pittsburgh's backs aren't terrible. But Rashard Mendenhall is still sidelined while recovering from January's ACL injury. That leaves Isaac Redman and Jonathan Dwyer, both nagged by injuries this preseason, to split carries. Add to the list starting FB David Johnson's torn ACL and an uptick to the running game is a tall order.
-- Gary Horton
• AccuScore projects every team, every game