Justin Edmonds/Getty Images
JOHN CLAYTON QB RANKING (27)
: Rookie Russell Wilson used an impressive preseason to beat out free-agent pickup Matt Flynn for the Seahawks' starting job.
Expert Picks (Consensus: second)
The Seahawks finished third in the NFC West last season with a 7-9 record. For more coverage, visit: ESPN.com's NFC West blog … on Twitter | Clubhouse | More predictions
ANALYST
PREDICTION
Mike
Sando
ESPN.com

DIVISION FINISH: 2 The defense and ground game appear solid. The question is whether Russell Wilson can make the key plays in clutch situations. The evidence has been generally positive to this point, but it's tough to know for sure until the real games begin.
John
Clayton
ESPN.com

DIVISION FINISH: 2 Pete Carroll has built one of the league's best young defenses. Now, he must prove the way he handled the quarterback situation can lead to a good start and a playoff season.

Adam
Schefter
ESPN.com

DIVISION FINISH: 3 An odd but gifted collection of talent.
Jeffri
Chadiha
ESPN.com

DIVISION FINISH: 3 The Seahawks have won seven games in each of Pete Carroll's first two seasons as head coach. It's hard to see them doing much better this fall.
Ashley
Fox
ESPN.com

DIVISION FINISH: 2 Hate the uniforms, like the team. The Seahawks should have a dominating defense and a good running game. What will they get from the quarterback?
Intelligence Report
Five things you need to know about the Seahawks:
1. Conventional wisdom is irrelevant: Coach Pete Carroll disdains it. Taking a three-way quarterback competition through minicamps and training camp provided a high-profile example. There are many others. The Seahawks' starting corners are 6-foot-4 and 6-3. They committed a $35 million contract to a 330-pound defensive end (Red Bryant). They committed a first-round draft choice to another defensive end weighing only 245 pounds (Bruce Irvin). They took a college defensive tackle, rookie J.R. Sweezy, and ran him at guard with their first-team offensive line during the preseason. And it worked. So, when Carroll tells you something that doesn't sound quite right -- such as starting a 5-foot-10 rookie at quarterback -- take him seriously.
2. Gus Bradley is a name to remember: The Seahawks' defensive coordinator warrants a look as a potential head coach down the line. He has shown an ability, with Carroll and staff, to adapt and maximize personnel. How good must Bradley be? He was already the Seahawks' defensive coordinator under former coach Jim Mora. Carroll thought enough of him to keep Bradley in the role. That's pretty unusual during a staff changeover. Mora actually had another candidate in mind to be his coordinator back in 2009, only to have Bradley blow him away during interviews. Monte Kiffin is the common link. Kiffin recommended Bradley to Mora. Kiffin and Carroll worked together years ago and were close.
3. The OL tends to change: Seattle's starting lineups under Carroll have featured four players at left tackle, seven at left guard, three at center, six at right guard and four at right tackle over two seasons. That's a lot of shuffling. There could be more to come. Left guard John Moffitt underwent elbow surgery recently. Former right tackle James Carpenter will become a candidate at left guard once he returns from knee surgery, perhaps during the season. Keeping left tackle Russell Okung healthy is key.
4. Under 30 please: Defensive end Chris Clemons is the Seahawks' only projected starter age 30 or older. He turns 31 in October and is coming off consecutive 11-sack seasons. Starters Richard Sherman, Earl Thomas, Kam Chancellor, K.J. Wright, Bobby Wagner, Okung and possibly Doug Baldwin (if he starts) are not even 25 years old. And rookie starting quarterback Russell Wilson is only 23. Carroll, as a longtime college coach, isn't afraid to go young.
5. QB search works both ways: Not only did Seattle need to find its own starting quarterback this offseason, but the team needed to make sure it could find opposing QBs as well. The Seahawks had only 33 sacks last season. Linebacker Leroy Hill ranked second on the team with only four. Seattle's already-strong secondary would improve with help from the pass rush.
-- Mike Sando, ESPN.com
Inside The Numbers
Marshawn Lynch was signed to a new deal after carrying the workload in the second half of the last season. He led the league with 965 rushing yards and 470 yards after contact in Weeks 8-17. Lynch had 239 rushing yards and 111 yards after contact through his first five games last season and missed one game because of a back injury.
• First-round pick Bruce Irvin should be a boost to a Seattle pass rush that collected only 22 sacks last season with five or more defensive backs on the field (tied for 24th in the league). Chris Clemons led the team with 8.5 sacks in smaller substitution packages, but no other Seahawk had more than three.
• Newly signed quarterback Matt Flynn threw six touchdown passes and posted a 91.7 Total QBR in the Packers' Week 17 win over the Lions. The highest single-game QBR posted by a Seahawks QB last season was 76.9 by Tarvaris Jackson in Week 13.
• Seattle's offensive line battled injuries last season as the team played 20 different offensive line combinations, the most in the NFC. Seattle quarterbacks were sacked 30 times against pass rushes of four or fewer players, tied for second most in the league. Although the offensive line lost Robert Gallery in the offseason, it added Deuce Lutui and Frank Omiyale to provide some stability at the position.
-- ESPN Stats & Information
ESPN The Mag: Insider's View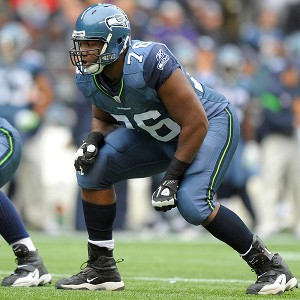 (Photo by Kirby Lee/Image of Sport/US Presswire )
Russell Okung: Durability questions.
Best Unit: Defensive line
Seattle added to a strength this offseason by nabbing former Titans DE/DT Jason Jones in free agency and drafting Bruce Irvin from West Virginia. Jones is a great interior pass-rusher, and Irvin's quick-twitch athleticism could cause huge problems for OTs. It's a deep group, too: DT Brandon Mebane, DE Red Bryant, DT Alan Branch and DE Chris Clemons are all underrated.
Worst Unit: Offensive line
Health is a key concern, compounded by depth issues. Seattle gave up 50 sacks in 2011 (29th in the NFL) with a patchwork line. James Carpenter is still recovering from an ACL injury, and Russell Okung -- who could be an elite LT -- can't stay healthy. And while center Max Unger is solid, the other members of the group are grinders with average-at-best ability.
-- Gary Horton
• AccuScore projects every team, every game