Thearon W. Henderson/Getty Images
JOHN CLAYTON QB RANKING (17)
: After years of up-and-down play, Alex Smith finally found his groove in 2011. The former No. 1 pick had a 17-5 TD-INT ratio and guided the 49ers to a division title.
Expert Picks (Consensus: first)
The 49ers finished first in the NFC West last season with a 13-3 record. For more coverage, visit: ESPN.com's NFC West blog … on Twitter | Clubhouse | More predictions
ANALYST
PREDICTION
Mike
Sando
ESPN.com

DIVISION FINISH: 1 It'll be an upset if the 49ers put together another 13-3 season, but they're still the team to beat in the NFC West. All the starters are back from a dominant defense. The offense has more firepower. Health is one variable to watch.
John
Clayton
ESPN.com

DIVISION FINISH: 1 The 49ers can't be expected to repeat their 13-win season, but the defense is one of the best in football, and Alex Smith has had a full offseason to feel more comfortable in Jim Harbaugh's offense. The 49ers are the team to beat.

Adam
Schefter
ESPN.com

DIVISION FINISH: 1 The surprise team of last season will not surprise anybody this season.
Jeffri
Chadiha
ESPN.com

DIVISION FINISH: 1 San Francisco was about its defense in 2011. If free-agent wide receivers Mario Manningham and Randy Moss can help the passing game, the 49ers will be representing the NFC in the Super Bowl.
Ashley
Fox
ESPN.com

DIVISION FINISH: 1 The 49ers won't sneak up on anybody this season after going 13-3 and reaching the NFC title game last season. Big adjustment.
Intelligence Report
Five things you need to know about the 49ers:
1. Alex Smith has an opportunity: San Francisco ranked 31st in third-down conversion rate and 30th in red zone touchdown percentage last season despite higher rankings in time of possession (fourth) and scoring (11th). The 49ers upgraded their offensive personnel at wide receiver and running back. Now they'll find out whether their starting quarterback can take the offense to another level. Improving the third-down conversion rate in particular seems like a realistic goal. The 49ers did score touchdowns on eight of their final 14 red zone possessions, counting playoffs.
2. Defense can build: All 11 defensive starters from last season remain on the roster. That's a big change from one year ago, when the 49ers parted with Nate Clements, Aubrayo Franklin, Manny Lawson, Travis LaBoy, Takeo Spikes and Taylor Mays. Defensive continuity should help the 49ers become more cohesive on that side of the ball. That's a scary thought for opponents. The 49ers frequently dominated on defense last season while adopting a new scheme and assimilating new players on the fly. They have focused this offseason on little things such as improving communication.
3. Offensive philosophy intact: We could see the 49ers become more enterprising on third down and in the red zone, two problem areas last season. They've added to their offensive weaponry and have a better grasp of the system. But a broader philosophical change would come as a surprise. Coach Jim Harbaugh played for Bo Schembechler at Michigan. He loves a hard-nosed ground game. With a topflight defense and strong special teams, the 49ers should not need their offense to light up the scoreboard most weeks. They will still run their offense with the big picture in mind.
4. Randy Moss is an X factor: A similar lead-in appeared in this space one year ago, but it was Braylon Edwards, not Moss, serving as the headliner. Knee and shoulder injuries prevented Edwards from contributing much. Moss has remained healthy so far. What does he have left following a year out of the game? Even the threat of Moss could help loosen up defenses. The 49ers averaged only 11.5 yards per reception last season, down from 12.8 in 2010.
5. Justin Smith has the hardware: Smith earned first-team All-Pro honors at defensive tackle and second-team All-Pro honors at defensive end. He also won four of the 49ers' team awards for which veteran players are eligible (one of the others was for an offensive lineman, excluding Smith from consideration). His haul included the Len Eshmont Award (most inspirational), the Hazeltine Iron Man Award (durability and dedication), the Perry/Yonamine Unity Award (promoting unity on the team and in the community) and the Bill Walsh Award (MVP).
-- Mike Sando, ESPN.com
Inside The Numbers
The 49ers added three downfield receiving threats during the offseason in Randy Moss, Mario Manningham and first-round pick A.J. Jenkins to bolster a receiving corps that ranked last in the NFL in receptions (36) and yards (730), and tied for last in touchdowns (2) on passes that traveled at least 11 air yards downfield last season. During the 2011 postseason, 49ers wide receivers were targeted only four times on such passes, with no receptions.
• The 49ers retained two of their best defensive playmakers by resigning Dashon Goldson and Carlos Rogers. The pair helped the 49ers lead the league with 17 interceptions on passes thrown at least 15 yards in the air downfield last season, compared with only four in 2010. Rogers and Goldson tied for second in the league with five interceptions on such passes.
• Alex Smith found success against added pass pressure last season. He threw 14 touchdowns and one interception when defenses sent five or more pass-rushers. His plus-13 TD-INT differential against such pressure was tied for third in the league and a vast improvement on his performance in 2010 (4 TD, 4 INT).
• Aldon Smith ranked third in the league with 13.5 sacks when the 49ers sent four or fewer pass-rushers last season. Smith was a staple of the 49ers' standard pass rush, which sent four or fewer rushers on 80.9 percent of opponents' dropbacks, the second-highest rate in the league.
-- ESPN Stats & Information
ESPN The Mag: Insider's View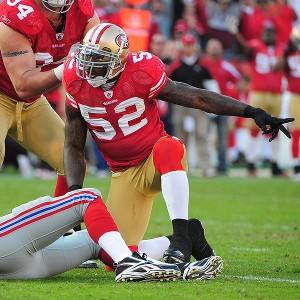 (Photo by Kyle Terada/US Presswire )
Patrick Willis: Leads league's best LB corps.
Best Unit: Linebackers
The 49ers have the NFL's best LB crew -- and it isn't even close. Patrick Willis is making a case to be considered one of the greats at inside linebacker. NaVorro Bowman diagnoses plays quickly and gets to his target with aggressiveness. Phenom Aldon Smith, who's already San Francisco's top pass-rusher (14 sacks in 2011), should take Parys Haralson's starting spot at outside linebacker.
Worst Unit: Offensive line
This is a tale of two sides. LT Joe Staley is light on his feet, LG Mike Iupati is a mauler and Jonathan Goodwin is an above-average center, especially in run blocking. But the right side is a big concern. RT Anthony Davis, a former first-rounder, hasn't produced in two seasons. And right guard is such a mess that the 49ers opened camp with four in the mix.
-- Gary Horton
• AccuScore projects every team, every game