1:00 PM ET, September 9, 2001
Ralph Wilson Stadium, Buffalo, NY
ORCHARD PARK, N.Y. (AP) -- In the first half, Aaron Brooks looked hesitant. Ricky Williams was nearly invisible.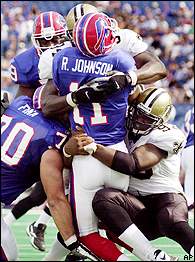 Bills quarterback Rob Johnson struggled to learn a new offense, tossing three interceptions against the Saints.
It didn't matter as long as safety
Sammy Knight
kept getting the ball back for the
New Orleans Saints
. Knight matched a franchise record with three interceptions, two of which led to 10 points, jump-starting the Saints to a 24-6 season-opening victory over the
Buffalo Bills
on Sunday. "That was huge," said Williams, who scored a touchdown and rushed for 87 of his 93 yards in the second half. "Games like that, when the offense struggles, the only thing that kept us in was our defense." Just doing his job, Knight said. "We know they're going to get it going," Knight said of the Saints offense. "We knew after a while our offense would wear them down. And that's what they did."
VINNY CERRATO'S ANALYSIS
Question on the Saints: How important will Cam Cleeland and Albert Connell be to Aaron Brooks?
Cerrato: Any receiver that can make plays will help a quarterback. This is the first time that Albert has been healthy, and he made a great play in the end zone. He has the capability and the speed -- with Albert it's his want-to. His energy level and consistency are his biggest challenges. Regarding Cam Cleeland, you've got to have a strong tight end in their offense because they want to run the ball so much. Ricky Williams was outstanding today, and the blocking was there for him.

Question on the Bills: Is Rob Johnson feeling the pressure of being the man?
Cerrato: The reason he's feeling the pressure is because he's got three new starters on the offensive line and a rookie running back -- so he's going to feel pressure quickly ... from the defense. He tends to hold the ball and he's not a quick reader; he needs game-type conditions to learn to get rid of it more quickly. It's going to be a work-in-progress for the Bills -- and a long season in Buffalo.

Vinny Cerrato, ESPN.com's NFL analyst, has served as director of player personnel for the Redskins and 49ers.
Thanks to Knight, the Saints overcame a 6-0 first-half deficit by scoring 17 points in the first 12 minutes of the third quarter. Brooks bounced back from an abysmal first-half performance, completing 18 of 29 attempts and three touchdowns as the Saints won a season opener for only the 10th time in 35 years. The new-look Bills, on the other hand, still have plenty of work to do, losing in rookie head coach Gregg Williams' debut. While Buffalo's newly installed 4-3 defense held firm, quarterback
Rob Johnson
looked unsettled running the new West Coast offensive scheme. Johnson finished 16-for-27 for 160 yards and threw three interceptions for the first time in his career. Johnson also failed to capitalize on two trips inside the Saints 15, settling instead for rookie
Jake Arians
' two field goals. "The thing about the first half was that we didn't score any points," Johnson said. As for his three interceptions, Johnson said: "It is just one of those things. I didn't play well on those three plays and I wish I could take them back." Bills deep threat
Eric Moulds
, limited to just one catch for 34 yards, was quick to criticize Buffalo's new scheme. "We have to do different things," Moulds said. "I was talking to (the Saints), and they said it was easy to find me. ... We've got to move guys around to show different looks." The Saints offense enjoyed a magnificent turnaround after an abysmal first half in which they managed just 65 total yards -- 38 of which came on a desperation pass on the final play of the second quarter. Brooks got things going, marching the Saints on an eight-play, 82-yard drive, capped by
Albert Connell
's acrobatic 46-yard touchdown reception. Fighting off cornerback
Ken Irvin
, Connell got a piece of the ball at the 1 and managed to stay with it and catch it while falling backward into the end zone four minutes into the third quarter. Then Knight took over. After picking off Johnson's pass in the first quarter, Knight got his second intereception when Johnson wildly overthrew tight end
Jay Riemersma
over the middle. Knight caught it at midfield and ran it back to the 29, setting up
John Carney
's 31-yard field goal with 6:53 left in the third quarter. Two plays into Buffalo's next possession, Johnson's pass over the middle glanced off Riemersma and was caught by Knight just before the ball hit the ground at the Buffalo 32. The Saints scored three minutes later when Brooks found Cameron Cleeland on a fade route for a 12-yard touchdown catch deep in the corner of the end zone. "It could've been a lot worse, and we have to credit our defense," Brooks said. "We were more at ease in the second half to say, 'Hey, we're only down by six. If we score a touchdown and we're up."' Last season, in which the Saints finished 10-6 and won the NFC West title, New Orleans overcame four halftime deficits. "Our guys handle that," Saints coach Jim Haslett said. "We talk about that all the time. Something is going to happen during a game, adversity, and I think we played as a team."
Game notes
Sam Cowart
, who led the Bills in tackles the past two seasons, hurt his Achilles' heel during the first quarter. Coach Williams said Cowart will be evaluated on Monday to determine the extent of the injury. ... The replacement officials were a small factor in the game as they missed what appeared to be
Ruben Brown
's illegal block on a Saints defender that opened the hole on Peerless Price 31-yard gain off a reverse. The crew, headed by Larry Mallam who has Arena2 Football League and NCAA Division III experience, also had trouble marching off penalties, twice winding up a yard short. ... DE
Joe Johnson
recorded three of the Saints' five sacks on Rob Johnson.
Copyright by STATS LLC and The Associated Press
Scoring Summary
THIRD QUARTER
NO
BUF
FG
9:18
John Carney 10 yd Field Goal

Drive info: 7 plays, 27 yds, 0:00

10
6
TD
2:10
Touchdown

Drive info: 6 plays, 32 yds, 3:40

16
6
2:10

Drive info: 6 plays, 32 yds, 3:40

17
6
FIRST QUARTER
NO
BUF
FG
1:50
Jake Arians 10 yd Field Goal

Drive info: 9 plays, -70 yds, 3:41

0
3
THIRD QUARTER
NO
BUF
TD
11:13
Touchdown

Drive info: 8 plays, 82 yds, 3:37

6
6
FOURTH QUARTER
NO
BUF
TD
3:09
Touchdown

Drive info: 10 plays, 80 yds, 4:13

23
6
THIRD QUARTER
NO
BUF
11:13

Drive info: 8 plays, 82 yds, 3:37

7
6
FOURTH QUARTER
NO
BUF
3:09

Drive info: 10 plays, 80 yds, 4:13

24
6
SECOND QUARTER
NO
BUF
FG
8:31
Jake Arians 10 yd Field Goal

Drive info: 12 plays, -24 yds, 6:46

0
6