1:00 PM ET, September 9, 2001
MINNEAPOLIS (AP) -- The Minnesota Vikings were supposed to have the polished offense, not the Carolina Panthers and rookie Chris Weinke.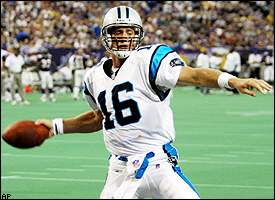 Voters want to call Carolina's QB, Chris I Wish I Were an Oscar Mayer Weinke.
The Panthers entered the season without much promise at quarterback, but Weinke threw a go-ahead touchdown pass to
Muhsin Muhammad
midway through the third quarter and ran for a score in the fourth, leading the Panthers to a 24-13 upset over the mistake-prone Vikings. "He was calm and mature," said tight end
Wesley Walls
, who caught three passes for 74 yards after missing the last eight games of 2000 with a knee injury. "He never seemed overwhelmed that we had a chance to beat the Vikings." Carolina's
Steve Smith
returned the opening kickoff 93 yards for a touchdown, and the Panthers' chances were enhanced by Daunte Culpepper's struggles. Playing their first regular-season game since the heatstroke death of lineman
Korey Stringer
in training camp, the Vikings committed four turnovers -- three of them were Culpepper's interceptions. "It starts with me," he said. "I should've just slowed things down. I have to make better decisions."
VINNY CERRATO'S ANALYSIS
Question on the Panthers: How far can Chris Weinke lead Carolina?
Cerrato: That's yet to be determined. But this game was a great start and a great confidence-builder for Weinke. Give credit to Carolina's coaches -- they had an outstanding game plan and their players came ready to play. The Vikings were maybe thinking about their 4-0 preseason and reading too much into their newspaper clips.

Question on the Vikings: How could Randy Moss end up with one catch against the Panthers' DBs?
Cerrato: It's amazing. The Vikings didn't take advantage of the Panthers' inexperience and they didn't really go to him. But it didn't look like he was open that much. Culpepper scrambled around a lot; remember, Minnesota has lots of new starters on the offensive line and the Panthers got pressure on Culpepper. So Carolina didn't allow the Vikings to go downfield. Who would have thought that with three new starters in the secondary, the Panthers could hold Moss to one catch and grab three interceptions?

Vinny Cerrato, ESPN.com's NFL analyst, has served as director of player personnel for the Redskins and 49ers.
Culpepper threw a touchdown pass to
Cris Carter
that gave Minnesota its only lead, 13-10, late in the third quarter. Culpepper completed 22 of 38 passes for 236 yards and ran 12 times for 55 yards and a score. Carter's TD -- his 125th -- tied him with Walter Payton for fifth place on the career list. But
Randy Moss
was held to one catch for 28 yards, and Minnesota's offense never got on track. "I told our team, if they make a big play in the first quarter or even the first half, we're in trouble," said Panthers cornerback
Jimmy Hitchcock
, a former Vikings player who intercepted a pass from Culpepper in the second quarter. The Vikings, wearing a No. 77 patch to honor Stringer, will retire his jersey on Nov. 19 against the
New York Giants
. His death was devastating, but the Vikings still went 4-0 in exhibition games. "I think the preseason pampered us," Moss said. "We got a little carried away." Weinke, a 29-year-old rookie who won the Heisman Trophy last year at Florida State, wasn't rattled in his hometown. He was 13-of-22 for 223 yards, with a touchdown and an interception. "I felt so well-prepared for this game," Weinke said. "The coaching staff put us in a comfortable situation. I felt more nerves before a lot of college games than this one." The Panthers got only three points out of two first-half trips inside the Vikings 10, but still held a 10-0 halftime lead. Weinke found a wide-open Muhammad for 43 yards on a flea-flicker to set up his first pro touchdown. On third-and-19, Weinke hit Muhammad again for a 16-yard touchdown to put the Panthers back in front, 17-13.
Deon Grant
's interception gave Carolina the ball at the Minnesota 34 with 13:37 left. Weinke finished off the drive with a 1-yard sneak to make it 24-13. Carolina coach George Seifert, who let veteran
Steve Beuerlein
go last spring and cut anticipated starter
Jeff Lewis
during training camp, was pleased by his rookie's poise. "He was efficient in what we did," Seifert said. Culpepper finally found Moss for a 28-yard catch near the sideline that gave the Vikings the ball at the Panthers 14. Three plays later, Culpepper threaded a pass to Carter, who tucked both feet in the corner of the end zone to give the Vikings the lead. Anderson's extra-point attempt was blocked by
Sean Gilbert
. The replacement officials avoided any major, game-changing mistakes, but they were consistently slow in making calls and marking the spot of the ball. Before one play in the first quarter, referee Wayne McKreight had to run to the sideline and ask someone what down it was. The Vikings mounted a late drive, but Culpepper fumbled near the goal line, and the ball rolled out of the end zone for a Panthers touchback with 3:30 left.
Game notes
Minnesota honored former offensive lineman Ron Yary, a recent Hall of Fame inductee, at halftime. ... OT
Todd Steussie
, who signed with Carolina in the offseason, was called for unnecessary roughness after a tiff with Minnesota's
Lance Johnstone
and drew a hearty jeer from fans frustrated the last few seasons with Steussie's penchant for false-start penalties. Two plays later, Steussie was called for a false start. ... Panthers RB Nick Goings took over for an ineffective
Tim Biakabutuka
and rushed 25 times for 86 yards.
Copyright by STATS LLC and The Associated Press