1:00 PM ET, September 23, 2001
INDIANAPOLIS (AP) -- Forget the triplets. Now the Indianapolis Colts have a quartet.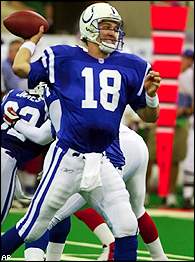 Peyton Manning leads the Colts against Oakland on ESPN's Sunday Night Football (8:30 p.m. ET).
Peyton Manning
,
Edgerrin James
and
Marvin Harrison
played brilliantly as usual Sunday as they routed the
Buffalo Bills
42-26. They added a fourth co-star, wide receiver
Jerome Pathon
, to their cast. "Peyton and Edgerrin and Marvin are the proven big three, so it's going to be a pretty hard lineup to break," said Pathon, who had nine catches for 168 yards. "It's still premature to say because it's a long season. If I can maintain my focus and keep this going throughout the year, I think I will do that." That's bad news for the rest of the league. For the second straight game, the Colts' topped the 40-point mark and they did it in impressive fashion.
Are the Colts this year's version of the St. Louis Rams?
Of last year's Rams, yes -- phenomenal offense and a marginal defense. They have to improve their defense to get where they want to go. As everyone knows, you can't get far in the playoffs if you can't run and can't stop the run. They haven't stopped the run two weeks in a row. This was a consistent weakness last year as well, so it may be a matter of needing better personnel.

ESPN.com NFL analyst Vinny Cerrato has served as director of player personnel for the Redskins and 49ers.
Manning had his second-biggest career passing day with 421 yards, tied a career-high with four touchdown passes and doubled his touchdowns rushing total with a 1-yard scamper in the third quarter. Manning's career-best occurred in Sept. of 200 when he had 440 yards passing against Jacksonville. James set a team record with his fifth straight 100-yard game and tied Jim Brown's record as the fastest in NFL history to 3,500 yards rushing -- in 34 games. Harrison, who had seven catches for 146 yards, tied his career-high with three touchdown receptions and Pathon added another dimension to the offense by setting career-highs in receptions and yards receiving for the second straight game. It was only the second time in team history, and the first since 1975, that the Colts produced a 300-yard passer, two 100-yard receivers and a 100-yard rusher. Bert Jones was the quarterback in that game, Lydell Mitchell the running back and Roger Carr and Glenn Doughty the receivers. And ... the team played in Baltimore. "Jerome had another good game, he's really playing well," Colts coach Jim Mora said. "But this guy is becoming, he is a very good receiver and he made some big plays today." While almost nothing went wrong for the Colts, the Bills, who are learning new offensive and defensive systems, did little right. Their leading rusher was quarterback
Rob Johnson
with 63 yards. The defense allowed touchdowns on six straight series and never forced the Colts to punt. And Buffalo tied a team record with 19 penalties in their first game with the NFL's regular officials. "We had way too many penalties, we were stopping ourselves at times," new Bills coach Gregg Williams said. "Some of that's technique. I don't like that, we'll address that. We've been talking about that every day and we'll continue to pressure that a lot." Meanwhile, the Colts were virtually unstoppable after two early miscues. After about a 20-minute pregame ceremony in which patriotic songs were sung as a tribute to the victims of the terrorist attacks in New York and Washington,
Nate Clements
intercepted Manning's second pass and raced 48 yards for a touchdown to give Buffalo a 7-0 lead. Three plays later, tight end
Ken Dilger
fumbled at the Colts 35, but Indianapolis forced a punt. The Colts got going on the next series, when Manning led them on a 90-yard march to tie the game on James' 1-yard run. James finished with 111 yards rushing on 23 carries. That was followed by three quick scoring passes -- a 60-yarder to Pathon and two 39-yarders to Harrison -- that took just six offensive plays and 2:08 to make it 28-14. The Colts, with Manning, James, Harrison and Pathon, never looked back. "We've always been a big-play team," Manning said. "Today we had a good mix of the run and pass."
Game notes
The Colts paid tribute to the rescue workers in New York with a parade of police officers and firefighters before the game. Hundreds of Indianapolis officers and firefighters lined up on both ends of the field from the 20-yard line to near the goal line. ... Harrison extended his club record for most 3-touchdown games in his career to five and also set a new franchise mark for most consecutive games with a reception. His mark of 78 broke
Marshall Faulk
's record. ... Johnson's 63 yards rushing were a career high. ... The 128 yards in penalties for the Bills were their most since Oct. 23, 1977 against Cleveland.
Copyright by STATS LLC and The Associated Press
Scoring Summary
FIRST QUARTER
BUF
IND
TD
13:19
Nate Clements, 48 yd interception return

Drive info: 1 plays, 41 yds, 0:00

6
0
13:19

Drive info: 0 plays, 0 yds, 0:00

7
0
TD
2:05
Touchdown

Drive info: 2 plays, 76 yds, 0:22

7
13
SECOND QUARTER
BUF
IND
TD
11:38
Touchdown

Drive info: 2 plays, 61 yds, 0:28

14
20
TD
9:26
Touchdown

Drive info: 2 plays, 41 yds, 0:20

14
27
FIRST QUARTER
BUF
IND
2:05

Drive info: 2 plays, 76 yds, 0:22

7
14
SECOND QUARTER
BUF
IND
11:38

Drive info: 2 plays, 61 yds, 0:28

14
21
9:26

Drive info: 2 plays, 41 yds, 0:20

14
28
THIRD QUARTER
BUF
IND
FG
10:57
Jake Arians 10 yd Field Goal

Drive info: 8 plays, 41 yds, 3:53

20
35
FIRST QUARTER
BUF
IND
TD
5:23
Edgerrin James, 1 yd run

Drive info: 10 plays, 90 yds, 5:18

7
6
SECOND QUARTER
BUF
IND
TD
12:27
Travis Henry, 4 yd run

Drive info: 8 plays, 37 yds, 13:56

13
14
FG
5:19
Jake Arians 10 yd Field Goal

Drive info: 9 plays, 31 yds, 3:44

17
28
TD
1:22
Touchdown

Drive info: 9 plays, 80 yds, 2:02

17
34
THIRD QUARTER
BUF
IND
TD
6:20
Peyton Manning, 1 yd run

Drive info: 10 plays, 60 yds, 3:31

20
41
FIRST QUARTER
BUF
IND
5:23

Drive info: 10 plays, 90 yds, 5:18

7
7
SECOND QUARTER
BUF
IND
12:27

Drive info: 8 plays, 37 yds, 13:56

14
14
1:22

Drive info: 9 plays, 80 yds, 2:02

17
35
THIRD QUARTER
BUF
IND
6:20

Drive info: 10 plays, 60 yds, 3:31

20
42
FOURTH QUARTER
BUF
IND
TD
1:54
Touchdown

Drive info: 14 plays, 80 yds, 5:35

26
42