1:00 PM ET, October 7, 2001
PITTSBURGH (AP) -- The commemorative footballs for Heinz Field's first game were so slippery, the Cincinnati Bengals couldn't grip them properly. That doesn't explain why they couldn't hold on to Jerome Bettis.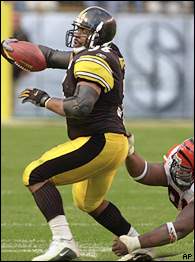 Jerome Bettis has helped the Steelers roll to a 4-1 mark.
The
Pittsburgh Steelers
moved into their new stadium by dominating Cincinnati with their running game, something they did often in Three Rivers Stadium, as Bettis went over the 10,000-yard career rushing mark in a 16-7 victory Sunday. Bettis needed 54 yards to become the 14th player in NFL history to rush for 10,000 yards. He got them on his first five carries, gaining 103 yards by halftime and finishing with 153 in his eighth 100-yard game against Cincinnati since 1996. "A lot of times, I wasn't seeing anybody until I got into their secondary," Bettis said after the Steelers outrushed the Bengals 274-65. "Our offensive line was just gouging guys, so it was a matter of me making a guy miss here or running over a guy there." Bengals cornerback
Tom Carter
said, "When you play the Steelers, you've got to stop him, and we didn't. That was the best I've seen him play, and that goes back to when we were freshmen at Notre Dame."
Are the Bengals back to being the Bungals?
They're certainly on their way. But Steelers RB Jerome Bettis had an outstanding day. He just lined up and ran the ball. That's Pittsburgh's game -- when they can run the ball, they're going to win. The Steelers feed off Bettis and anytime he rushes for that many yards (153), they're going to win.

ESPN.com NFL analyst Vinny Cerrato has served as director of player personnel for the Redskins and 49ers.
Not that Bettis anticipated any problems. The Bettis Bus that sits outside the stadium during every home game -- his nickname is the Bus -- was painted with a logo proclaiming him as a member of the 10,000-yard club before the game. However, it was the painted balls that bothered the Bengals (2-2), who were denied their first 3-1 start since 1990. The 60 game balls made for the Heinz Field opener apparently weren't rubbed down to remove their gloss. As a result, quarterbacks
Jon Kitna
and
Kordell Stewart
had trouble gripping them, even on routine plays such as handoffs. They were only three turnovers, two by the Steelers, but Kitna badly underthrew a wide-open
Chad Johnson
near the end zone on an interception, and Bengals defensive backs twice dropped passes thrown directly to them by Stewart. "They feel slippery to me," Steelers owner Dan Rooney said as he inspected a ball that, even after the game, seemed slick and out-of-the-box new. "I thought they were going to use them only on kickoffs, but I guess they used them all the time." Stewart twice lost fumbles on mishandled exchanges, saying, "It's the only time I ever felt I had to wrap up it up with two hands every time I ran with it." At least the Steelers (2-1) didn't let the victory slip away, even as they twice moved inside the Bengals 10 without scoring. Their opening drive ended when Bettis, who had gained 48 yards on his first carry, was stacked up on fourth-and-goal from the 1. But while Stewart completed only three of his first 10 passes, he was much more effective as a runner, gaining 61 yards on nine carries. He scored the Steelers' only touchdown on an 8-yard run with 5:27 left in the second quarter, setting up the score with runs of 11 and 9 yards. "He's got to run the ball, because when he runs the ball it makes the defense scared to call certain things," tackle Wayne Gandy said.
Kris Brown
kicked field goals of 26 and 42 yards as the Steelers opened a 13-0 lead before Kitna flipped a 1-yard touchdown pass to fullback
Lorenzo Neal
to make it 13-7 with 4:45 left. But the Steelers answered with Brown's 48-yard field goal into a swirling wind. "I'm a pretty mellow guy, but I expect a lot out of myself and my team," said Kitna, who was 19-of-34 for 164 yards and an interception. "We've got to fix it, and fix it in a hurry. It should have been fixed a long time ago." The crowd of 62,335 was 2,115 below capacity, although all tickets were sold. Heinz Field was to have opened Sept. 16 against rival Cleveland, but that game was postponed by the terrorist attacks.
Game notes
The Steelers lost their first game in Three Rivers Stadium 19-7 to Houston in 1970. ...
Emmitt Smith
and
Ricky Watters
are the only other active running backs who have rushed for 10,000 yards. ... It was Bettis' 48th career 100-yard game. ... Pittsburgh has won 16 of its last 21 against Cincinnati. ... The Steelers hadn't played a home game on grass since 1969. ... Former Steelers WR Lynn Swann was presented with his Pro Football Hall of Fame ring during a halftime ceremony attended by Steelers players representing each of the last five decades. ... The Steelers' offense has scored two touchdowns in three games. ... The Bengals waited 10 years to win in Three Rivers Stadium, which opened in 1970. ... The crowd was not told of the attacks on Afghanistan until President Bush's message was shown on the scoreboard at halftime. ... Steelers DE
Aaron Smith
had a one-handed sack of Kitna. ... The Bengals lost 15-0 in Three Rivers last season.
Copyright by STATS LLC and The Associated Press
Scoring Summary
SECOND QUARTER
CIN
PIT
FG
14:56
Kris Brown 10 yd Field Goal
0
3
FOURTH QUARTER
CIN
PIT
FG
9:15
Kris Brown 10 yd Field Goal

Drive info: 8 plays, -19 yds, 3:55

0
13
SECOND QUARTER
CIN
PIT
TD
5:38
Kordell Stewart, 8 yd run

Drive info: 9 plays, 72 yds, 3:59

0
9
FOURTH QUARTER
CIN
PIT
FG
2:00
Kris Brown 10 yd Field Goal

Drive info: 8 plays, -38 yds, 2:33

7
16
SECOND QUARTER
CIN
PIT
5:21

Drive info: 9 plays, 72 yds, 3:59

0
10
FOURTH QUARTER
CIN
PIT
TD
4:50
Touchdown

Drive info: 11 plays, 81 yds, 2:36

6
13
4:45

Drive info: 11 plays, 81 yds, 2:36

7
13