1:00 PM ET, October 21, 2001
CLEVELAND (AP) -- Until they win the Super Bowl, this was as good as it can get for the Cleveland Browns and their fans.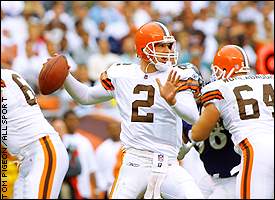 Browns QB Tim Couch passed for 149 yards, but his two TD passes in the third quarter doomed the Ravens.
Beating Baltimore never will feel quite the same. Six years after Art Modell moved his team, Cleveland finally thumbed its nose at Baltimore's owner as the Browns topped the Super Bowl champion Ravens 24-14 Sunday. "This was huge," quarterback
Tim Couch
said. "It feels so good to get this win for the fans of Cleveland who have seen their team leave town, and then go win the Super Bowl. This was for them." Couch threw two quick touchdown passes in the third quarter as the Browns (4-2) beat Baltimore for the first time since returning to the league in 1999.
What's wrong with the Ravens?
They still have a hangover from the Green Bay game.

The Ravens were sleepwalking today, and Cleveland just took it to them. Give the Browns credit for their defense -- they went after Ravens QB Elvis Grbac, pressured him into turnovers and set their offense up with a short field. When your defense does that, it makes things much easier for the offense.

For the Ravens, this looked like a replay of their earlier loss to Cincinnati.

ESPN.com NFL analyst Vinny Cerrato has served as director of player personnel for the Redskins and 49ers.
The Browns have been saying all season that they're a different team under first-year coach Butch Davis, and now there's no doubt they are. "We've got confidence, and we believe," safety Percy Ellsworth said. "If you beat Baltimore, who should you be scared of?" Cleveland's defense forced three turnovers, had seven sacks and dominated the reeling Ravens (3-3), who are a shell of the team whose defense dominated the NFL last season.
Matt Stover
set an NFL record by making a field goal for the 32nd straight game but that was the lone bright spot for Baltimore, whose ferocious defense has given up 55 points in two weeks. "We're 3-3 and if we don't take it seriously, we can be 8-8," said safety
Rod Woodson
. "We've got to pick it up -- now." The Browns were outscored 116-26 while going 0-4 since '99 against the Ravens and Modell, who broke Cleveland's collective heart when he moved his franchise following the 1995 season. And although Modell didn't come to Cleveland to flaunt his Super Bowl ring, that didn't stop Browns fans from enjoying their first on-field success against the former owner. "I want to beat everybody's team," Browns owner Al Lerner said. "We beat the Super Bowl champions -- it just so happens that it's Baltimore. I love it." Browns fans were more excited. Most of the crowd of 72,828 stayed through a driving rain in the fourth quarter to soak in every second and jeer the Ravens off the field. A few feet away, Davis pumped his fist as he sprinted to Cleveland's locker room. Couch was 11-of-18 for 149 yards and rookie
James Jackson
rushed for 77 yards and one TD for the Browns, whose biggest win in three years will be followed by an off week. Couch threw a 29-yard TD pass to
Kevin Johnson
, and a 36-yarder to rookie
Quincy Morgan
in a span of 1 minute, 54 seconds in the third quarter as the Browns opened a 24-6 lead. Clearly, the Browns are a much different team under Davis than the one which went 5-27 in two seasons. "Butch is doing a great job," Ravens coach Brian Billick said. "They have a certain attitude. The fans are pumped up. They are obviously a better team. They earned it." The Ravens, meanwhile, are in big trouble. They lost quarterback
Elvis Grbac
in the third quarter with a chest injury, and running back
Terry Allen
left following the first series with a pulled calf muscle and never returned. Grbac was replaced by
Randall Cunningham
, who was sacked four times. After Couch's second TD pass, Ravens linebacker
Ray Lewis
gathered his defense and screamed at his teammates. Billick didn't publicly blast his players. "It serves no purpose for me to go off," he said. "It's frustrating. I'm angry. But I have to keep my focus." Cleveland led 10-6 early in the second half when Baltimore was forced to punt. On the kick, Ravens cornerback
James Trapp
drilled Browns returner
Dennis Northcutt
, who said he didn't know what hit him. Seeing Northcutt get laid out seemed to fire up the Browns, who picked up a first down on fourth-and-2 during an 80-yard drive capped by Couch hooking up with Johnson, who pushed off against cornerback
Duane Starks
before catching the TD. On Baltimore's next possession, Grbac fumbled while by being sacked by
Jamir Miller
. Cleveland's
Greg Spires
recovered. Couch didn't waste any time, hitting Morgan at the goal line on a ball that Starks probably should have knocked away to give the Browns a 24-6 lead. "We were going after their throats right there," Couch said.
Game notes
Browns G
Ross Verba
suffered a concussion in the first half and didn't return. ... Stover was tied with Minnesota's Fred Cox (1968-70) with 31 straight games making a FG. ... The Browns have 13 interceptions this season. They had 11 last year and 8 in '99. ... Grbac passed for 142 yards before leaving to top 15,000 for his career.
Copyright by STATS LLC and The Associated Press
Scoring Summary
THIRD QUARTER
BAL
CLE
TD
7:06
Touchdown

Drive info: 1 plays, 64 yds, 0:00

6
23
7:06

Drive info: 1 plays, 64 yds, 0:00

6
24
SECOND QUARTER
BAL
CLE
FG
1:53
Phil Dawson 10 yd Field Goal

Drive info: 4 plays, 4 yds, 0:35

3
10
FOURTH QUARTER
BAL
CLE
TD
7:25
Touchdown(Randall Cunningham pass to Qadry Ismail for 2pt conversion)

Drive info: 3 plays, 37 yds, 0:05

14
24
FIRST QUARTER
BAL
CLE
TD
11:44
James Jackson, 11 yd run

Drive info: 6 plays, 51 yds, 3:41

0
6
11:27

Drive info: 6 plays, 51 yds, 3:41

0
7
SECOND QUARTER
BAL
CLE
FG
0:09
Matt Stover 10 yd Field Goal

Drive info: 9 plays, 60 yds, 2:10

6
10
THIRD QUARTER
BAL
CLE
TD
7:31
Touchdown

Drive info: 9 plays, 80 yds, 4:04

6
16
SECOND QUARTER
BAL
CLE
FG
5:30
Matt Stover 10 yd Field Goal

Drive info: 13 plays, 67 yds, 7:32

3
7
THIRD QUARTER
BAL
CLE
7:31

Drive info: 9 plays, 80 yds, 4:04

6
17