1:00 PM ET, October 21, 2001
TAMPA, Fla. (AP) -- The Tampa Bay Buccaneers had no defense for Jerome Bettis.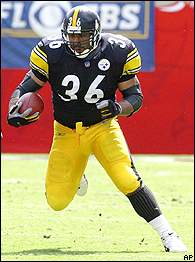 Steelers running back Jerome Bettis rushed for 143 yards and a TD, and threw a touchdown pass.
Pittsburgh's seven-time 1,000-yard rusher beat the Bucs with his arm as well as his legs Sunday, throwing his second career touchdown pass and running for 143 yards and one TD in the Steelers' dominating 17-10 victory. "They don't play the Steelers on a regular basis. To look at the film, you might not think we're as physical as we are," Bettis said. "When we get on the field, we're a physical team and they found that out today." Bettis staggered the Bucs (2-3) with his 32-yard TD pass to
Jerame Tuman
, then finished them off by gaining all but 25 of his yards on the ground in the second half. The Steelers' top-ranked defense did its part, too -- sacking
Brad Johnson
10 times and intercepting him in the end zone to kill one of Tampa Bay's bid to get back into the game.
Just how good is Pittsburgh's defense?
The Steelers' defense was absolutely dominating today. When the Steelers get ahead, their D is even better because they're able to really get after the opposing quarterback when he's forced to throw. The Steelers shut down the run and then get after you big-time. That's what they did against the Bucs.

The Steelers have a strong pass defense to complement their run defense. It starts with the cornerbacks and continues with the pass rush. Bucs QB Brad Johnson doesn't move well, and the Steelers exploited that.

ESPN.com NFL analyst Vinny Cerrato has served as director of player personnel for the Redskins and 49ers.
"People will say Tampa Bay didn't show up. We beat Tampa Bay. They showed up," Steelers safety Lee Flowers said. "Everyone's talking about (Warren) Sapp and all these All-Pros. I'm mad. Nobody cared about the Steelers. I bet they know about the Steelers' defense now."
The Bucs scored on Johnson's 5-yard pass to
Frank Murphy
with 28 seconds remaining, then appeared to recover an onside kick at their 43 to give themselves another chance to come back. The officials ruled that Tampa Bay's
Brian Kelly
leaped into the air and came down with the ball before it squirted loose when he landed on the ground. The ruling was reversed after it was reviewed on instant replay and the Steelers (4-1) ran out the clock to stay atop the AFC Central standings with their fourth consecutive victory. Bettis gave Pittsburgh a 7-3 halftime lead with his pass, then ran 46 yards untouched to break it open during a brief storm in the third quarter. On both scoring plays, he took advantage of the aggressiveness of the Bucs' speedy defense. He lofted his pass over the secondary when Tampa Bay became preoccupied with trying to stop him from sweeping right on third-and-3. He hesitated at the line before cutting back to find a hole on his TD run. "With that defense aggressive, they overpursue. We cut back and then it was just a foot race," said Bettis, who also suspected the Bucs would overreact on the halfack option play. "I was a little nervous. The last time I threw that pass, it was intercepted. I threw it short, so I just made sure I threw it long this time. We knew they were expecting us to run. It was a great opportunity." Bettis went over 100 yards rushing for the fourth straight game with a 29-yard burst that set up
Kris Brown
's 35-yard field goal late in the third quarter. The Steelers, averaging a league-leading 192 yards rushing before Sunday, finished with 220 against a defense that's struggled in three of Tampa Bay's last four games -- all losses. "I was shocked by the way all of us played. It was a display of poor football," said Bucs receiver
Keyshawn Johnson
, who had 10 catches for 159 yards. The Bucs went in with the league's stingiest defense on first down. But they were next-to-last on third down, allowing opponents to convert 50 percent on their opportunities. The trend continued with the Steelers converting four-of-six third downs in the first half, including Bettis' touchdown pass to Tuman. Pittsburgh finished 6-for-10 and was 1-for-1 on fourth down. A week after scoring a season-high four touchdowns in a 31-28 overtime loss at Tennessee, the Bucs were limited to Martin Gramatica's 31-yard, first-quarter field goal until Murphy's TD in the final minute. Keyshawn Johnson became the first Tampa Bay receiver to have consecutive 100-yard games since Mark Carrier in 1989. But the Bucs' running game was virtually nonexistent, and Brad Johnson was not nearly as effective as his statistics -- 24-of-40 passing for 283 yards -- would suggest because of Pittsburgh's pass rush. "When we picked up our guys, they still sacked us. Ten sacks, it ain't no way to say it but it's a bad, bad game," Bucs rookie left tackle
Kenyatta Walker
said.
Joey Porter
had four sacks and Kimo Von Oelhoffen added three.
Mike Logan
had the Steelers' end zone interception on a pass that
Chad Scott
tipped away from Keyshawn Johnson early in the fourth quarter.
Game notes
Pittsburgh's
Kordell Stewart
was 10-of-16 passing for 100 yards. He was intercepted twice by
Ronde Barber
. ... Bettis' other TD pass was a 21-yarder to
Hines Ward
on Dec. 12, 1999 against Baltimore. ... The 10 sacks Tampa Bay allowed matched a team record.
Copyright by STATS LLC and The Associated Press
Scoring Summary
THIRD QUARTER
PIT
TB
TD
13:03
Jerome Bettis, 46 yd run

Drive info: 3 plays, 57 yds, 0:55

13
3
12:43

Drive info: 3 plays, 57 yds, 0:55

14
3
SECOND QUARTER
PIT
TB
TD
7:00
Touchdown

Drive info: 8 plays, 80 yds, 2:29

6
3
7:00

Drive info: 8 plays, 80 yds, 2:29

7
3
THIRD QUARTER
PIT
TB
FG
5:05
Kris Brown 10 yd Field Goal

Drive info: 10 plays, 68 yds, 5:11

17
3
SECOND QUARTER
PIT
TB
FG
13:18
Martin Gramatica 10 yd Field Goal

Drive info: 14 plays, 81 yds, 14:07

0
3
FOURTH QUARTER
PIT
TB
TD
0:37
Touchdown

Drive info: 16 plays, 80 yds, 3:38

17
9
0:37

Drive info: 16 plays, 80 yds, 3:38

17
10