1:00 PM ET, November 25, 2001
Ralph Wilson Stadium, Buffalo, NY
ORCHARD PARK, N.Y. (AP) -- Dolphins coach Dave Wannstedt kept his faith in Jay Fiedler, and the young quarterback delivered.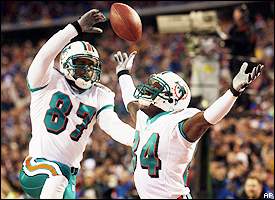 Chris Chambers, right, celebrates with Dedric Ward after scoring the winning touchdown for the Dolphins.
Bouncing back from a dreadful performance, Fiedler threw three fourth-quarter touchdown passes, including a 32-yarder to Chris Chambers with 48 seconds remaining, to lift Miami over Buffalo 34-27 on Sunday. "This was a big win for our team and myself," Fielder said. "The hardest part is keeping your focus on what needs to be done and not listening to your critics. "I've made a lot of mistakes early in the year, but I've learned." Fiedler was under scrutiny all week after throwing three interceptions in a 24-0 loss to the
New York Jets
. He bounced back against the Bills, finishing 18-for-31 for 262 yards with no interceptions. Fiedler steered the Dolphins to 24 fourth-quarter points, overcoming a 21-10 deficit. His shining moment came on the game-winning drive, lofting a perfect touch pass to Chambers, who was covered by Buffalo's
Ken Irvin
along the left sideline.
How important is this win for the Dolphins?
It's important because the Dolphins need to keep pace with the Jets. But more than that, the way Miami won this game is huge -- coming back from 10 points down late in the fourth quarter. And for Jay Fiedler to lead them back, after all the pressure that's been on him, is huge for him and for the Dolphins.

We also saw the emergence of wide receiver Chris Chambers today, making big plays in key situations. But what's still hurting Miami is the lack of a running game.

ESPN.com's Vinny Cerrato was director of player personnel for the Redskins and 49ers.
Chambers caught the ball at the 1 and fell backward into the end zone. "Jay Fiedler came up here with the mindset that he was going to do anything that he possibly could to help this team win," Wannstedt said. "There is a fine line of having enough confidence to make a throw but not forcing anything. I think Jay went through that today and hopefully gained some confidence." It was Fiedler's fourth fourth-quarter comeback of the season and sixth of his career. And it came at a critical juncture for the Dolphins (7-3), who regained a share of the AFC East lead with the idle Jets. The Bills (1-9) are off to their worst start in 17 years, have lost five straight games overall and eight in a row at home -- matching their longest home losing streak since the 1983-84 seasons. The only thing different about this loss is that Buffalo managed to squander a rare fourth-quarter lead. After
Olindo Mare
's 39-yard field goal tied the game at 27 with 1:11 left, Buffalo's
Nate Clements
fumbled the ensuing kickoff return.
Patrick Surtain
recovered at the Bills' 42, setting up the game-winning score. Then there was Buffalo kicker
Jake Arians
, who put the Dolphins in a position to tie the game when he missed a point-after attempt that left the score 27-17 with 8:16 remaining. "It's frustrating to play that hard and play well in some places and not be able to come up with a win," Bills coach Gregg Williams said. "They came up with some big plays in the end, and we didn't make the big plays to counter that." Williams was particularly critical of Arians, brought in to replace clutch veteran Steve Christie, who was released before the season. "Jay said that he had a tough time spinning the ball," Williams said, referring to holder
Jay Riemersma
. "But I don't care how you spin it, you've got to kick it through." It was Arians' first point-after miss of the season, but he's struggled on field goals, missing nine of 21 attempts. Bills quarterback
Alex Van Pelt
showed poise in his second start in place of injured
Rob Johnson
. Van Pelt was 21-for-34 for 309 yards, a week after a career-high 316-yard effort against Seattle.
Eric Moulds
, who complained during the week about not being used enough, caught six passes for 196 yards and scored two touchdowns, including 54-yarder on a remarkable one-handed grab. "It's not really about me, it's about wins," Moulds said. "I'm so into winning that it hurts so much sometimes that I say things I shouldn't say. But I just want to be a part of winning."
Travis Henry
scored on an 8-yard run, and
Sheldon Jackson
added a 1-yard TD reception for the Bills.
Oronde Gadsden
led the Dolphins with 118 yards receiving, while Chambers had 101 yards and two touchdowns. Mare had a 25-yard field goal,
Lamar Smith
a 1-yard TD run and
Jed Weaver
an 8-yard TD catch for the Dolphins.
Game notes
The Dolphins have won three straight against the Bills, Miami's longest streak against Buffalo since 1984-86. ... Dolphins LG
Mark Dixon
broke his right leg. Miami already was without center
Tim Ruddy
and tackles Brent Smith and Marcus Spriggs. ... Bills FB
Larry Centers
had five catches, passing Andre Rison for 12th on the career list with 745. ...
Matt Turk
's 77-yard punt tied Reggie Roby's Dolphins franchise record, set against Buffalo in 1987.
Copyright by STATS LLC and The Associated Press
Scoring Summary
FIRST QUARTER
MIA
BUF
TD
3:20
Touchdown

Drive info: 1 plays, 70 yds, 0:00

7
6
3:20

Drive info: 1 plays, 70 yds, 0:00

7
7
FOURTH QUARTER
MIA
BUF
TD
0:55
Touchdown

Drive info: 3 plays, 42 yds, 0:10

33
27
SECOND QUARTER
MIA
BUF
FG
8:49
Olindo Mare 10 yd Field Goal

Drive info: 4 plays, 3 yds, 0:43

10
7
FOURTH QUARTER
MIA
BUF
0:55

Drive info: 3 plays, 42 yds, 0:10

34
27
FIRST QUARTER
MIA
BUF
TD
3:51
Lamar Smith, 1 yd run

Drive info: 7 plays, 39 yds, 3:33

6
0
THIRD QUARTER
MIA
BUF
TD
12:16
Touchdown

Drive info: 6 plays, 88 yds, 2:34

10
20
FOURTH QUARTER
MIA
BUF
FG
1:54
Olindo Mare 10 yd Field Goal

Drive info: 7 plays, 41 yds, 1:40

27
27
FIRST QUARTER
MIA
BUF
3:51

Drive info: 7 plays, 39 yds, 3:33

7
0
THIRD QUARTER
MIA
BUF
12:16

Drive info: 6 plays, 88 yds, 2:34

10
21
FOURTH QUARTER
MIA
BUF
TD
15:00
Touchdown

Drive info: 7 plays, 62 yds, 13:29

16
21
TD
4:53
Touchdown

Drive info: 8 plays, 60 yds, 2:37

23
27
15:00

Drive info: 7 plays, 62 yds, 13:29

17
21
4:53

Drive info: 8 plays, 60 yds, 2:37

24
27
SECOND QUARTER
MIA
BUF
TD
0:10
Touchdown

Drive info: 14 plays, 80 yds, 4:00

10
13
FOURTH QUARTER
MIA
BUF
TD
9:09
Travis Henry, 8 yd run

Drive info: 13 plays, 71 yds, 5:36

17
27
SECOND QUARTER
MIA
BUF
0:10

Drive info: 14 plays, 80 yds, 4:00

10
14