1:00 PM ET, November 25, 2001
CLEVELAND (AP) -- Of all the lofty numbers the Cleveland Browns put up Sunday, the most impressive was a zero.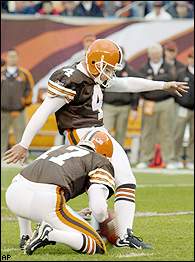 Phil Dawson had four field goals for Cleveland, the longest for 33 yards.
Phil Dawson
kicked four field goals,
Kevin Johnson
caught a touchdown pass and the Browns got their first shutout since returning to the league with an 18-0 victory over the bumbling Bengals. "I'll be celebrating 'til Tuesday," linebacker
Jamir Miller
said. "It's our first shutout, a milestone. My first one in years and it feels great." The Browns (6-4) forced seven turnovers, including five interceptions, and got more than enough offense to handle Cincinnati (4-6). "We just feel terrible about ourselves," said Bengals quarterback
Jon Kitna
, who was benched after completing just eight of 19 passes and throwing two interceptions in the first half. Cleveland came in focused on stopping running back
Corey Dillon
, who had averaged 144 yards in his five previous games against the Browns. But despite missing suspended tackle
Gerard Warren
, they held Dillon to 63 yards on 20 carries.
Is it time to recognize the Browns' defense as one of the best in the NFL?
The Browns definitely have a playoff-caliber defense.

If the Browns didn't have such a strong defense, they would be in serious trouble, because their offense hasn't been scoring lots of points. The D has been playing a ton of plays and giving the offense a short field and good opportunities to score -- and scoring points as well.

ESPN.com's Vinny Cerrato was director of player personnel for the Redskins and 49ers.
"Cincy goes as Corey Dillon goes," Miller said. "We knew if we could contain him that we'd have a pretty good chance. Once we did that, we could really go after them." The shutout was the Browns' first since blanking Arizona 32-0 on Sept. 18, 1994. And with five more interceptions, Cleveland now leads the NFL with 25 picks after getting just 20 in the last two seasons combined. Miller said the shutout should do more than help the Browns improve their rankings. "People's perception of our team is changing," Miller said. "If it hadn't, it should now." Johnson caught a 6-yard TD pass in the first half and Dawson kicked field goals of 23, 27, 22 and 33 yards as the Browns avenged a loss earlier this season to the Bengals.
Tim Couch
went 16-of-27 for 189 yards with two interceptions. Cincinnati's best scoring chance ended like all of the Bengals' other drives -- with nothing. On the first play of the fourth quarter,
T.J. Houshmandzadeh
returned a punt 86 yards before being caught from behind at Cleveland's 5. But instead of giving Dillon the ball on first down, Mitchell threw an incomplete pass. Dillon picked up three yards on two straight tries and the Bengals decided to got for it on fourth down. Mitchell, one of the NFL's slowest QBs, tried to roll left, but was sacked for a 9-yard loss by
Courtney Brown
and
Dwayne Rudd
. "When we got the fourth-down stop, we felt like we could put the goose egg up," Brown said. Cornerback
Corey Fuller
said the Browns didn't start talking about a shutout until the final few minutes. "I went to the sideline and said, 'Let's shut them out'," Fuller said. "We weren't really worried about them scoring a TD after that." Bengals coach Dick LeBeau benched Kitna at the start of the third quarter. Mitchell, who had not taken a snap all season, was 4-of-12.
Neil Rackers
missed two field goals for the Bengals, whose promising start this season is quickly fading with every loss. "There's a little bit of doubt in everybody's mind right now," Kitna said. "That's what happens when you're not playing well."LeBeau said Kitna will start Sunday against Tampa Bay. The Browns made four trips inside the Bengals 20 in the first half, but didn't get their first touchdown until just 26 seconds before halftime. Kitna's pass was deflected and intercepted by Ray Jackson, who returned it 52 yards to the Cincinnati 10. Two plays later, Couch hit Johnson in the corner of the end zone. But the Browns missed the extra point and led 12-0 at halftime. Cincinnati, too, had difficulty moving the ball once it got decent field position. Rackers missed a 43-yarder in the first quarter, and then bounced a 46-yard attempt off the left upright in the second.
Brant Boyer
's interception set up Dawson's 23-yard field goal that gave the Browns a 3-0 lead in the first quarter. After Cleveland failed to get into the end zone again, Dawson kicked a 27-yarder to make it 6-0.
Game notes
The Browns now lead the "Battle of Ohio" 29-28. ... Cincinnati is 0-35 in road games against teams with a winning record since 1990. ... Dawson made 51 straight PATs before his miss. ... Bengals WR
Peter Warrick
bruised his left shoulder in the first half and did not return. ... Four of Johnson's five 100-yard career receiving games have come against Cincinnati. ... Cleveland is 4-2 vs. AFC Central opponents after going 3-17 in 1999-00.
Copyright by STATS LLC and The Associated Press
Scoring Summary
SECOND QUARTER
CIN
CLE
TD
0:37
Touchdown

Drive info: 2 plays, 10 yds, 0:37

0
12
FIRST QUARTER
CIN
CLE
FG
11:29
Phil Dawson 10 yd Field Goal

Drive info: 7 plays, 24 yds, 2:11

0
3
FOURTH QUARTER
CIN
CLE
FG
3:10
Phil Dawson 10 yd Field Goal

Drive info: 7 plays, 24 yds, 2:36

0
15
FG
1:17
Phil Dawson 10 yd Field Goal

Drive info: 4 plays, 4 yds, 0:39

0
18
SECOND QUARTER
CIN
CLE
FG
13:23
Phil Dawson 10 yd Field Goal

Drive info: 11 plays, 54 yds, 15:53

0
6