1:00 PM ET, December 2, 2001
CLEVELAND (AP) -- As Steve McNair was escorted to the locker room cradling his numb left arm, the Tennessee Titans braced themselves for the worst.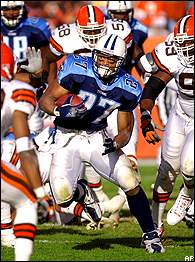 The Titans' Eddie George worked hard for his 51 yards Sunday, carrying 23 times.
But once McNair got the feeling back, it wasn't long before the Titans' playoff chances returned, too. McNair, who had his arm stepped on in the first half, threw two of his three TD passes to
Derrick Mason
as Tennessee kept its postseason hopes alive for another week with a 31-15 win Sunday over the
Cleveland Browns
. "I've always been a big Steve McNair fan, but this was something else," said Titans guard
Bruce Matthews
. "I don't think anybody thought he was coming back. You can't count that guy out." Or the Titans, either. Tennessee (5-6) hadn't looked like a team just two years removed from a Super Bowl berth for most of the season before pounding the Browns (6-5). The Titans may still have to win their last five games to reach the playoffs for the third straight year, but they'll get to try with McNair, who thought his season was over when 266-pound linebacker
Jamir Miller
stepped on him. "The first 15 minutes, I couldn't even move it," said McNair. "When the X-rays came back negative, I thought, 'If I can go, I'm going'." McNair didn't play most of the second quarter after getting hurt, but by then had given the Titans a 17-0 lead. He sat most of the fourth period and still finished 11-of-17 for 244 yards. McNair hooked up with Mason on scoring passes of 43 and 71 yards, and had a 5-yard TD pass to rookie
Drew Bennett
in the third quarter that put the Titans up 24-7. But his ability to play through pain impressed McNair's teammates more than any statistics. McNair was backpedaling after throwing a pass when his arm was hit by Miller. Then, Miller accidentally stepped on McNair's elbow after the quarterback fell. "My little finger and the one next to it are still numb," McNair said nearly an hour after the game. Matthews, who has played in more NFL games than any lineman in history, was still shaking his head afterward. "We heard he had a broken arm," Matthews said. "Then we heard dislocated shoulder. Then we heard broken arm and dislocated shoulder. "When he came to the sideline, I thought, 'I guess he's going in.' To see him back in the second half was a real lift for our offense." The Browns, now 0-5 against the Titans since returning to the league, wanted to show they were a playoff-caliber squad and even challenged the Titans during warmups when the teams got into a shoving match at midfield. That was the last time Cleveland was Tennessee's equal. "We got embarrassed," said cornerback
Daylon McCutcheon
. "I'm embarrassed."
Kevin Dyson
had six catches for 110 yards and Mason had 124 yards in catches for the Titans, who still can't run the ball but may not need to with McNair finding his touch. McNair's 71-yard scoring pass with 5:51 left in the third quarter made it 31-7, and he was in for just one play of the fourth quarter before
Neil O'Donnell
mopped up.
Eddie George
, bothered all year by injuries, got just 51 yards on 23 carries and a TD. "We just made plays," Dyson said. "It was a game we needed to win. We're trying to keep our playoff hopes alive and we need to get things going. And then, who knows?" The Browns couldn't get anything going on offense and its defense took a shot when second-year end
Courtney Brown
sprained his left ankle early in the first quarter and didn't return.
Tim Couch
finished 17-of-26 for 110 yards and Cleveland's offense, the NFL's worst coming in, gained 282 yards -- most of them coming in garbage time behind backup QB
Kelly Holcomb
.
Kevin Johnson
had two TD catches for the Browns, who found themselves in an early hole when
Quincy Morgan
fumbled the opening kickoff. George scored on a 1-yard TD plunge just 2:59 in after the fumble, and Tennessee led 14-0 on McNair's first TD pass to Mason. "It was 14-0 before we even got anything going," said Couch. "The momentum shifted right from the get-go."
Game notes
Tennessee's banged-up secondary took more hits. Cornerbacks
Donald Mitchell
,
DeRon Jenkins
and safety
Daryl Porter
all sprained their knees. ... Dyson and Mason also had more than 100 yards last week, making them the first receivers in franchise history with 100-plus yards in consecutive games since 1961 when Bill Groman and Charlie Hennigan did it for the Houston Oilers. ... Titans coach Jeff Fisher apologized to Browns coach Butch Davis after complaining on the field about Cleveland trying a late onsides kick.
Copyright by STATS LLC and The Associated Press
Scoring Summary
FIRST QUARTER
TEN
CLE
TD
5:39
Touchdown

Drive info: 2 plays, 49 yds, 0:48

13
0
THIRD QUARTER
TEN
CLE
TD
6:10
Touchdown

Drive info: 2 plays, 75 yds, 0:-07

30
7
FIRST QUARTER
TEN
CLE
5:39

Drive info: 2 plays, 49 yds, 0:48

14
0
THIRD QUARTER
TEN
CLE
6:10

Drive info: 2 plays, 75 yds, 0:-07

31
7
FOURTH QUARTER
TEN
CLE
TD
1:57
Touchdown(Jamel White run for 2pt conversion)

Drive info: 4 plays, 49 yds, 0:41

31
15
THIRD QUARTER
TEN
CLE
TD
8:24
Touchdown

Drive info: 6 plays, 44 yds, 2:29

23
7
FIRST QUARTER
TEN
CLE
TD
12:07
Eddie George, 1 yd run

Drive info: 5 plays, 20 yds, 3:23

6
0
THIRD QUARTER
TEN
CLE
8:24

Drive info: 6 plays, 44 yds, 2:29

24
7
FIRST QUARTER
TEN
CLE
12:07

Drive info: 5 plays, 20 yds, 3:23

7
0
SECOND QUARTER
TEN
CLE
TD
6:40
Touchdown

Drive info: 11 plays, 61 yds, 5:54

17
6
6:40

Drive info: 11 plays, 61 yds, 5:54

17
7
FG
12:57
Joe Nedney 10 yd Field Goal

Drive info: 10 plays, 50 yds, 15:11

17
0