1:00 PM ET, December 23, 2001
ATLANTA (AP) -- Jay Feely noticed a flaw in his kicking technique, and the adjustment he made helped the Atlanta Falcons stay in the NFC playoff race.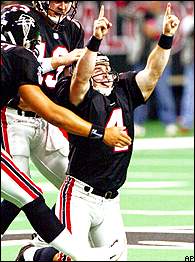 Falcons kicker Jay Feely and holder Chris Mohr celebrate after Feely kicked a winning field goal as time expired.
Feely made all four of his field-goal attempts, including a 52-yarder on the final play, to give Atlanta a 33-30 victory Sunday over the
Buffalo Bills
. Before Sunday, Feely was 11-for-18 at the Georgia Dome and 12-for-12 on the road. The game-winner was his second-longest kick of the season; he had a 55-yarder at Arizona. "I was picking up my head a little early and pulling off the ball," Feely said. "I've worked the last three weeks, and it's been better, and it was today."
Chris Chandler
overcame flu symptoms to throw for a career-high 431 yards -- the best total in team history -- and two touchdowns. He drove the Falcons (7-7) 23 yards to set up Feely's kick that snapped a three-game losing streak.
Will Chris Chandler still be the Falcons starting QB next season?
Absolutely. Michael Vick is still on the learning curve, and will probably need time next year -- preseason and during the season -- to keep getting up to speed.

Atlanta has a chance to win with Chandler; he threw for over 400 yards today. The Falcons should get Jamal Anderson back next year, and if they improve on defense, they could be successful. They're 7-7 now, but they lost two overtime games to the 49ers, so they're that close to being 9-5 and a virtual lock for the playoffs.

The key with Chandler is finding a way to keep him healthy.

ESPN.com's Vinny Cerrato was director of player personnel for the Redskins and 49ers.
It was the first time an Atlanta quarterback threw for more than 400 yards since Steve Bartkowski had 416 on Nov. 15, 1981, against Pittsburgh. Chandler shrugged off two first-half interceptions for his best passing day since Sept. 20, 1992, when he threw for 383 yards for the Phoenix Cardinals against Dallas. One of his interceptions was returned 7 yards for a touchdown by Buffalo linebacker Brandon Spoon. The quarterback was treated at halftime and nearly missed the start of the third quarter. "When I was laying there getting those IVs, I just felt totally wiped," Chandler said. "I didn't know if I was going to be able to go." His performance impressed Buffalo defensive end
Phil Hansen
. "At the coin toss, Chandler looked a little pale," Hansen said. "He said, 'Hey, man, I'm sick, take it easy on me.' I laughed, then went back and told the whole defense to get after Chandler, he's sick. "Then he turns around and sets a record for yards."
Shawn Bryson
, in the final year of his contract, ran for career-high 130 yards and two touchdowns for Buffalo (2-12). Buffalo drove 82 yards to tie it at 30 on
Alex Van Pelt
's 3-yard pass to
Eric Moulds
with 48 seconds left. Falcons coach Dan Reeves called a timeout after the play to argue that the Bills were in an illegal formation and that the play clock had expired. Defensive end
Patrick Kerney
said there also was movement on the line. "It looked like to me they moved, so they should have moved 5 yards back," he said. "I guess you can't challenge that type of call."
Darrick Vaughn
returned the Bills' ensuing squib kick to the Atlanta 43, setting up the winning drive. Chandler was late leaving the locker room after halftime because of his treatment, returning to the field just as the Bills were punting on the first possession of the third quarter. Backup
Michael Vick
jogged on the field, but when a penalty forced another punt, Chandler returned to the game. He led Atlanta to a go-ahead field goal on the opening drive, and after Bryson's 68-yard run gave Buffalo the lead again, Chandler threw a 63-yard scoring pass to
Tony Martin
. "My concern was mainly just surviving," Chandler said. "I wasn't really concerned with the result of the plays." The Bills closed to 30-23 on
Shayne Graham
's 28-yard field goal with 3:59 remaining. Backup running back
Rodney Thomas
took over for an ineffective
Maurice Smith
in the second half and finished with 41 of Atlanta's 68 yards rushing. Both teams squandered scoring chances in the first half. Larry Centers' career-best 50-yard run on third-and-4 from the 11 put Buffalo in scoring position, but offensive pass interference on Jay Riemersma helped stall the drive. Late in the second quarter, the Falcons drove to the 7, but Chandler was intercepted by Clements in the end zone. With rookie
Travis Henry
out with a sprained knee, Bryson took advantage of his opportunity. He ran for 34 yards on Buffalo's first possession, including a 15-yard touchdown, and added the 68-yard TD in the third quarter.
Game notes
Chandler had the seventh 300-yard passing game of his career and the second this season. He threw for 352 yards against Green Bay on Nov. 18. ... Chandler's 63-yard scoring pass to Martin was Atlanta's longest completion to a wide receiver this year. Running back Jamal Anderson caught a 94-yard TD. ... Spoon, a rookie, has returned both of his interceptions this season for touchdowns. ... Buffalo held Falcons punt returner
Darrien Gordon
to 10.3 yards a return, 5 yards his league-leading average.
Copyright by STATS LLC and The Associated Press
Scoring Summary
SECOND QUARTER
BUF
ATL
TD
6:42
Touchdown

Drive info: 1 plays, 14 yds, 0:00

13
10
THIRD QUARTER
BUF
ATL
TD
5:53
Shawn Bryson, 68 yd run

Drive info: 1 plays, 68 yds, 0:00

20
16
SECOND QUARTER
BUF
ATL
6:42

Drive info: 1 plays, 14 yds, 0:00

14
10
FIRST QUARTER
BUF
ATL
TD
7:19
Shawn Bryson, 15 yd run

Drive info: 3 plays, 58 yds, 0:49

6
7
FOURTH QUARTER
BUF
ATL
TD
13:13
Touchdown

Drive info: 4 plays, 61 yds, 0:12

20
29
FIRST QUARTER
BUF
ATL
7:19

Drive info: 3 plays, 58 yds, 0:49

7
7
FOURTH QUARTER
BUF
ATL
13:13

Drive info: 4 plays, 61 yds, 0:12

20
30
FG
0:02
Jay Feely 10 yd Field Goal

Drive info: 5 plays, 23 yds, 0:40

30
33
THIRD QUARTER
BUF
ATL
TD
2:07
Touchdown

Drive info: 6 plays, 78 yds, 3:24

20
22
2:07

Drive info: 6 plays, 78 yds, 3:24

20
23
FIRST QUARTER
BUF
ATL
FG
2:40
Jay Feely 10 yd Field Goal

Drive info: 10 plays, 61 yds, 3:34

7
10
SECOND QUARTER
BUF
ATL
FG
3:17
Jay Feely 10 yd Field Goal

Drive info: 9 plays, 68 yds, 2:16

14
13
FIRST QUARTER
BUF
ATL
TD
8:38
Maurice Smith, 1 yd run

Drive info: 10 plays, 70 yds, 6:46

0
6
FOURTH QUARTER
BUF
ATL
TD
0:51
Touchdown

Drive info: 11 plays, 82 yds, 0:58

29
30
FIRST QUARTER
BUF
ATL
8:38

Drive info: 10 plays, 70 yds, 6:46

0
7
THIRD QUARTER
BUF
ATL
FG
6:29
Jay Feely 10 yd Field Goal

Drive info: 13 plays, 50 yds, 6:56

14
16
FOURTH QUARTER
BUF
ATL
0:48

Drive info: 11 plays, 82 yds, 0:58

30
30
FG
4:03
Shayne Graham 10 yd Field Goal

Drive info: 14 plays, 73 yds, 7:04

23
30