1:00 PM ET, December 23, 2001
BALTIMORE (AP) -- It was just like last year for the Baltimore Ravens, who thoroughly frustrated Cincinnati quarterback Jon Kitna in their long overdue first shutout of the season.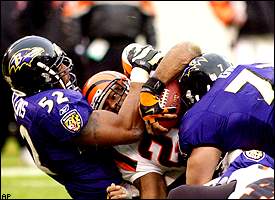 Ravens linebacker Ray Lewis and tackle Kelly Gregg, right, stop Bengals running back Corey Dillon in the third.
Ray Lewis
had two of Baltimore's three interceptions, and the Ravens overcame a 127-yard rushing performance by
Corey Dillon
in a 16-0 rout Sunday. Baltimore yielded 476 yards one week earlier in a 26-21 loss to Pittsburgh. But against the hapless Bengals, the defense looked much more like the unit that last year had four shutouts and set an NFL record for fewest points allowed over a 16-game season (165). "It was a familiar feel, because it didn't matter what our offense did," Lewis said. "If they went three and out, it was a turnover, whatever it was. When we stepped on the field, we truly believed they couldn't move the ball on us." Interceptions by Lewis and
Duane Starks
ended two Cincinnati drives deep in Baltimore territory in the second quarter, and the Bengals didn't pass midfield in the second half until midway through the fourth quarter.
Do you think Ray Lewis was extra fired up to play against Takeo Spikes?
Ray Lewis is fired up every week. He loves to play each game, and he has a great passion for the game of football.

Lewis also loves to play well, as he did Sunday with two interceptions and a team-leading 11 tackles. He's the leader of the Ravens.

The Ravens were embarrassed by their loss to the Steelers last week, so Lewis was really ready to play this week. That was more of a factor than Takeo Spikes.

ESPN.com's Vinny Cerrato was director of player personnel for the Redskins and 49ers.
"It felt like we kind of played old Ravens ball," Baltimore linebacker Peter Boulware said.
Terry Allen
scored the game's lone touchdown and
Matt Stover
kicked three field goals as Baltimore (9-5) enhanced its wild-card hopes by avenging an earlier 21-10 defeat at Cincinnati. "We're thrilled to be where we're at right now," Ravens coach Brian Billick said. Dillon ended Baltimore's string of 50 straight games without allowing a 100-yard rusher. It didn't matter, because Kitna's interceptions ruined three promising drives and the Bengals (4-10) absorbed their seventh straight defeat and third shutout of the season. "How can you satisfied with some stats if you didn't win? That's the bottom line," Dillon said. As the game drew to a close, Kitna and Bengals wide receiver
Chad Johnson
exchanged heated words on the sideline. Kitna, who was 16-for-39 with four turnovers, said, "There was some frustration between him and I, and it's going to stay between Chad and I unless he wants to talk to you about it." Said Johnson: "He said something I didn't like and I said something back that he didn't like." It was the third straight time Baltimore blanked the Bengals at PSINet Stadium, marking the first time an NFL team has blanked an opponent at home over three seasons since the
Oakland Raiders
did it to San Diego from 1975-77. "I'm frustrated, management's frustrated, coaches are frustrated. We've got to find a way to get rid of this frustration," Dillon said. Lewis returned his two interceptions for 94 yards, which effectively offset Kitna's 153 yards passing. Kitna threw an interception and lost a fumble in the fourth quarter. Ravens quarterback
Elvis Grbac
, who threw three interceptions in the first meeting between the teams, was 16-for-30 for 181 yards. He lost a fumble, but was not intercepted. Down 13-0, Cincinnati moved to the Baltimore 8 before Lewis picked off a pass at the 1 and ran 64 yards with 5:31 left, ending any hope the Bengals had of an upset. "We got a shutout and a win. Dillon is a great back, but we don't play for streaks around here, we play for wins," Boulware said. Stover kicked a 43-yard field goal to put Baltimore up 3-0 in the first quarter, six plays after
Qadry Ismail
became the Ravens' career leader with his 184th catch. Baltimore made it 10-0 on its next possession, moving 80 yards in a drive aided by three Cincinnati penalties. Allen, who finished with 91 yards rushing, ended the drive with a 4-yard run. The Bengals then moved to the Baltimore 17 before Starks picked off Kitna's pass in the end zone. Grbac returned the favor, losing a fumble on the Cincinnati 17 after being sacked by
Reinard Wilson
. Three plays later, an interception by the Ravens'
Rod Woodson
was wiped out when
Sam Adams
was called for roughing the quarterback. The Bengals then moved into Baltimore territory before Lewis intercepted a deflected pass, setting up a field goal for a 13-0 lead.
Game notes
Baltimore put DT
Tony Siragusa
(leg) on the inactive list. ... The Ravens have not allowed a first-quarter touchdown in eight straight games. ... It was Dillon's second 100-yard rushing effort against the Ravens, but he has never run for a touchdown against Baltimore. ... For the fifth consecutive game, Cincinnati held the opposition to less than 20 points and lost. ... Baltimore G Bennie Anderson (neck) left after the first series and did not return.
Copyright by STATS LLC and The Associated Press