8:30 PM ET, September 22, 2002
ATLANTA (AP) -- The Atlanta Falcons had the perfect opponent after two heartbreaking losses.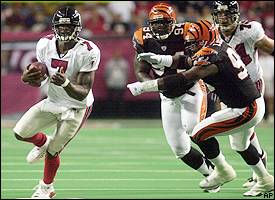 Atlanta quarterback Michael Vick outruns Cincinnati's Canute Curtis, right, and Tony Williams on his way to 56 yards rushing.
The
Cincinnati Bengals
haven't come close to beating anybody. They were out of it by halftime Sunday night, losing to the Falcons 30-3 as
Michael Vick
threw a pair of touchdown passes to Brian Finneran. ''We needed this game,'' Atlanta's
Patrick Kerney
said. ''We didn't even want it to be a close game. They're struggling and we needed to send a message that we're a great team.'' The Falcons (1-2) can't make a claim of greatness by beating Cincinnati, however. If the NFL had relegation, the Bengals (0-3) would be in the Canadian Football League by now. Cincinnati has been outscored 84-16 and already given up on quarterback
Gus Frerotte
, who was benched midway through the second quarter when he missed his first seven passes. ''We were defeated very decisively and this is a very tough time,'' said coach Dick LeBeau, who already is facing questions about how long he'll be on the job. ''I will do my best at this position as long as I am in this position,'' he said. ''Right now, I want to get us out of this hole that we are in.'' Vick outgained the Bengals all by himself. He completed 16 of 26 passes for 174 yards and pulled off several scintillating runs, finishing with 56 yards on the ground. ''I felt I could basically take over the game,'' Vick said. The Bengals? Playing in prime time for the first time in four years, they drove inside the Atlanta 40 only once. Cincinnati did have one breakthrough of sorts: For the first time this season, the Bengals actually scored in the first half.
Neil Rackers
kicked a 24-yard field goal with three seconds left in the half, but all that did was cut Atlanta's lead to 20-3. The Falcons began the season with an overtime defeat at Green Bay, followed by a one-point defeat to Chicago when they missed a field goal in the final minute. This time, Atlanta didn't have to worry about losing one at the end. ''Finally,'' coach Dan Reeves said. ''The guys have really been close the last two weeks.'' The Falcons gave a game ball to new owner Arthur Blank, who was part of the second consecutive sellout crowd in the Georgia Dome. ''Hopefully, that will be the first of many,'' Reeves said. After field goals by
Jay Feely
on their first two possessions, the Falcons turned Vick loose and blew the game open. The speedy quarterback scrambled for 7 yards to convert a third-and-6. He turned a broken play into a 14-yard gain. Finally, on third-and-1 at the Cincinnati 20, Vick play-faked the Bengals and gunned a touchdown pass to Finneran over the middle. Atlanta scored again after Cincinnati's
Nick Harris
shanked a 17-yard punt, taking over at the Bengals 24. Five plays later, Vick rolled left and hit Finneran cutting across the goal line for a 13-yard touchdown. ''It's like being back in high school again,'' Finneran said. ''You can run around and pretty much do whatever you want. That's what he does. He's unbelievable.'' With
Jon Kitna
at quarterback, the Bengals put together their only scoring drive after getting the ball at the 40, the result of Feely kicking off out of bounds. A plodding 14-play, 53-yard drive got the Bengals in position for Rackers' short field goal. More typical for the Bengals was their first possession.
Corey Dillon
was thrown for a 3-yard loss and Frerotte threw a pass over the middle that should have been intercepted by Juran Bolden. After two consecutive false start penalties, the Bengals faced third-and-20 from their 3. Frerotte tried to force a pass to Peter Warrick over the middle, but
Kevin Mathis
-- signed by the Falcons five days earlier -- picked it off and returned to the Cincinnati 15. ''If anybody wants to jump off the bandwagon,'' tackle Willie Anderson said, ''I can't blame them.'' Cincinnati was outgained 100 yards to 4 in the first quarter and didn't pick up its initial first down until about 11½ minutes remained in the second period. Kitna, the lowest-rated quarterback in the league a year ago, took over with 7:54 left in the first half. He finished 18-for-35 for 136 yards. For the next game against Tampa Bay, LeBeau said he'll take a look at Kitna and third-stringer
Akili Smith
, the lowest-rated quarterback in the league in 2000.
Game notes
The Falcons also presented a game ball to former President Jimmy Carter, who was a guest of Blank's. ... Cincinnati tight end Sean Brewer left the game in the first half with a sprained left knee. ... The Bengals have thrown at least one interception in 14 consecutive games, a dubious team record. ... Falcons center
Todd McClure
left the game in the fourth quarter with a knee injury. Rookie
Martin Bibla
, who began snapping just a few days earlier, went the rest of the way without any problems. ... Atlanta rookie running back T.J. Duckett led the team with 67 yards on 18 carries.
Copyright by STATS LLC and The Associated Press
Scoring Summary
FIRST QUARTER
CIN
ATL
FG
7:30
Jay Feely 10 yd Field Goal

Drive info: 4 plays, 7 yds, 0:57

0
6
SECOND QUARTER
CIN
ATL
TD
5:25
Touchdown

Drive info: 4 plays, 24 yds, 1:53

0
19
5:25

Drive info: 4 plays, 24 yds, 1:53

0
20
FIRST QUARTER
CIN
ATL
TD
2:20
Touchdown

Drive info: 7 plays, 55 yds, 2:25

0
12
FG
10:13
Jay Feely 10 yd Field Goal

Drive info: 7 plays, 46 yds, 5:22

0
3
2:20

Drive info: 7 plays, 55 yds, 2:25

0
13
THIRD QUARTER
CIN
ATL
TD
5:37
Warrick Dunn, 4 yd run

Drive info: 11 plays, 74 yds, 5:50

3
26
5:37

Drive info: 11 plays, 74 yds, 5:50

3
27
SECOND QUARTER
CIN
ATL
FG
0:11
Neil Rackers 10 yd Field Goal

Drive info: 14 plays, 53 yds, 5:25

3
20
FOURTH QUARTER
CIN
ATL
FG
8:43
Jay Feely 10 yd Field Goal

Drive info: 17 plays, 31 yds, 17:24

3
30