1:00 PM ET, September 22, 2002
MINNEAPOLIS (AP) -- It's hard to tell how good Carolina is this early in the season, but the Panthers are not surprised with their successful start.
Allen's Analysis
Question on the Vikings: What's going on with the Vikings?
All of the pressure falls on Daunte Culpepper and Randy Moss -- and they're not handling that pressure too well right now. The lack of consistency and direction in the defensive backfield continues to hurt them, as it has for the past three years. This is a young team but they definitely need to make some changes next year, either in their defensive scheme or the way they're coached.

Question on the Panthers: Is the Panthers defense good enough to keep them in games all year?
Julius Peppers is an exceptional ballplayer who'll create a lot of mismatches. But when you get into the thick of the NFC, the Panthers play some very good teams with exceptional offensive talent. For example, I'm not sure the Panthers are quite ready to handle New Orleans' receivers.

Eric Allen played 14 seasons in the NFL for the Eagles, Saints and Raiders.
Lamar Smith
carried 30 times for 154 yards and scored two fourth-quarter touchdowns in Carolina's 21-14 victory over the
Minnesota Vikings
.The Panthers are 3-0 for the first time since 1996."Nobody really expected it, except for the people in this locker room,'' said quarterback
Rodney Peete
, a surprise choice to be the starter this year over
Chris Weinke
.Peete wasn't perfect, but he did his part -- completing 20 of 30 passes for 221 yards, a touchdown and two interceptions.The Panthers, 1-15 in 2001, played excellent defense against a team that scored 39 points last week. The Vikings, 0-3 for the first time since 1967, had just 250 total yards and turned the ball over four times."You guys keep using that word surprised,'' first-year coach John Fox said. "Nothing surprises me. Am I pleased? Am I happy? Am I proud of where our team is? Yes. But not surprised.''
Daunte Culpepper
was 19-of-30 for 191 yards, a touchdown and a career-high four interceptions."We couldn't get in sync,'' Culpepper said. "On offense, you've got to be in rhythm. It's all about rhythm.''Culpepper's frustrations were visible early in the fourth quarter. He hopped up and down and yelled at
Randy Moss
on the sideline after a third-down overthrow."Daunte just wants to win, just like any guy in his profession,'' said Moss, who had four catches for 16 yards. "I think he's just very frustrated that we're sitting right now at 0-3.''
Deon Grant
had three interceptions, the last coming on a heave by Culpepper on the game's final play as boos resonated throughout the emptying Metrodome."I knew for a fact we were frustrating him,'' Grant said. "We were disguising our coverages early and that got him confused.''The Panthers trailed 7-0 until late in the third quarter when
Steve Smith
slipped behind
Greg Biekert
for a 14-yard touchdown reception to tie it.Lamar Smith burst up the middle for a 12-yard TD run to give the Panthers a 14-7 lead with 13:28 remaining.The Vikings' next drive was wiped out after two plays when
Michael Bennett
was stripped by a diving
Mark Fields
, and
Reggie Howard
recovered the fumble at the Minnesota 48.Carolina scored in nine plays, the last a 24-yard TD run by Smith on third-and-11."Lamar's the kind of runner who gets stronger as the game goes on,'' Fox said. "I liked the running game's results. We've got to just keep pounding away with those body blows.''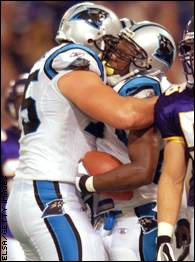 Lamar Smith would give the Panthers a great shot of another upset with a solid performance.
Trailing by 14, Culpepper drove the Vikings 89 yards in nine plays -- finishing with a 4-yard touchdown pass to
Chris Walsh
in traffic that cut it to 21-14 with 3:29 left.The Panthers went three-and-out, and the Vikings got a last chance with 2:16 on the clock. But Culpepper tried to run on fourth-and-7 and was swarmed by several defenders with 1:49 left."As the game wore on, they wore us down and proved they were a better defense than we are a better offense,'' Minnesota coach Mike Tice said.The Panthers' defense entered the game ranked second in the NFL in total yards allowed, though that stat was padded by the less-than-potent offenses of Baltimore and Detroit in their first two games.The Vikings, meanwhile, must keep looking for answers."I told the players I don't want to pick up the paper tomorrow morning and see someone saying, 'It's my fault. I lost the game,''' Tice said. "That's bull. This was a team loss.''
Game notes
Panthers WR
Muhsin Muhammad
hurt his hamstring in the third quarter and didn't return. Neither did Vikings LB
Henri Crockett
, who sprained his elbow a few plays later. ... Carolina's Jon Hilbert, a free agent signed this week when
John Kasay
was placed on injured reserve following hernia surgery, missed two field goals. ...
Corey Chavous
intercepted Peete to set up a 1-yard TD run by Bennett in the second quarter.
Copyright by STATS LLC and The Associated Press
Scoring Summary
THIRD QUARTER
CAR
MIN
TD
5:45
Touchdown

Drive info: 2 plays, 28 yds, 0:15

6
7
5:45

Drive info: 2 plays, 28 yds, 0:15

7
7
SECOND QUARTER
CAR
MIN
TD
13:25
Michael Bennett, 1 yd run
0
6
13:25
0
7
FOURTH QUARTER
CAR
MIN
TD
13:35
Lamar Smith, 12 yd run

Drive info: 6 plays, 80 yds, 13:31

13
7
13:35

Drive info: 6 plays, 80 yds, 13:31

14
7
TD
8:26
Lamar Smith, 24 yd run

Drive info: 8 plays, 48 yds, 4:10

20
7
8:26

Drive info: 8 plays, 48 yds, 4:10

21
7
TD
3:45
Touchdown

Drive info: 9 plays, 79 yds, 4:02

21
13
3:45

Drive info: 9 plays, 79 yds, 4:02

21
14