1:00 PM ET, October 13, 2002
IRVING, Texas (AP) -- If Quincy Carter could play the first 55 minutes like he plays the last five, the Dallas Cowboys might be better than .500.
Allen's Analysis
Question on the Panthers: Given their close losses, do they lack the talent or mental toughness to finish off teams?
They don't have the talent on offense. But on defense, they're right where they need to be. Carolina's D has been making plays all season. The Panthers just need to shore up the talent on the other side of the ball.

Question on the Cowboys: Will this be the norm for Dallas -- lose some close ones, win some close ones?
Right now, they're a middle-of-the-pack team. Their defense is playing pretty well. But despite today's outcome, they've been getting inconsistent play and unsound decisions from QB Quincy Carter. WR Joey Galloway, though, is having a fantastic year so far.

Eric Allen played cornerback for 14 NFL seasons with the Eagles, Saints and Raiders.
But their games wouldn't be as interesting.Carter led Dallas to a dramatic victory for the second time in three weeks, turning a 13-0 deficit to the
Carolina Panthers
into a 14-13 victory by throwing an 80-yard touchdown pass to Joey Galloway with 3:55 left, then a 24-yarder to rookie
Antonio Bryant
with 56 seconds to go."This is one of the craziest wins I've ever been involved in,'' Cowboys running back
Emmitt Smith
said. "That was amazing, truly amazing.''Carter started showing his comeback skills two games ago, when he overshadowed a mostly poor performance by directing a last-minute drive that led to the game-winning field goal against St. Louis. He almost did it again last week against the New York Giants, but he overthrew Bryant on a deep ball.This time, on his 25th birthday, Carter got the Cowboys (3-3) in a hole by committing two turnovers and making few good throws. Fans were booing, and nearly half of Texas Stadium emptied as Dallas appeared headed to their first home shutout in 11 years.Then Carter started clicking.After going 9-of-22 for 77 yards over the first 55 minutes, he was 6-of-10 for 148 yards on the final two drives. The Galloway TD was the longest pass of Carter's career, and it stretched his streak of consecutive 200-yard passing games to five straight.To pull it out, he had to be as lucky as he was good.On Galloway's touchdown, Carter scrambled out of a sack and steadied himself with his free hand. The pass was nearly intercepted by
Deon Grant
, but instead he deflected it -- straight to Galloway."The ball just elevated more than I thought,'' Grant said. "I didn't jump high enough.''On the game-winning drive, Carolina (3-3) thought it had recovered a Carter fumble, but replay officials called it an incompletion, citing the same "tuck rule'' that saved
Tom Brady
and the
New England Patriots
in the playoffs.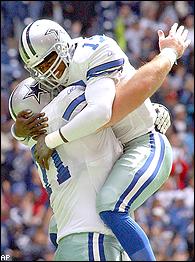 Quincy Carter threw for 225 yards and two touchdowns on Sunday.
Given new life, Dallas improvised. A 10-yard completion to
Darnay Scott
on fourth-and-6 came on a play that wasn't in the game plan, as was the TD pass to Bryant, which also was on fourth down."Sometimes all the things you planned didn't work, so then you have to go into your back of tricks and pull out some more,'' Carter said.On the game-winning catch, Bryant juggled it, then rolled over, causing a few seconds of hesitation. Once it was clear he still had it, fans screamed and players piled on top of each other.It still had to withstand a replay, but Bryant wasn't concerned."I thought they just liked the catch and wanted to see it again,'' he said.Carolina almost answered as
Chris Weinke
-- who played the second half after
Rodney Peete
sustained a concussion -- completed passes of 24 and 22 yards to reach the Dallas 41 with 11 seconds left and no timeouts.The Panthers still weren't in kicker
Shayne Graham
's range, so Weinke hit
Muhsin Muhammad
for 9 yards. He was tackled in bounds and time expired before the Panthers could spike the ball.
Emmitt Watch
Emmitt Smith ran for 59 yards Sunday against the Panthers, putting him within 175 yards of breaking the NFL career rushing record held by Walter Payton.

Payton: 16,726

Smith: 16,552
"It's a shame that we played so hard and so well, only to come up short in the end,'' said Carolina coach John Fox, whose team won its first three but has lost three straight by a combined seven points, all in the closing minutes. "To be in such control of the game and have a couple of fluke plays happen is a shame.''The win continued Dallas' lose-win, lose-win cycle and again keeps Carter's critics at bay for a week. It also was a nice birthday present for the boss, Jerry Jones, who turned 60."What a lift!'' said Jones, who skipped his usual second-half stroll on the sidelines.The Panthers built their lead on a 25-yard TD pass from Peete to
Brad Hoover
after Carter practically handed an interception to
Julius Peppers
. Graham kicked field goals of 50 and 44 yards. He also missed a 44-yarder.Weinke, who had thrown only one pass all season, went 7-of-12 for 114 yards. Peete was 9-of-15 for 84.Smith had 59 yards, leaving him 175 yards from passing Walter Payton to become the NFL's career rushing leader.
Game notes
Carolina was seeking its first shutout in 81 games and the third in franchise history. ... Smith tied Tony Hill for third on Dallas' career receptions list. He's 10 behind Drew Pearson for second. ... Bryant was benched from the game's first play for arriving late. ... Injuries: Carolina linebacker
Dan Morgan
(strained groin), safety
Jarrod Cooper
(sprained knee) and Peete. For Dallas, safety
Roy Williams
bruised his left heel.
Copyright by STATS LLC and The Associated Press
Scoring Summary
FOURTH QUARTER
CAR
DAL
TD
4:15
Touchdown

Drive info: 3 plays, 76 yds, 0:29

13
6
FIRST QUARTER
CAR
DAL
TD
0:10
Touchdown

Drive info: 3 plays, 52 yds, 2:07

6
0
FOURTH QUARTER
CAR
DAL
4:15

Drive info: 3 plays, 76 yds, 0:29

13
7
FIRST QUARTER
CAR
DAL
0:10

Drive info: 3 plays, 52 yds, 2:07

7
0
THIRD QUARTER
CAR
DAL
FG
1:59
Shayne Graham 10 yd Field Goal

Drive info: 9 plays, 31 yds, 3:33

10
0
FOURTH QUARTER
CAR
DAL
FG
4:53
Shayne Graham 10 yd Field Goal

Drive info: 8 plays, 21 yds, 3:30

13
0
TD
1:03
Touchdown

Drive info: 10 plays, 67 yds, 1:53

13
13
1:03

Drive info: 10 plays, 67 yds, 1:53

13
14