1:00 PM ET, November 10, 2002
GREEN BAY, Wis. (AP) -- Brett Favre stood on the sideline after playing one of his best games, with the Green Bay Packers in the middle of a 37-0 run. With the game in hand, the Lambeau Field crowd had just one request for Darren Sharper.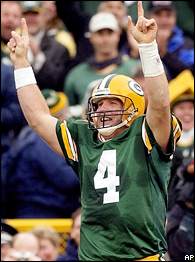 Brett Favre's knee was fine Sunday, when he struck for 351 yards and two TD passes.
They wanted to him to put a licking on former teammate Bill Schroeder during the Packers' 40-14 rout of the Lions on Sunday. "People in the stands were yelling at me to take a shot at him and hit him,'' Sharper said. "But he didn't catch any passes, so I didn't get an opportunity to.'' Schroeder dropped three passes, one of which was intercepted by rookie safety
Marques Anderson
and returned for a touchdown, and another that Schroeder bobbled away in the end zone as time expired. "I don't want to say I hope he would have caught any passes,'' Sharper said. "I like to keep him oh-for-whatever he was, like we did today.''
Allen's Analysis
Question on the Lions: Why do they have such a hard time on the road?
Today, it wasn't just being on the road that bothered them. Green Bay RB Ahman Green and the Packers' defense had a lot to do with Detroit's troubles today. The Lions are a young team, and they need to learn how to exploit their strengths and minimize their weaknesses.

Question on the Packers: How have they managed to excel defensively despite the injuries?
That's been surprising to me. They've had the right players in position to make plays. The Packers have been coached well, so their younger guys have been able to rely on their athleticism without having to think too much. The coaches have schemed well so the defense can just go out and play.

Eric Allen played cornerback for 14 NFL seasons with the Eagles, Saints and Raiders.
The shutout of Schroeder was the icing for Green Bay, which improved its NFL-best record to 8-1 while taking a five-game lead over second-place Detroit (3-6) in the NFC North.The Packers can clinch the new NFC North next week, just 10 games into the season. Green Bay will assure itself a first-place finish if it wins at the Minnesota Vikings, and second-place Detroit loses at home to the visiting New York Jets. The other two NFC North teams, Minnesota and Chicago, are 2-7.Favre's sprained left knee gave him no problems in his second start since getting hurt, as he threw for 351 yards and two touchdowns. "Green Bay put a football clinic on ... today, period.'' Lions coach Marty Mornhinweg said. "We're not going to make any excuses.'' The only negative for Green Bay was injuries to running backs
Ahman Green
(mild concussion) and
Najeh Davenport
(sprained ankle). Green had 12 carries for 50 yards and didn't play after halftime. Davenport gained 73 yards on 10 carries before getting hurt in the third quarter. Coach Mike Sherman hopes to have both available next week. After Davenport went out, Sherman took no more chances with Favre, who guided the Packers on seven scoring drives in 10 possessions and completed 26 of 39 passes. He had 295 yards passing by halftime, a career-best. "The knee feels fine,'' Favre said. "It's a little tight. The only time I felt it was when I tackled
Terry Glenn
in the end zone'' on a score that was overturned by a review. "He's fine,'' Favre said of Glenn. "He said he felt a little woozy.''
Donald Driver
caught a career-high 11 passes for 130 yards, and
Ryan Longwell
kicked four field goals in Green Bay's seventh straight victory -- their longest streak in the regular season since 1963. Anderson also had an interception return for a TD in Green Bay's 37-31 victory at Detroit on Sept. 22. His score was part of a 27-point second-quarter outburst by the Packers, whose defense regrouped quickly after allowing Joey Harrington's 64-yard touchdown pass to
Az-Zahir Hakim
on Detroit's first offensive play. Green Bay led 16-7 at the two-minute warning of the first half, behind Longwell's field goals of 30, 40 and 36 yards -- the last of which came after
Hardy Nickerson
stopped Harrington on fourth down at the Detroit 35 -- and a 4-yard touchdown pass from Favre to tight end
Bubba Franks
. Then Schroeder let Harrington's short pass go through his arms, and Anderson was there to return it 14 yards for the score. "I thought he was going to stop and slide outside, but he slid inside,'' Harrington said. "It was a miscommunication.'' Anderson said Schroeder was looking for the defenders and not the ball all afternoon. "He had his head on a swivel,'' Anderson said. It was that kind of criticism that caused Schroeder to wear out his welcome in Green Bay. Schroeder made a beeline for the bus and didn't answer questions afterward. "Bill's fighting through some things,'' Mornhinweg said. "I know he expected to play very well, and I expected him to play well. We need him and we have to get him going.'' The Packers went 74 yards in 13 plays on the opening drive, which ended with Longwell's 30-yard field goal. It took the Lions 15 seconds to answer when cornerback
Mike McKenzie
bit on Harrington's pump fake, and Hakim was wide open at the 35 for a 64-yard touchdown and a 7-3 Lions lead. "That was a little freebie,'' McKenzie said. "And after that, everything is on tape.'' The Lions only gained 56 more yards before halftime, and they only had the ball for 5:49 in the first half. "After the first touchdown, I don't think anybody panicked,'' Sherman said. "Good teams don't panic.''
Game notes
DT
Cletidus Hunt
(knee) was inactive, the 12th Packers starter to miss a game. ... Favre surpassed Joe Montana for sixth place on the all-time passing yards list with 40,871. ... The Lions have lost 13 straight road games and haven't won in Wisconsin since 1991. ... Detroit had just one penalty and a 7.4-yard rushing average but converted just 1-of-13 on third downs.
Copyright by STATS LLC and The Associated Press
Scoring Summary
FIRST QUARTER
DET
GB
TD
7:41
Touchdown

Drive info: 1 plays, 64 yds, 0:00

6
3
SECOND QUARTER
DET
GB
TD
1:55
Touchdown

Drive info: 1 plays, 12 yds, 0:00

7
22
FIRST QUARTER
DET
GB
7:41

Drive info: 1 plays, 64 yds, 0:00

7
3
SECOND QUARTER
DET
GB
1:55

Drive info: 1 plays, 12 yds, 0:00

7
23
THIRD QUARTER
DET
GB
FG
10:35
Ryan Longwell 10 yd Field Goal

Drive info: 6 plays, 49 yds, 2:31

7
33
FOURTH QUARTER
DET
GB
TD
10:51
Touchdown

Drive info: 5 plays, 65 yds, 1:51

13
40
SECOND QUARTER
DET
GB
FG
5:55
Ryan Longwell 10 yd Field Goal

Drive info: 7 plays, 17 yds, 1:50

7
16
TD
0:21
Najeh Davenport, 1 yd run

Drive info: 6 plays, 69 yds, 0:59

7
29
FOURTH QUARTER
DET
GB
10:51

Drive info: 5 plays, 65 yds, 1:51

14
40
SECOND QUARTER
DET
GB
0:21

Drive info: 6 plays, 69 yds, 0:59

7
30
THIRD QUARTER
DET
GB
TD
5:02
Touchdown

Drive info: 9 plays, 69 yds, 4:14

7
39
5:02

Drive info: 9 plays, 69 yds, 4:14

7
40
SECOND QUARTER
DET
GB
TD
14:54
Touchdown

Drive info: 9 plays, 65 yds, 13:53

7
9
FG
9:09
Ryan Longwell 10 yd Field Goal

Drive info: 9 plays, 54 yds, 3:57

7
13
14:54

Drive info: 9 plays, 65 yds, 13:53

7
10
FIRST QUARTER
DET
GB
FG
8:32
Ryan Longwell 10 yd Field Goal

Drive info: 13 plays, 73 yds, 7:03

0
3