1:00 PM ET, December 22, 2002
CINCINNATI (AP) -- Every so often, another New Orleans Saint muttered a cuss word under his breath, breaking the silence but not the melancholy in the locker room.
Allen's Analysis
Question on the Saints: How do you lay an egg like this with so much on the line?
The Saints have been laying this egg on defense all season. Plus, QB Aaron Brooks might still be bothered by the injury he suffered earlier to his throwing arm. So this loss shouldn't surprise anyone. The Bengals are playing with their backs to the wall at this time of the year -- the coach's job is on the line, players' jobs are on the line. So they're going to give their best effort.

Question on the Bengals: So is this all the encouragement Mike Brown needs to bring back LeBeau?
Probably. The Bengals don't want to pay two coaches' salaries, and LeBeau has a year left on his contract. Teams that win invest more in their personnel departments than Cincinnati does. It takes time and resources to build a winner, and from what I hear, the Bengals don't invest enough of either.

Eric Allen played cornerback for 14 NFL seasons with the Eagles, Saints and Raiders.
They couldn't fathom how they had just out-bungled the NFL's biggest bunglers, possibly costing them a playoff spot.The Saints played more like the league's worst team Sunday, losing 20-13 to the
Cincinnati Bengals
. Nick Luchey scored two late touchdowns that will torment New Orleans for a week -- and maybe much longer."It's a big, strong gut-check about us now,'' said Aaron Brooks, who misfired on his last 11 passes during a second-half meltdown.New Orleans (9-6) fell behind Atlanta and the
New York Giants
in the push for the last two playoff berths. The Falcons and Giants both won Sunday, so the Saints have to beat Carolina next week and hope one of them loses.The loss also handed the NFC South title to Tampa Bay, which plays Pittsburgh on Monday night.It came down to the Saints' inability to put away the Bengals (2-13), who hadn't won at home all season and had become the league's symbol of ineptitude."Everything was in our court today, but we were the Aints and they weren't the Bungles,'' said left tackle
Kyle Turley
after the Saints' third-straight loss.They were known as the Aints during their 20-year run without a winning season. Just eight days ago, they were poised to clinch their second playoff berth in three years.Then they made a trip down memory lane, blowing fourth-quarter leads against last-place teams.
Daunte Culpepper
's touchdown pass and 2-point conversion run with 5 seconds left gave Minnesota a victory last Sunday, denying the Saints a chance to clinch on their home field.This time, the Bengals pulled one out with their best player on the bench.
Corey Dillon
bruised his left elbow, leaving it to Luchey -- who changed his name from Nick Williams before the season -- to provide the next gut wrench.His 3-yard run with 1:46 to play gave the Bengals their first home victory this season and their first win over an established team. The other came against expansion Houston.Losing to Minnesota was bad. This was beyond belief."It's embarrassing,'' receiver
Joe Horn
said. "Everybody in the nation and their mamas knows that. We shouldn't be in this situation. We're making all these teams out of the playoffs feel good about their offseason.''Well, it made the Bengals feel good about themselves for one day."I don't understand why we weren't doing it all year,'' linebacker
Brian Simmons
said. "That's the confusing part of this year.''Even the public address announcer was confused as Luchey led them back.Luchey, who hadn't carried the ball all season, scored on a 1-yard run with 10:42 to play. With their characteristic flair, the Bengals had the extra-point blocked, leaving it tied at 13.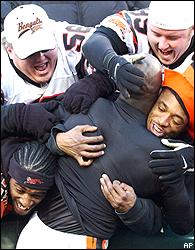 Bengals' fans embrace receiver Chad Johnson after he jumped into the stands after Sunday's victory.
Brooks tripped and fell as he dropped to pass on the Saints' next play, and
Toby Gowin
's 27-yard punt gave the Bengals their chance.With the public address announcer mispronouncing his name after each carry, Luchey (it's LOO-chee, not loo-SHAY) ran eight times for 52 yards and caught one pass on the winning drive.The 6-foot-2, 265-pound running back finished with 59 yards on 12 carries, and did an impromptu Ickey Shuffle after his second career touchdown put the Bengals ahead."That was my shout-out to Ickey,'' he said. "I wear his jersey number, and he's a friend of mine. I respect what he and (Tim) Krumrie and Boomer (Esiason) and guys like that did for this franchise 10 to 12 years ago.''Coach Jim Haslett said the Saints -- who had only one timeout left -- let Luchey score on the final run so they'd have a chance to get the ball back. Brooks finished it by throwing four incompletions, leaving him 0-for-7 in the fourth quarter.He wasn't alone in letting it slip.
Boo Williams
dropped a potential touchdown pass in the fourth quarter, and the Saints had five fumbles -- the kinds of things the Bengals usually do."That wasn't us out there today,'' Haslett said.It was more like the Aints.
Game notes
Brooks threw his team-record 27th TD pass, the Saints set a club record for points in a season,
John Carney
set a club record for points in a season, and
Michael Lewis
set an NFL record for combined punt/return yards in a season. ... Brooks was 16-of-38 for 203 yards. ... The Bengals sold 43,544 tickets, the second-smallest gate in stadium history. About 25,000 to 30,000 fans attended.
Copyright by STATS LLC and The Associated Press
Scoring Summary
FIRST QUARTER
NO
CIN
TD
6:29
Touchdown

Drive info: 5 plays, 71 yds, 1:44

9
7
TD
8:26
Touchdown

Drive info: 5 plays, 59 yds, 1:53

3
6
6:19

Drive info: 5 plays, 71 yds, 1:44

10
7
8:15

Drive info: 5 plays, 59 yds, 1:53

3
7
SECOND QUARTER
NO
CIN
FG
1:55
John Carney 10 yd Field Goal

Drive info: 7 plays, 23 yds, 1:41

13
7
FIRST QUARTER
NO
CIN
FG
9:51
John Carney 10 yd Field Goal

Drive info: 11 plays, 37 yds, 5:02

3
0
FOURTH QUARTER
NO
CIN
TD
1:50
Nicolas Luchey, 3 yd run

Drive info: 12 plays, 64 yds, 5:43

13
19
1:46

Drive info: 12 plays, 64 yds, 5:43

13
20
TD
10:50
Nicolas Luchey, 1 yd run

Drive info: 13 plays, 69 yds, 15:27

13
13