4:15 PM ET, October 9, 2011
Sports Authority Field at Mile High, Denver, CO
Top Performers
Passing: P. Rivers (SD) - 250 YDS, 1 TD, 1 INT
Rushing: W. McGahee (DEN) - 16 CAR, 125 YDS
Receiving: M. Floyd (SD) - 3 REC, 100 YDS, 1 TD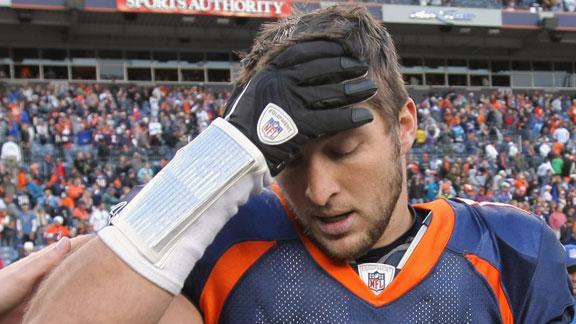 Countdown Daily Recap: SD-DEN
Countdown Daily Recap: SD-DEN
VIDEO PLAYLIST
DENVER -- Once again, the crowd chanted "Tebow! Tebow!" as the Denver Broncos trudged off the field in defeat Sunday.
Only this time, the fans were imploring coach John Fox to keep
Tim Tebow
under center after the Broncos lost to San Diego 29-24 despite Tebow's best efforts to rally Denver from a 16-point fourth-quarter deficit.Tebow ran for a touchdown and threw for another after replacing
Kyle Orton
to start the third quarter and had one final shot for the win before his pass fell incomplete in the end zone on the final play.
More From ESPN.com

Broncos coach John Fox has played his hand and now he has to stick with it. It's "Tebow Time" in Denver, writes Bill Williamson. Blog
• ESPN Radio: Decker talks Tebow

"Tim Tebow sparked the team today. (But) we haven't had a chance to watch the tape, we haven't had a chance to watch the film, we haven't had a chance to visit as a staff," Fox said. "So, I think at this point -- we have a bye week -- we do need to improve offensively, and it will all be up for discussion."Neither quarterback had any indication who would line up in two weeks when the Broncos (1-4) visit the
Miami Dolphins
, whom the Broncos tried to trade Orton to in the summer before talks broke down and he became Denver's starter."I have no idea," Tebow said. "Thankfully, I don't have to make those decisions. Other people do that and I just go play football.""It's his decision," Orton said of his coach.And Fox indicated he would take his time making up his mind."I don't put time limits on things," he said. "We will evaluate it and make the best decision for the team."While all the drama was surrounding Tebow,
Philip Rivers
overcame two big turnovers, a banged-up backfield and a tough time in the red zone to guide the AFC West leaders to another hard-fought victory in what he calls his favorite road venue.
Too Many Turnovers for Orton
If there was a reason why the Broncos made the switch to Tim Tebow, it might be because of Kyle Orton's turnovers. He is tied with Michael Vick and Philip Rivers for the most in the NFL with seven. The percentage of Orton's attempts that have been intercepted is the highest in the NFL.
Highest INT Percentage This Season
Among Qualifying Quarterbacks
powered by

"I didn't have much time to watch it," Rivers said of Tebow's inspiring play. "I was more worried about us getting to 4-1."
Nick Novak
kicked five field goals and
Ryan Mathews
ran for a career-best 125 yards despite a strained right calf.After a slow start, Tebow found a rhythm that threw off the Chargers."It changes (the tempo) because he's a fresh body," cornerback
Antoine Cason
said. "He has a lot of energy. He goes out there and plays with energy, the crowd got behind him a little bit. They went out there and did some things that got them back into the game."Fox decided to shake things up after Orton completed 6 of 13 passes for 34 yards with no touchdowns and an interception in the first half.A fan favorite, Tebow was cheered the instant he trotted onto the field for Denver's first possession in the third quarter. The crowd was so loud that Tebow couldn't hear the play call in his helmet.Tebow was rusty after having played just a handful of snaps this season and not throwing a single pass before Sunday, bobbling his second snap and throwing his first pass at
Eric Decker
's shoe tops for no gain.The Broncos punted on their first three possessions under Tebow before the former Florida star scored on a 12-yard run as Orton clapped from the sideline. McGahee's 2-point conversion cut San Diego's lead to 26-18 with 6½ minutes left."He came and gave us a spark," McGahee said. "That's Tim Tebow. Everybody has been cheering for him for the longest. Now he finally got in and moved the ball for us."
Top Fantasy Performers
Looking for Week 5's fantasy football stars and busts? Stay up to date with ESPN.com's scoring leaders.
• Karabell: Chiefs, Cassel show signs


• Week 5 Studs & Duds
• Fantasy football home
Robert Ayers
sacked and stripped Rivers on the ensuing possession, and cornerback
Andre' Goodman
recovered at the San Diego 41 with 4:38 left.
Knowshon Moreno
turned a short screen pass from Tebow into a 28-yard touchdown. But after a time out, Pro Bowl receiver
Brandon Lloyd
couldn't come down with the 2-point conversion pass, which was stripped away by Cason as they tumbled out of bounds.Rivers hit a third-down pass and linebacker
D.J. Williams
was whistled for a personal foul in the closing minutes, and Novak's fifth field goal, this one from 35 yards, made it 29-24 with 24 seconds remaining.Tebow hit Lloyd for 20 yards and tight end
Daniel Fells
for 31, though. He raced downfield and spiked the ball at the Chargers 29 with a second left.Tebow took the snap, scrambled around for more than 10 seconds and then threw into the end zone. The ball fell incomplete -- just like the last time these teams met, on Jan. 2, when a bunch of Chargers preserved a 33-28 win by batting down his desperation heave into the end zone.Tebow completed four of his 10 passes for 79 yards. He also ran six times for 38 yards."It's such a dramatic change when the quarterback changes," Chargers coach Norv Turner said. "It's really a whole different offense for our guys to handle."
Cassius Vaughn
returned an interception 55 yards for Denver's first defensive TD in five seasons, but he was beaten badly by
Malcom Floyd
on a 43-yard touchdown with 13 seconds left in the first half that put the Chargers ahead 23-10.That score came after the Broncos burned just 45 seconds off the clock on what turned out to be Orton's final series.The question now is whether it was just his last chance of the day or if it signaled an end to his time in Denver, where he's 6-21 over his last 27 starts.
Game notes
Broncos rookie LB
Von Miller
was replaced in the base defense by
Mario Haggan
after the first two defensive series but still managed to a sack in his fourth consecutive game. ... Chargers RB
Mike Tolbert
left the game with a concussion after gaining 49 yards on five carries and three catches. ... Broncos S
Brian Dawkins
(neck) didn't play the second half.
Copyright by STATS LLC and The Associated Press
Photo Wire
DENVER, CO - OCTOBER 09: Tim Tebow #15 of the Denver Broncos warms up pre game against the San Diego Chargers at...
(Photo by Bart Young/Getty Images)
Team Stat Comparison
| | SD | DEN |
| --- | --- | --- |
| 1st Downs | 25 | 13 |
| Passing 1st downs | 11 | 5 |
| Rushing 1st downs | 11 | 8 |
| 1st downs from Penalties | 3 | 0 |
| 3rd down efficiency | 8-16 | 2-9 |
| 4th down efficiency | 0-0 | 0-0 |
| Total Plays | 77 | 46 |
| Total Yards | 418 | 275 |
| Yards per play | 5.4 | 6.0 |
| Total Drives | 12 | 12 |
| Passing | 212 | 113 |
| Comp - Att | 18-29 | 10-23 |
| Yards per pass | 7.3 | 4.9 |
| Interceptions thrown | 1 | 1 |
| Sacks - Yards Lost | 5-38 | 0-0 |
| Rushing | 206 | 162 |
| Rushing Attempts | 43 | 23 |
| Yards per rush | 4.8 | 7.0 |
| Red Zone (Made-Att) | 1-5 | 1-2 |
| Penalties | 0-0 | 4-53 |
| Turnovers | 2 | 1 |
| Fumbles lost | 1 | 0 |
| Interceptions thrown | 1 | 1 |
| Defensive / Special Teams TDs | 0 | 1 |
| Possession | 40:08 | 19:52 |
Scoring Summary
FIRST QUARTER
SD
DEN
FG
08:37
Nick Novak 24 Yd
3
0
TD
05:58
Cassius Vaughn 55 Yd Interception Return (Matt Prater Kick)
3
7
FG
00:45
Nick Novak 32 Yd
6
7
SECOND QUARTER
SD
DEN
FG
11:10
Matt Prater 35 Yd
6
10
TD
07:19
Philip Rivers 2 Yd Run (Nick Novak Kick)
13
10
FG
01:47
Nick Novak 28 Yd
16
10
TD
00:13
Malcom Floyd 42 Yd Pass From Philip Rivers (Nick Novak Kick)
23
10
FOURTH QUARTER
SD
DEN
FG
13:35
Nick Novak 51 Yd
26
10
TD
06:35
Tim Tebow 12 Yd Run (Willis McGahee Run For Two-Point Conversion)
26
18
TD
03:19
Knowshon Moreno 28 Yd Pass From Tim Tebow (Two-Point Pass Conversion Failed)
26
24
FG
00:24
Nick Novak 35 Yd
29
24
Research Notes
From Elias:
Kyle Orton
falls to 4-14 as a starter since 2010 with his loss on Sunday. That's the 3rd-worst mark by a starting QB since the start of last season.
[+]
If there was a reason why the Broncos made the switch to Tim Tebow, it might be because of Kyle Orton's turnovers. He is tied with Michael Vick and Philip Rivers for the most in the NFL with seven. The percentage of Orton's attempts that have been intercepted is the highest in the NFL.
[+]
ESPN Stats & Information