4:15 PM ET, December 4, 2011
Candlestick Park, San Francisco, CA
Top Performers
Passing: A. Smith (SF) - 274 YDS, 2 TD
Rushing: F. Gore (SF) - 21 CAR, 73 YDS
Receiving: M. Crabtree (SF) - 4 REC, 96 YDS, 1 TD
49ers clinch 1st NFC West title since '02 as Frank Gore sets franchise mark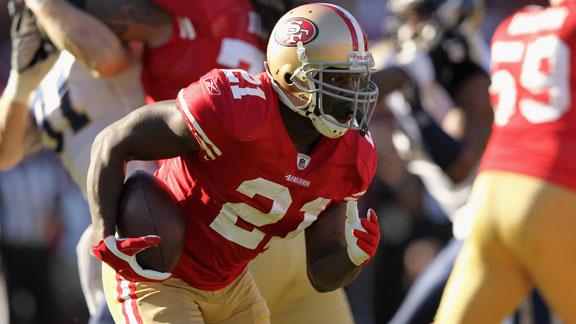 Countdown Daily Recap: STL-SF
Countdown Daily Recap: STL-SF
VIDEO PLAYLIST
SAN FRANCISCO -- Vernon Davis pulled on a black "NFC West champions" hat to dress up his suit and tie for a snazzy night on the town with some San Francisco offensive teammates. They were off for a celebratory steak dinner at one of the city's hotspots.
This meal -- for Davis,
Frank Gore
,
Alex Smith
and many others -- has been years in the making. Seven, to be exact, for Gore and Smith, and six for Davis. Star linebacker
Patrick Willis
, he's been waiting five.
More From ESPN.com

It's only Week 13, but Alex Smith and the 49ers have waited a long time to wear the NFC West crown, writes Mike Sando. Blog
The 49ers trounced the beat-up
St. Louis Rams
26-0 on Sunday to become the NFL's second team to secure a playoff berth behind unbeaten defending Super Bowl champion Green Bay. Jim Harbaugh's focused bunch wrapped up that long-awaited division title for a once-proud franchise determined to return to the glory days of
Jerry Rice
and
Joe Montana
,
Steve Young
and
Roger Craig
.The 49ers are NFC West champs and back in the playoffs for the first time since 2002."We want to make it to the championship. It's something we've been wanting for a long time," Davis said. "This is the reason why I'm here. It means a lot to me."Harbaugh delivered exactly what the 49ers hired him for back in January: immediate success, a major transformation in a matter of months. So much for the lockout slowing him down.
Widening The Gap

San Francisco's 26 points Sunday were the fourth-most the franchise has scored in a shutout since 2000. Their last shutout came on October 4, 2009, also against the Rams.
Most Points In Shutout
49ers Since 2000
| Date | Points | Opp |
| --- | --- | --- |
| Jan. 6, 2002 | 38 | at Saints |
| Oct. 4, 2009 | 35 | vs. Rams |
| Dec. 02, 2001 | 35 | vs. Bills |
| Sunday | 26 | vs. Rams |
powered by

Left tackle
Joe Staley
delivered the Gatorade dousing on Harbaugh's head in the closing moments -- sneaking up on the coach at the 2-minute warning. Or so he thought. Harbaugh, a 15-year NFL quarterback himself in his day, dodged out of the way to avoid being fully soaked."This step, this game today is for all those strong and mighty men who have been carrying the flag for this many years," Harbaugh said. "Each year that they've been here, thinking that was going to be the year, the year we go to the playoffs ... and there's disappointment when you don't make that."Gore helped run San Francisco (10-2) right into the postseason, becoming the 49ers' career rushing leader by passing late Hall of Famer Joe Perry and finishing with 73 yards.Smith threw second-half touchdowns of 52 and 56 yards to
Michael Crabtree
and
Kyle Williams
and
David Akers
kicked four field goals to help Harbaugh join George Seifert (1989) and Steve Mariucci (1997) as the only rookie coaches in franchise history to win the division.The only downer came when Willis left the game in the first half with a right hamstring injury that Harbaugh afterward said he didn't consider serious.Rams quarterback
A.J. Feeley
struggled in place of injured starter
Sam Bradford
for the reeling Rams (2-10), who watched several more key players go down.Even Feeley needed X-rays afterward on his right thumb."It's kind of the same story we've had all year. We just can't seem to put anything together," he said. "It's like a clock where everybody's got to be in sync. When that doesn't happen you put yourself in a tough situation."
Top Fantasy Performers
Looking for Week 13's fantasy football stars and busts? Stay up to date with ESPN.com's scoring leaders.
The 49ers bounced back from a discouraging 16-6 loss at Baltimore on Thanksgiving night against the Ravens and Harbaugh's big brother, John, with another methodical victory. Smith was sacked nine times in that game and four more Sunday.Despite further problems converting in the red zone early, San Francisco shut out an opponent for the first time since a 35-0 home win at Candlestick Park on Oct. 4, 2009. That was also the Rams' last shutout.The Niners also avenged a late-season loss from 2010 that was still plenty fresh. They had won five straight before losing at St. Louis in the second-to-last week. It was after that game when coach Mike Singletary was fired. That led to the high-profile hiring of Harbaugh in January. And the 49ers' transformation began in earnest.San Francisco's impressive season might help shed that "NFC Worst" stigma from the West."It's not a Hollywood team," Harbaugh said. "It's a blue-collar team."
Gold Rusher
With 73 rushing yards Sunday, Frank Gore passed Joe "The Jet" Perry for most in 49ers history, not including Perry's yardage from the All-America Football Conference.
Most Rushing Yards
49ers History
Player
Yards
Frank Gore
7,396
Joe Perry
7,344*
Roger Craig
7,064
* - Does not include 1,345 Yds in AAFC from 1948-49
powered by

Smith, who didn't start that last game against the Rams, completed 17 of 23 passes for 274 yards with no interceptions to finish with a career-high 142.3 quarterback rating. He gave way to rookie backup
Colin Kaepernick
midway through the fourth.Gore ran for 2 yards early in the second quarter to give him 7,345 career yards rushing, moving him past Perry (7,344) for most in franchise history.The 28-year-old Gore, a two-time Pro Bowl selection in his seventh NFL season, has said it was a goal for this season to become the career rushing leader -- though getting to the playoffs for the first time has always been the top priority."There've been some tough years here," Gore said. "To get an opportunity to get to the postseason and to get it early, that's a blessing."Gore and his teammates are wearing No. 34 helmet decals this season in honor of Perry, the first player with back-to-back 1,000-yard rushing seasons and nicknamed "The Jet" for his sensational speed. He died in April at age 84.Willis watched the second half on the sideline in a sweatsuit.The four-time Pro Bowler landed awkwardly after missing a tackle on fullback
Brit Miller
, who made an 18-yard completion from Feeley with 4:28 left in the first quarter. Willis' body twisted as he fell to the ground and he stayed down for a short time as trainers ran out to check on him, then helped him limp off the field.Akers kicked field goals of 36 and 19 yards then booted a 28-yarder 1:41 before halftime for his 31st of the year, topping
Jeff Wilkins
' single-season franchise mark of 30 set in 1996.That gave the 49ers nine field goals -- with only three TDs -- in the last 14 trips to the red zone before Crabtree's TD catch. Akers kicked a 34-yarder in the third quarter.
Game notes
Rams LG
Jacob Bell
(right knee) left and didn't return. ... The Niners are unbeaten in their last 10 home games vs. NFC West. ... Rookie
Aldon Smith
also had two sacks. ... Rams DE
Chris Long
has a sack in six straight games.
Copyright by STATS LLC and The Associated Press
Photo Wire
SAN FRANCISCO, CA - DECEMBER 04: Vernon Davis #85 of the San Francisco 49ers drinks from a Gatorade bottle before...
(Photo by Ezra Shaw/Getty Images)
Team Stat Comparison
| | STL | SF |
| --- | --- | --- |
| 1st Downs | 10 | 18 |
| Passing 1st downs | 9 | 11 |
| Rushing 1st downs | 0 | 5 |
| 1st downs from Penalties | 1 | 2 |
| 3rd down efficiency | 3-13 | 4-14 |
| 4th down efficiency | 0-1 | 0-0 |
| Total Plays | 49 | 63 |
| Total Yards | 157 | 389 |
| Yards per play | 3.2 | 6.2 |
| Total Drives | 12 | 12 |
| Passing | 126 | 245 |
| Comp - Att | 12-22 | 17-25 |
| Yards per pass | 5.7 | 9.8 |
| Interceptions thrown | 1 | 0 |
| Sacks - Yards Lost | 4-30 | 4-29 |
| Rushing | 31 | 144 |
| Rushing Attempts | 23 | 34 |
| Yards per rush | 1.3 | 4.2 |
| Red Zone (Made-Att) | 0-0 | 0-4 |
| Penalties | 5-35 | 8-72 |
| Turnovers | 2 | 0 |
| Fumbles lost | 1 | 0 |
| Interceptions thrown | 1 | 0 |
| Defensive / Special Teams TDs | 0 | 0 |
| Possession | 23:56 | 36:04 |
Passing Leaders
STL
C/ATT
YDS
AVG
TD
INT
SACKS
Feeley
12/22
156
7.1
0
1
4-30
Scoring Summary
FIRST QUARTER
STL
SF
FG
04:54
David Akers 36 Yd
0
3
SECOND QUARTER
STL
SF
FG
08:39
David Akers 19 Yd
0
6
FG
01:41
David Akers 28 Yd
0
9
THIRD QUARTER
STL
SF
TD
11:14
Michael Crabtree 52 Yd Pass From Alex Smith (David Akers Kick)
0
16
FG
05:41
David Akers 34 Yd
0
19
FOURTH QUARTER
STL
SF
TD
12:42
Kyle Williams 56 Yd Pass From Alex Smith (David Akers Kick)
0
26
Research Notes
NEXT LEVEL: The 49ers allowed a season-low 31 rushing yards on 23 rushes Sunday against the Rams, and did not allow a rushing first down. The Rams could not power through contact as they only gained 22 total yards after first contact on their 23 rushes. The 49ers entered Sunday allowing a league-low 1.47 yards after contact per rush.

San Francisco's 26 points Sunday were the fourth-most the franchise has scored in a shutout since 2000. Their last shutout came on October 4, 2009, also against the Rams.
[+]
With 73 rushing yards Sunday, Frank Gore passed Joe "The Jet" Perry for most in 49ers history, not including Perry's yardage from the All-America Football Conference.
[+]
ESPN Stats & Information