4:05 PM ET, November 4, 2012
O.co Coliseum, Oakland, CA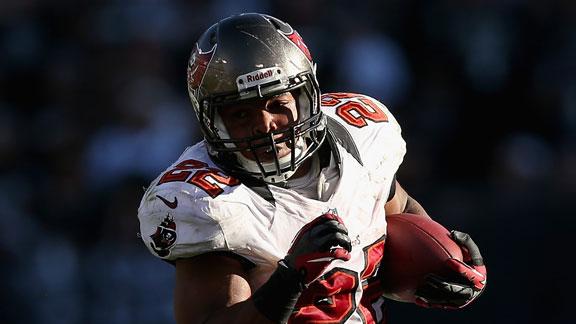 Sunday Blitz: Buccaneers-Raiders Recap
Sunday Blitz: Buccaneers-Raiders Recap
VIDEO PLAYLIST
OAKLAND, Calif. -- Doug Martin never had a homecoming like this during his stellar college career at Boise State.
Martin rushed for a franchise-record 251 yards and four touchdowns and
Ahmad Black
intercepted a
Carson Palmer
pass after Oakland had cut an 18-point deficit to three late in the fourth quarter, and the Bucs beat the Raiders 42-32 on Sunday.
More Bucs-Raiders Coverage

The Oakland Raiders came excruciatingly close to experiencing a season-changing victory on Sunday, writes Bill Williamson. Blog
Martin, who was born in Oakland and went to high school in nearby Stockton, had a memorable return home for the Bucs (4-4) by scoring on runs of 1, 45, 67 and 70 yards in front of more than 60 friends and family members."Everybody was there. It was awesome," he said. "It's surreal right now. I'm just doing my job out there. I'm honored."Martin, the 31st pick in April out of Boise State, became the first back since at least 1940 to score on three TD runs of at least 45 yards in one game, according to Elias Sports Bureau.He finished 45 yards shy of tying
Adrian Peterson
's single game record of 296 set in his rookie season in 2007 and joined Denver's
Mike Anderson
as the only backs with at least 250 yards rushing and four TDs in a single game.Martin had 214 yards from scrimmage and two touchdowns last week in Minnesota to cap a month in which he was the NFL's top offensive rookie.He was even better against the Raiders."That was a great, great performance," coach Greg Schiano said. "After having a big outing in Minnesota on national TV and winning some awards you wonder how the young guys is going to handle the success. This test he stepped up and met the challenge for sure."But Tampa Bay still struggled to hold onto an 18-point, fourth-quarter lead against an Oakland team that lost star running back
Darren McFadden
to an ankle injury late in the first half.Palmer threw for 414 yards and had three of his four touchdowns in the fourth quarter as Oakland cut the Bucs lead to 35-32 with 3:51 to go.The Raiders then got a defensive stop and took over at their 38 with 2:42 to play. But on second down, Palmer threw off-target looking for
Rod Streater
down the left sideline and Black came up with the second of Palmer's three interceptions.
Rookie Martin Runs Wild
Bucs rookie Doug Martin on Sunday became the first player in NFL history with three rushing TDs of at least 45 yards in one game. He also had 251 rushing yards, third-most by a rookie in NFL history. Here's a look at the list:
Player
Yards
Year
Adrian Peterson
296
2007
DeMarco Murray
253
2011
Doug Martin
251
2012
Mike Anderson
251
2000
Corey Dillon
246
1997
-- Elias Sports Bureau
• Stats & Info: Martin makes history

"Mistakes like that you can't overcome and you can't make and me being the quarterback you can't do that," Palmer said. "I can't throw that ball. You just need to take a sack sometimes if things are off of the same page and come back the next play."Martin then ran three straight times to score his fourth touchdown and put the game away.
Josh Freeman
threw for 247 yards and two touchdowns as Tampa Bay scored at least 28 points for a franchise-record fourth straight game and reached .500 at the midpoint of Schiano's first season to match last season's win total."It's fun, man," said receiver
Vincent Jackson
, who scored Tampa Bay's first touchdown. "We have a lot of different weapons. The coaches do a great job of just giving teams different looks, spreading the ball around. ... It's fun to play in an offense like this that can be very explosive."The Raiders, coming off two straight victories against one-win Jacksonville and Kansas City, had no answers for Martin and the Bucs, allowing the three long runs in the second half when Martin gained 220 of his yards."They were kind of backbreaking scores there late, long runs after long runs," defensive end
Dave Tollefson
said. "We just have to get some stuff cleaned up. I don't think they've burnt down the facility in Alameda yet. I'm not trying to make light of it. We've got another week, and the crazy thing is we're still in this thing, in the division."Along with the loss, the Raiders had to deal with another injury to McFadden, who left in the second quarter because of his ankle. X-rays were negative but McFadden did not return and his status was unknown. He missed 19 games in his first four seasons with foot, toe, shoulder, knee and hamstring injuries.But McFadden would have been no help trying to stop Martin, who broke James Wilder's franchise record of 219 yards in 1983 despite the absence of All Pro guard
Carl Nicks
, who was placed on injured reserve last week with a left toe injury.Martin helped break open what had been a close game with his huge second half. He gave Tampa Bay the lead for good with a 45-yard TD run on the first possession of the second quarter and then added the two other long runs as he continually faked out the Raiders' front seven and outran their usually speedy secondary."He's turned into a heck of a player here these last two weeks," Bucs safety
Ronde Barber
said. "He's really jumped onto the scene, just the way he's handled the pressure that he's had to be the main guy here in our offense these past couple of weeks. It's impressive, man."The Raiders scored in the final two minutes of the first half for the eighth straight game this season to take a 10-7 lead at the break on a 25-yard TD pass from Palmer to rookie Rod Streater.
Game notes
Tampa Bay is averaging 477 yards and 36 points per game over the past four contests. ... Oakland DE
Lamarr Houston
blocked a 35-yd field goal attempt by
Connor Barth
in the first quarter to set up an Oakland field goal. ... The most yards rushing against the Raiders is 266 by Seattle's
Shaun Alexander
in 2001.
Copyright by STATS LLC and The Associated Press
Photo Wire
OAKLAND, CA - NOVEMBER 04: Doug Martin #22 of the Tampa Bay Buccaneers warms up before their game against the...
(Photo by Ezra Shaw/Getty Images)
Team Stat Comparison
| | TB | OAK |
| --- | --- | --- |
| 1st Downs | 23 | 25 |
| Passing 1st downs | 10 | 19 |
| Rushing 1st downs | 10 | 2 |
| 1st downs from Penalties | 3 | 4 |
| 3rd down efficiency | 5-12 | 5-14 |
| 4th down efficiency | 0-1 | 1-2 |
| Total Plays | 63 | 75 |
| Total Yards | 515 | 424 |
| Yards per play | 8.2 | 5.7 |
| Total Drives | 14 | 13 |
| Passing | 237 | 402 |
| Comp - Att | 18-30 | 40-62 |
| Yards per pass | 7.9 | 6.5 |
| Interceptions thrown | 0 | 3 |
| Sacks - Yards Lost | 1-10 | 2-16 |
| Rushing | 278 | 22 |
| Rushing Attempts | 32 | 11 |
| Yards per rush | 8.7 | 2.0 |
| Red Zone (Made-Att) | 2-3 | 3-4 |
| Penalties | 14-116 | 9-80 |
| Turnovers | 1 | 3 |
| Fumbles lost | 1 | 0 |
| Interceptions thrown | 0 | 3 |
| Defensive / Special Teams TDs | 0 | 0 |
| Possession | 28:04 | 31:56 |
Scoring Summary
FIRST QUARTER
TB
OAK
FG
00:45
Sebastian Janikowski 29 Yd
0
3
SECOND QUARTER
TB
OAK
TD
12:54
Vincent Jackson 20 Yd Pass From Josh Freeman (Connor Barth Kick)
7
3
TD
01:20
Rod Streater 25 Yd Pass From Carson Palmer (Sebastian Janikowski Kick)
7
10
THIRD QUARTER
TB
OAK
TD
12:09
Doug Martin 45 Yd Run (Connor Barth Kick)
14
10
TD
07:12
Mike Williams 4 Yd Pass From Josh Freeman (Connor Barth Kick)
21
10
TD
02:15
Doug Martin 67 Yd Run (Connor Barth Kick)
28
10
FOURTH QUARTER
TB
OAK
TD
14:11
Brandon Myers 4 Yd Pass From Carson Palmer (Sebastian Janikowski Kick)
28
17
TD
13:51
Doug Martin 70 Yd Run (Connor Barth Kick)
35
17
TD
09:48
Brandon Myers 1 Yd Pass From Carson Palmer (Sebastian Janikowski Kick)
35
24
TD
03:51
Marcel Reece 13 Yd Pass From Carson Palmer (Carson Palmer Pass To Juron Criner For Two-Point Conversion)
35
32
TD
01:49
Doug Martin 1 Yd Run (Connor Barth Kick)
42
32
Research Notes
From Elias:
Doug Martin
accumulated nearly 490 yards of offense from scrimmage over his last 2 games. The only 4 players with greater outputs over a 2-game span are all in the Pro Football Hall of Fame.
[+]
Despite the loss of pro bowl guard
Carl Nicks
,
Doug Martin
picked up 197 of his 251 rushing yards before contact Sunday. That is the second-most yards before contact in a single game over the past four seasons (
Jerome Harrison
235, Week 15, 2009). The Raiders loaded the box (more defenders than available blockers) on only one of Martin's attempts, coming with 1:52 left in the fourth quarter.
Doug Martin
rushed for 268 yards when the Buccaneers lined up with a lead blocker in the backfield Sunday, including 215 yards before first contact. Martin had five negative rushing plays on his six attempts without a lead blocker against the Raiders.
[+]
From Elias: NOTE: halftime box scores not available all-time so all-time queries of "200 in a half" or "most yds in a half" cannot be completed.
[+]
What makes
Doug Martin
's big game even more incredible is the fact that he had just 31 yards at halftime...
[+]
Doug Martin
finishes with 251 yards and 4 TD. Martin joins
Mike Anderson
(who also had exactly 251 yds, 4 TD on Dec. 03, 2000 at NO) as the only players to rush for 250 yards and 4 TD in a game in the Super Bowl Era.
ESPN Stats & Information