1:00 PM ET, December 30, 2012
Ralph Wilson Stadium, Buffalo, NY
ORCHARD PARK, N.Y. -- Closing the season with a mean-nothing win was of little consolation for Buffalo Bills safety Bryan Scott.
Far too late for the playoffs, Scott wasn't sure if a 28-9 victory over the
New York Jets
on Sunday would make a difference in determining the status of beleaguered coach Chan Gailey or any other changes that might be coming.
ESPN New York's Year in Review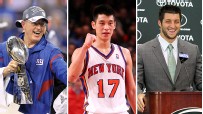 From the biggest Big Apple stories of the year to the most loved and loathed local sports figures, we shelve 2012.
"The chips are going to fall where they may. Obviously, I don't know to what extent," said Scott, who scored on a 20-yard interception return. "This is one game. It's not any consolation as to what we wanted to get done this season."Gailey was short on answers about his future."Let's talk about today," Gailey said, declining to say whether he's met with team owner Ralph Wilson, who was in Buffalo on Friday."Not a lot of jubilation," he said, referring to the mood of his players. "They were happy, but not excited."At least they had a win to celebrate.The Jets had nothing but pride to play for, too, and their performance did nothing in addressing questions now facing a turmoil-riddled team also bracing for an uncertain offseason.Quarterback
Mark Sanchez
finished with yet another sloppy outing. Nor did he help the status of offensive coordinator Tony Sparano, who's expected to be released after one season. And questions remained about whether coach Rex Ryan and general manager Mike Tannenbaum will be back."The future is going to be addressed at a different time," Ryan said. And yet, even Ryan had to acknowledge his disappointment.
Jets blog

Looking for more on
the green and white? ESPNNewYork.com has you covered. Blog »
"Six wins isn't up to anybody's expectations, for this team and certainly not mine," he said.The Jets (6-10) closed their second season with three straight losses, and capped their worst finish since going 4-12 in 2007. They've now gone 14-18 since playing in successive AFC title games.The Bills (6-10) snapped a three-game skid, but still finished fourth in the AFC East for a fifth straight time while extending their postseason drought to 13 years.In three seasons under Gailey, they're 16-32 and 7-18 in their last 25 games since getting off to a surprising 5-2 start last year."There's going to be change, and we all know that," said
Stevie Johnson
, who finished with 111 yards receiving in becoming the first Bills player to surpass 1,000 yards in three straight years.
C.J. Spiller
had 59 yards rushing and scored the go-ahead touchdown late in the second quarter on a 66-yard catch and run.
Brad Smith
scored on a 4-yard run, and
Tashard Choice
on 13-yard run for the Bills, who ended a six-game losing streak against the Jets.
Scott's interception was the first of two turnovers forced by a defense that had gone three games without one. And Buffalo limited the Jets' popgun attack to three field goals.That was enough to cue the latest chorus of Sanchez's critics, and raise questions as to whether the 2009 first-round draft pick has worn out his welcome."We just didn't execute, and it starts with the quarterback," Sanchez said. "I have to be better. When you're inconsistent, it's tough to win in this league."Sanchez went 17 of 35 for 205 yards, while throwing his 18th interception and also losing a fumble. That was reminiscent of his last start, two weeks ago, when he turned the ball over five times in a 14-10 loss at Tennessee.The Jets trailed 14-9 at the half despite gaining more yards than Buffalo (204-132), getting more first downs (13-4) and holding a whopping edge in time of possession (23:15-6:45).Sanchez was supposed to be on the bench on Sunday, and only got the start after third-stringer
Greg McElroy
complained of concussion-like symptoms on Thursday."I know I'm better than this," said Sanchez. "I'm contracted to be here. And I want to be here."Time will tell on Sanchez, Sparano and that of backup quarterback
Tim Tebow
, who did little to justify the hype he received after arriving in New York in an offseason trade with Denver.This was not the finish anyone expected of the Jets. They opened the season with a 48-24 win over the Bills, and closed it by combining for 60 points in their final five games.This is not the finish many expected for the Bills, either. They also opened the season with aspirations of being a bona fide contender after their defense was supposed to have been improved with the addition of high-priced defensive end
Mario Williams
."The win doesn't change how the season went as far as reaching our team goals," safety
George Wilson
said. "But, at the end of the day, we're able to go into the offseason on a winning note.
Game notes
The Bills had the sticker "WWFD" on the back of their helmets, honoring two West Webster Fire Department firefighters who were shot and killed while responding to a fire in the Rochester, N.Y. suburb on Monday. ... Jets PK
Nick Folk
kicked three field goals, including a 47-yarder, and also had a 30-yard attempt blocked by DT
Marcell Dareus
. ... Bills PK
Rian Lindell
missed wide left from 50 and 46 yards.
Copyright by STATS LLC and The Associated Press
Team Stat Comparison
| | NYJ | BUF |
| --- | --- | --- |
| 1st Downs | 19 | 16 |
| Passing 1st downs | 10 | 9 |
| Rushing 1st downs | 8 | 5 |
| 1st downs from penalties | 1 | 2 |
| 3rd down efficiency | 7-17 | 7-15 |
| 4th down efficiency | 0-1 | 1-1 |
| Total Plays | 72 | 57 |
| Total Yards | 332 | 334 |
| Yards per play | 4.6 | 5.9 |
| Total Drives | 12 | 11 |
| Passing | 199 | 225 |
| Comp-Att | 17-35 | 12-26 |
| Yards per pass | 5.5 | 8.7 |
| Interceptions thrown | 1 | 0 |
| Sacks-Yards Lost | 1-6 | 0-0 |
| Rushing | 133 | 109 |
| Rushing Attempts | 36 | 31 |
| Yards per rush | 3.7 | 3.5 |
| Red Zone (Made-Att) | 0-0 | 0-0 |
| Penalties | 4-45 | 4-24 |
| Turnovers | 2 | 1 |
| Fumbles lost | 1 | 1 |
| Interceptions thrown | 1 | 0 |
| Defensive / Special Teams TDs | 0 | 1 |
| Possession | 32:20 | 27:40 |
Passing Leaders
NYJ
C/ATT
YDS
AVG
TD
INT
SACKS
Sanchez
17/35
205
5.9
0
1
1-6
Scoring Summary
FIRST QUARTER
NYJ
BUF
FG
9:05
Nick Folk 47 Yard Field Goal is Good

Drive info: 12 plays, 47 yds, 6:00

3
0
TD
3:42
Bryan Scott 20 Yard Interception Return (Rian Lindell Kick is Good)

Drive info: 3 plays, 5 yds, 1:24

3
7
SECOND QUARTER
NYJ
BUF
FG
10:58
Nick Folk 23 Yard Field Goal is Good

Drive info: 14 plays, 61 yds, 7:40

6
7
FG
3:53
Nick Folk 28 Yard Field Goal is Good

Drive info: 10 plays, 68 yds, 5:21

9
7
TD
3:32
C.J. Spiller 66 Yard Pass From Ryan Fitzpatrick (Rian Lindell Kick is Good)

Drive info: 3 plays, 66 yds, 0:28

9
14
FOURTH QUARTER
NYJ
BUF
TD
10:55
Brad Smith 4 Yard Run (Rian Lindell Kick is Good)

Drive info: 7 plays, 80 yds, 3:54

9
21
TD
1:14
Tashard Choice 13 Yard Run (Rian Lindell Kick is Good)

Drive info: 10 plays, 47 yds, 4:24

9
28
Research Notes
Mark Sanchez
posted a 9.3 Total QBR in the Jets' loss to Buffalo on Sunday. It was his sixth game this season with a Total QBR of 10 or lower, three more than any other player. Among qualifying QBs, no player had a lower Total QBR than Sanchez this season. To put it into perspective using QB points above average (QB PAA), Mark Sanchez contributed 50.2 fewer points to his team than what an average QB would contribute in the same number of action plays. In other words, an average QB would have contributed 3.4 more points per game than Sanchez in the 15 games that he played.
[+]
ESPN Stats & Information