1:00 PM ET, October 6, 2013
Lambeau Field, Green Bay, WI
Top Performers
Passing: A. Rodgers (GB) - 274 YDS, 1 TD
Rushing: E. Lacy (GB) - 23 CAR, 99 YDS
Receiving: J. Jones (GB) - 4 REC, 127 YDS, 1 TD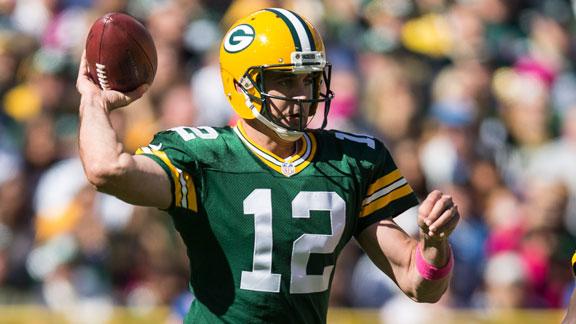 Sunday Blitz: Lions-Packers Recap
Prim Siripipat and Tom Waddle break down the Packers week 5 win over the Lions.
Sunday Blitz: Lions-Packers Recap
VIDEO PLAYLIST
GREEN BAY, Wis. -- James Jones wouldn't be denied a Lambeau leap after a long touchdown catch.
So when a Lions fan -- sitting in enemy territory, no less -- pushed him out of the stands, the Packers receiver tried to make the traditional celebratory jump one more time. Success.
His 83-yard touchdown reception late in the third quarter was just the big-play spark the Packers needed to liven up an offense that otherwise settled for field goals in a 22-9 win Sunday over the undermanned Detroit Lions.
More Lions-Packers coverage

The Packers escaped with a win over punchless Detroit, but their red-zone struggles are beginning to cause concern, Rob Demovsky writes. Blog
---

The Lions' offense didn't look the same in Sunday's loss to the Packers, which proves just how valuable Calvin Johnson is, Michael Rothstein writes. Blog
"Yeah, man, a Detroit Lion fan pushed me out of there one time," Jones said. "I had to double jump."
Mason Crosby kicked five field goals. The defense contained Reggie Bush and took advantage of an offense playing without star receiver Calvin Johnson, who had missed a couple days of practice last week with a knee injury.
With Megatron out, Jones stole the show with a highlight-reel catch.
Jones had a step on his man down the left sideline, and Aaron Rodgers delivered a perfectly timed throw. With another defensive back closing in around the 15, Jones turned right about 45 degrees to get into the end zone for a 16-3 lead with 3:12 left in the third quarter.
He took a bow while dancing on his heels. He's glad he didn't get caught.
"I was hoping, because I never would've heard the end of it from everybody in here," said Jones, who finished with four catches for 127 yards and barely missed another long score after his foot grazed the sideline in the end zone.
The Packers (2-2) extended their winning streak in Wisconsin over the Lions (3-2) to 23.
Rodgers was 20 for 30 for 274 yards, and Eddie Lacy ran for 99 yards on 23 carries in his return from a concussion.
Randall Cobb set up Crosby's 31-yard field goal in the third quarter with a 67-yard dash into Lions territory after lining up in the backfield. Crosby also was good from 26 and 52 yards in the first half and added makes from 42 and 45 in the fourth quarter.
For a change, defense set the pace for Green Bay before the offense caught up.
The Packers recorded five sacks, all from their linebackers, including one from Clay Matthews before he left with a thumb injury.
"We didn't get it done well enough today -- offense, defense or special teams," coach Jim Schwartz said. "With or without Calvin, that was the story of the game -- not whether Calvin played or not."
But the wideout was still clearly missed.
Reggie Bush was held to 44 yards on 13 carries and four catches for 25 yards. The Packers' improved run defense mostly contained the dangerous Bush on first-down runs, leaving the Lions with long second- and third-down situations.
Still, the Lions trailed by just 16 late because Green Bay had to settle for field goals. They drove to the Packers 30 with 7:16 left before three straight incompletions left them headed back to the sideline.
Detroit especially felt Johnson's absence then. A pass attempt on fourth-and-3 went awry after Kris Durham slipped on the turf.
Schwartz declined to offer more details on the extent of Johnson's injury. He missed his first regular-season game since 2010.
Matthew Stafford, who finished 25 for 40 for 262 yards, said he had an inkling Saturday that Johnson might be out.
"He's one of the guys on our team that can stretch the field," Stafford said. "I know he wanted to be out there. It's a tough situation we were in."
The Lions' only touchdown came late when Stafford found Durham for a 13-yard score.
"Just being able to keep them in short and intermediate passes definitely helped us out," linebacker Mike Neal said. "Calvin's a big part of their game plan, and without him, I think they put a lot on other guys. It was a big plus for us."
Game notes
Packers starting LB
Brad Jones
left in the first half with a hamstring injury. Later, his replacement, Robert Francois, had to be helped off the field favoring his right leg. ... For the Lions, starting RT
Jason Fox
left with a knee injury, while backup RB
Theo Riddick
was also out after being evaluated for a head injury. ... Crosby's five field goals tied a team record shared by two other Packers. ... . The teams combined for 17 penalties, 10 for the Packers.
Copyright by STATS LLC and The Associated Press
Photo Wire
GREEN BAY, WI - OCTOBER 06: Mason Crosby #2 of the Green Bay Packers celebrates his second field goal of the game...
(Photo by Harry How/Getty Images)
Team Stat Comparison
| | DET | GB |
| --- | --- | --- |
| 1st Downs | 19 | 16 |
| Passing 1st downs | 12 | 11 |
| Rushing 1st downs | 5 | 3 |
| 1st downs from penalties | 2 | 2 |
| 3rd down efficiency | 7-15 | 7-16 |
| 4th down efficiency | 0-1 | 0-0 |
| Total Plays | 64 | 64 |
| Total Yards | 286 | 449 |
| Yards per play | 4.5 | 7.0 |
| Total Drives | 10 | 10 |
| Passing | 222 | 269 |
| Comp-Att | 25-40 | 20-30 |
| Yards per pass | 4.9 | 8.7 |
| Interceptions thrown | 0 | 0 |
| Sacks-Yards Lost | 5-40 | 1-5 |
| Rushing | 64 | 180 |
| Rushing Attempts | 19 | 33 |
| Yards per rush | 3.4 | 5.5 |
| Red Zone (Made-Att) | 1-1 | 0-2 |
| Penalties | 7-50 | 10-72 |
| Turnovers | 0 | 0 |
| Fumbles lost | 0 | 0 |
| Interceptions thrown | 0 | 0 |
| Defensive / Special Teams TDs | 0 | 0 |
| Possession | 27:41 | 32:19 |
Scoring Summary
FIRST QUARTER
DET
GB
FG
1:28
Mason Crosby 26 Yard Field Goal is Good

Drive info: 15 plays, 72 yds, 7:50

0
3
SECOND QUARTER
DET
GB
FG
11:24
Mason Crosby 52 Yard Field Goal is Good

Drive info: 12 plays, 36 yds, 3:55

0
6
FG
0:20
David Akers 53 Yard Field Goal is Good

Drive info: 13 plays, 54 yds, 3:32

3
6
THIRD QUARTER
DET
GB
FG
5:07
Mason Crosby 31 Yard Field Goal is Good

Drive info: 5 plays, 76 yds, 2:20

3
9
TD
3:23
James Jones 83 Yard Pass From Aaron Rodgers (Mason Crosby Kick is Good)

Drive info: 2 plays, 78 yds, 0:54

3
16
FOURTH QUARTER
DET
GB
FG
10:19
Mason Crosby 42 Yard Field Goal is Good

Drive info: 9 plays, 56 yds, 4:35

3
19
FG
3:54
Mason Crosby 45 Yard Field Goal is Good

Drive info: 7 plays, 43 yds, 3:11

3
22
TD
2:10
Kris Durham 13 Yard Pass From Matthew Stafford (Matthew Stafford Pass to Kris Durham For Two-Point Conversion is)

Drive info: 8 plays, 80 yds, 1:44

9
22
Research Notes
The Lions have lost 22 straight road games against the Packers, the longest road losing streak by any team against another in NFL history.
[+]
How big was the loss of
Calvin Johnson
in Week 5? -
Matthew Stafford
was sacked or put under duress on 22% of his dropbacks. Stafford was pressured on a league-low 12% of his dropbacks entering the week. - Stafford was 10-of-21 for 93 yards when targeting wide receivers Sunday. Stafford hadn't thrown for fewer than 100 yards to wide receivers since Week 13 of the 2009 season, a game Stafford couldn't finish due to injury. - The Lions dropped five passes, tying an NFL single-game high this season. Johnson had one drop on a team-high 39 targets this season.
ESPN Stats & Information