4:05 PM ET, October 27, 2013
Paul Brown Stadium, Cincinnati, OH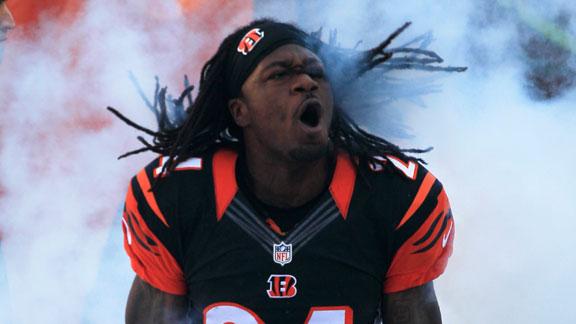 Sunday Blitz: Jets-Bengals Recap
Sunday Blitz: Jets-Bengals Recap
VIDEO PLAYLIST
CINCINNATI -- Marvin Jones usually tosses his receiver gloves into the stands on his way to the locker room, a way of letting fans share in the moment.
This pair -- and this moment -- was all his.
Jones caught four of Andy Dalton's career-high five touchdown passes on Sunday as the Cincinnati Bengals drubbed the New York Jets 49-9, a dominant performance that will turns heads around the NFL.
As Jones ran off the field, he turned down the fans who wanted a keepsake glove.
"I'm keeping those," said Jones, who had career highs with eight catches for 122 yards. "I'll frame 'em or whatever. I usually dish them out. Not this game."
The second-year receiver and third-year quarterback went into the club's record book as its top touchdown combination. Jones set a Bengals record for touchdown receptions, scoring on catches of 9, 6, 17 and 6 yards. He's the first NFL receiver with four touchdown catches in a game since Randy Moss and Terrell Owens did it in 2007.
Dalton's five touchdown passes gave him 11 in his last three games, his best such span. He's the first quarterback to throw for five TDs against the Jets since Dan Marino in 1988.
"This is where I want to be," said Dalton, who was 19 of 30 for 325 yards in little more than three quarters. "This is how I want to be playing. It's tough to do."
The Bengals (6-2) won their fourth in a row and padded their AFC North lead by taking advantage of New York's step-slow pass defense and its rookie quarterback, who had his worst day yet. Geno Smith threw two interceptions that were returned for touchdowns before heading to the bench early in the fourth quarter.
It was Cincinnati's most lopsided victory during coach Marvin Lewis' 11 seasons. The Bengals are 2½ games ahead of second-place Baltimore, which had its bye week.
"It is a statement," defensive end Carlos Dunlap said. "This is one of the first games we were able to finish because we jumped on them early. This was just a statement game."
New York (4-4) couldn't break its pattern of win-one, lose-one. The Jets took their most lopsided loss since a 45-3 loss to New England in 2010.
SportsNation: Bengals true contenders?

After two close games, the Bengals hammered the Jets on Sunday. Is Cincy for real? Can it win with Andy Dalton? Vote »
"It's been up-down, up-down all year," said Smith, who was 20 of 30 for 159 yards. "That's the way it's been so far. Sometimes we do it, other times we don't. That's a part of developing consistency."
This one slipped away fast.
The Bengals got touchdowns on their first two possessions while the Jets managed only 1 net yard in the first quarter -- their fewest for a quarter since 2009.
The Bengals figured they could take advantage of New York's man-to-man coverage by throwing deep. Dalton's line gave him plenty of time and he was on target most of the time, setting up a lot of big plays.
The biggest came from Jones, a fifth-round draft pick with a lot of speed. In his breakout game, he showed a good pair of hands and a few nifty moves, too. His 30-yard catch set up Dalton's 4-yard touchdown pass to tight end Jermaine Gresham, who was uncovered in the back of the end zone.
A.J. Green also had two catches that went for more than 50 yards each as Dalton showed he can complete the long throw -- one of his biggest deficiencies in his first two seasons.
"I would say that absolutely surprised me," coach Rex Ryan said of his defense's collapse. "We got beat in every coverage known to man. Five touchdown passes? I don't know how many times that's happened in my lifetime. Not very often."
Smith showed he's still got an awful lot to learn. With the Jets trailing 28-6 coming out of halftime, Smith made two more glaring mistakes.
Chris Crocker returned his first pass of the second half 32 yards for a touchdown. Early in the fourth quarter, Adam "Pacman" Jones ran another back 60 yards for a score, sidestepping the diving Smith to reach the end zone.
Smith has had three interceptions returned for touchdowns in the last two games. New England's Logan Ryan ran one back 79 yards for a score during the Jets' 30-27 overtime victory last week.
Game notes
Bengals MLB
Rey Maualuga
was taken off the field on a cart in the first half after hurting his left knee and apparently suffering a concussion while trying to make a tackle. Lewis said Maualuga wasn't seriously injured. ... It was the first time the Bengals returned two interceptions for a touchdown since Dec. 16, 1984, against Buffalo. ... Ryan said he benched cornerback
Dee Milliner
during the game because "he wasn't getting it done."
Copyright by STATS LLC and The Associated Press
Photo Wire
CINCINNATI, OH - OCTOBER 27: Dane Sanzenbacher #11 of the Cincinnati Bengals runs the ball upfield during the...
(Photo by John Grieshop/Getty Images)
Team Stat Comparison
| | NYJ | CIN |
| --- | --- | --- |
| 1st Downs | 15 | 20 |
| Passing 1st downs | 7 | 16 |
| Rushing 1st downs | 6 | 3 |
| 1st downs from Penalties | 2 | 1 |
| 3rd down efficiency | 6-15 | 6-11 |
| 4th down efficiency | 0-1 | 0-1 |
| Total Plays | 65 | 56 |
| Total Yards | 240 | 402 |
| Yards per play | 3.7 | 7.2 |
| Total Drives | 13 | 10 |
| Passing | 147 | 323 |
| Comp - Att | 23-37 | 19-30 |
| Yards per pass | 4.0 | 10.8 |
| Interceptions thrown | 2 | 1 |
| Sacks - Yards Lost | 4-29 | 1-2 |
| Rushing | 93 | 79 |
| Rushing Attempts | 24 | 25 |
| Yards per rush | 3.9 | 3.2 |
| Red Zone (Made-Att) | 0-0 | 5-6 |
| Penalties | 4-69 | 4-45 |
| Turnovers | 2 | 1 |
| Fumbles lost | 0 | 0 |
| Interceptions thrown | 2 | 1 |
| Defensive / Special Teams TDs | 0 | 2 |
| Possession | 33:17 | 26:43 |
Scoring Summary
FIRST QUARTER
NYJ
CIN
TD
09:59
Marvin Jones 9 Yd Pass From Andy Dalton (Mike Nugent Kick)
0
7
TD
04:21
Jermaine Gresham 4 Yd Pass From Andy Dalton (Mike Nugent Kick)
0
14
SECOND QUARTER
NYJ
CIN
FG
09:09
Nick Folk 45 Yd
3
14
TD
06:13
Marvin Jones 6 Yd Pass From Andy Dalton (Mike Nugent Kick)
3
21
FG
01:08
Nick Folk 47 Yd
6
21
TD
00:16
Marvin Jones 14 Yd Pass From Andy Dalton (Mike Nugent Kick)
6
28
THIRD QUARTER
NYJ
CIN
TD
14:45
Chris Crocker 32 Yd Interception Return (Mike Nugent Kick)
6
35
FG
04:49
Nick Folk 50 Yd
9
35
TD
01:13
Marvin Jones 6 Yd Pass From Andy Dalton (Mike Nugent Kick)
9
42
FOURTH QUARTER
NYJ
CIN
TD
13:09
Adam Jones 60 Yd Interception Return (Mike Nugent Kick)
9
49
Research Notes
Andy Dalton
threw a career-high 5 Pass TD, the third QB in Bengals history to do so in a single game.
[+]
Marvin Jones
is the 1st Bengals player to record 3+ Rec TD in a game since
Chad Johnson
on Nov. 25, 2007 in 35-6 win vs Titans (Johnson: 103 Rec yds, 3 Rec TD).
ESPN Stats & Information