Commentary
For Peyton Manning, this one stings
Broncos let it get away in agonizing fashion as Tom Brady's advantage grows
Originally Published:
November 25, 2013
By
Ashley Fox
| ESPN.com
FOXBOROUGH, Mass. -- This one stung.
Peyton Manning was waiting for his personal postgame two-minute warning to head to the team bus and leave Gillette Stadium. Leaning against a wall in the hallway outside the visitors' locker room, Manning made a couple of phone calls, looked at his phone and stared blankly. The Denver Broncos' 34-31 loss in overtime to New England, and specifically how the game ended, was hard for Manning to stomach.
"Brutal way to end a game," I said to him.
Manning dropped his head.
"Oh man," he said, shaking his head. "It was. It was."
[+] Enlarge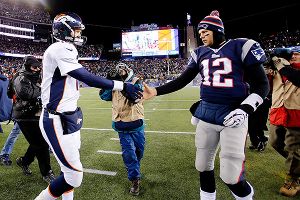 Jim Rogash/Getty ImagesPeyton Manning and Tom Brady shake hands after their 14th head-to-head matchup, the first that went to overtime.
Denver lost on a muffed punt. A game that featured 11 fumbles -- six that were lost -- was ultimately decided when Denver cornerback Tony Carter inadvertently touched Ryan Allen's punt at the Broncos 15-yard line. The Patriots recovered at the 13 and ran two plays before kicker Stephen Gostkowski booted a 31-yard chip shot through the uprights to win the game.
The Broncos went from having three minutes to drive into field goal range from deep in their own territory to losing a game in which they held a 24-0 halftime advantage.
So yeah, this one stung.
It stung because Denver dominated the first half and yet allowed New England to reset at halftime, gain a little confidence early, and score three third-quarter touchdowns. It stung because the Broncos wasted a 224-yard rushing effort from Knowshon Moreno, who proved that Denver could have a balanced offense and run the ball when the weather is cold.
It stung because New England coach Bill Belichick gambled by opting to take the wind, and not the ball, after winning the coin toss before overtime. Belichick reasoned that Manning could not drive into the wind the length of the field to score what would be a game-winning touchdown on the opening drive of overtime, and he was right.
And the loss stung because the inevitable conclusion will be that Tom Brady outdueled Manning once again.
That certainly is true. In the 14th meeting between the two future Hall of Famers, Brady emerged victorious for the 10th time and the seventh time in nine attempts at home. It also was New England's fifth win over a Manning-led team in eight games decided by a touchdown or less.
Brady and the Patriots improved to 25-2 in the second half of the season since 2010, and Brady again won when the temperature was below 33 degrees, boosting his cold-weather record to 25-5.
For the Patriots at halftime, the message was simple: Forget about the first half. Put together some good plays to start the second half. A few good plays could turn into a good drive, which hopefully would spur another good one, and another.
That's what happened. Playing into the wind in the third quarter, Brady went into assassin mode, completing 12 of 14 passes for 163 yards and two touchdowns as New England clawed back to within 24-21. Early in the fourth quarter, the Patriots took the lead 28-24 on a 14-yard strike from Brady to wide receiver Julian Edelman.
"We didn't do too much after that," Brady said.
They did enough.
Brady finished the game 34-of-50 for 344 yards, three touchdowns and zero interceptions for a 107.4 passer rating. Manning completed only 52.8 percent of his passes for 150 yards, two touchdowns and an interception, but the Broncos also focused on running the ball more than usual, with Moreno getting 37 carries.
NFL Playoff Machine
Check current playoff seedings and Week 17 scenarios.

Playoff Machine | Scenarios
That should serve them well in January, but it did nothing to ease the sting from this loss.
"Disappointed," was how Manning characterized his emotions to open his postgame news conference
"I thought we were going to have the ball last, and that we were either going to score to win the game or I guess it could have ended in a tie," Manning said. "I hated the way that ended and not getting a chance to get our hands on the ball."
Manning said the loss would stick with the Broncos "a night and maybe half the day to tomorrow." But by the time the game planning and weightlifting begins Tuesday, "It's time to move on to Kansas City," Manning said. "That's what you have to do."
The fact is, there is a good possibility that Brady-Manning XV will occur in January. Denver is tied with Kansas City for the best record in the AFC and will play the Chiefs on Sunday for the second time in three weeks. Kansas City has lost two straight games and could be without its top two pass-rushers, Tamba Hali and Justin Houston, for the foreseeable future.
At 8-3, the Patriots would be the No. 2 seed if the playoffs started today. While three of their remaining five games are on the road, none are against a team with a winning record.
So both teams are going to be in the playoffs, most likely as the top two seeds. Both quarterbacks will make sure of it. Imagine an AFC title game between these two. That would be the fourth time for Manning versus Brady in the postseason, and that would be the perfect opportunity for Manning to make the sting from this one go away.
ESPN.com NFL columnist
Joined ESPN in 2011
Also worked at Sports Illustrated, Philadelphia Inquirer and Louisville Courier-Journal
SPONSORED HEADLINES
MORE NFL HEADLINES
MOST SENT STORIES ON ESPN.COM
THE NFL ON ESPN.COM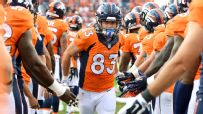 Will the toughness that helped Wes Welker succeed damage his long-term health?
EDITORS' PICKS
The 49ers jumped to big lead in the first half against the Chargers.
Game Day Live

Inept QB play is hindering Philly, which makes it imperative to acquire a long-term solution this offseason.
Sheridan »

With seven playoff berths up for grabs, Seattle and Dallas try to claim theirs against tough Week 16 foes.
Game previews »