Richard Sherman: Bad calls did us in
Updated:
December 9, 2013, 12:10 PM ET
ESPN.com news services
Although the San Francisco 49ers beat the Seattle Seahawks on Sunday, preventing Seattle from clinching the NFC West title, cornerback Richard Sherman was unimpressed, blaming the loss on "questionable calls" by officials in the game.
In comments after the 19-17 loss, Sherman said he expected the Seahawks (11-2) would crush the 49ers (9-4) at Candlestick Park.
More Seahawks-49ers coverage

The Seahawks felt like they did themselves in with penalties Sunday. They congratulated the 49ers with the equivalent of a golf clap, and walked away from the loss believing they are still the team to beat, writes Terry Blount. Blog
---

The 49ers won this round, but they will likely have to beat the Seahawks in Seattle in the playoffs, writes Bill Williamson. Blog
• M. Williamson: Seattle still best
"We didn't project it to be this way," Sherman said, according to the 49ers' official website. "We expected to blow them out, but they got the benefit of a few calls tonight throughout the game and that helps you, especially on third down. We will see them again, and it will be a different result."
Sherman was called twice for defensive holding on third-down plays Sunday. The 49ers accepted one of those penalties, which led to a field goal.
The 49ers had Michael Crabtree back in the lineup for Sunday's game. The receiver, who had an Achilles injury, wasn't with San Francisco when it fell 29-3 at Seattle in Week 2.
The Seahawks had won seven in a row since an Oct. 6 loss at Indianapolis. They also had taken the past two meetings with the 49ers, both at home, by outscoring San Francisco 71-16.
Crabtree had four catches for 40 yards Sunday and his presence also helped Anquan Boldin, who was held without a catch in Week 2, finish with six receptions for 93 yards.
Sherman was adamant, however, that Crabtree's presence "didn't make a difference."
"It didn't make a difference at all," he said, according to NFL.com. "The penalties, that is what made the difference today."
Boldin dismissed the comments of Sherman and the talkative Seahawks secondary, which he said was engaging in trash talk during the game.
"It is what it is," Boldin said, according to the 49ers' website. "That's the way that I play. If guys want to pretend to be tough, then I look forward to it. Talking, that's just what they do, you know what I'm saying? So I let my play speak for itself."
Information from The Associated Press was used in this report.
THE NFL ON ESPN.COM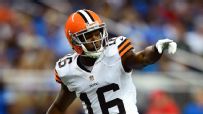 As Andrew Hawkins points out, players should be wary of wearable technology.
EDITORS' PICKS
2015 contract

How will free agency unfold in 2015? We have biggest needs, top targets and predictions for every team.
Buyer's guides

First LeSean McCoy, now Matt Cassel. The Bills aren't waiting for free agency to upgrade their offense.
Rodak »

MOST SENT STORIES ON ESPN.COM