Commentary
Let's get ready to stumble
Jones or Snyder? NFC East's best battle is for title of Worst NFL Owner
Originally Published:
December 20, 2013
By
David Fleming
| ESPN.com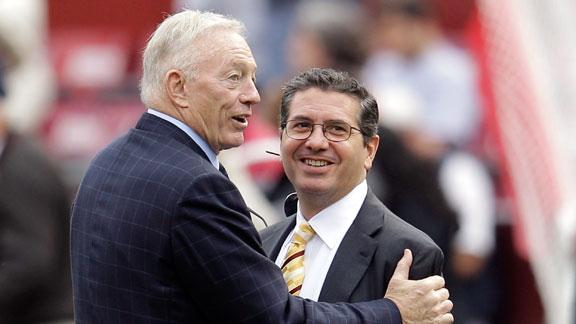 Owning An NFL Franchise
ESPN NFL Insider Phil Savage talks about the different ownership styles of Jerry Jones and Dan Snyder.
Owning An NFL Franchise
Who says the NFC East lacks great competition?
I found a divisional matchup this week in Washington, D.C., that has it all: money, power, egos, endless controversies and, um, record-breaking performances (if you count the Cowboys' historically inept defense).
[+] Enlarge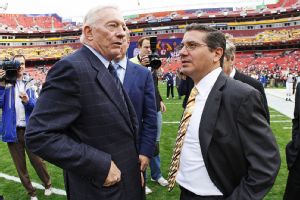 AP Photo/James D SmithJerry Jones and Dan Snyder will have another chance to compare notes when the Cowboys and Redskins face off Sunday.
For the past 14 years, the once-storied rivalry between the Dallas Cowboys and the Washington Redskins has unraveled into one long, ugly race to the bottom between Jerry Jones and Dan Snyder. For all the headlines and attention we shower on these two teams and their owners, the truth of the matter is that, in that span, the Cowboys and Redskins are a combined 30 games under .500 with three whole playoff wins and not a single sniff at a Super Bowl between them.
This year is no different.
Jones has assembled maybe the worst defense in history and spent more than $100 million on a quarterback not worth a dime under pressure, and Snyder's man-crush on Robert Griffin III has led to a complete meltdown in D.C.
That means the only real competition we'll see this weekend is the one between Jones and Snyder for the title of Worst NFL Owner.
Heading into this epic showdown, the Flem File has the tale of the tape on Jones-Snyder (edge goes to the loser of each category).
Records (since Snyder took over in 1999)
JONES -- 119 wins, 119 losses (.500) and 1-5 in the playoffs.
SNYDER -- 104-134 (.440) and 2-4 in the playoffs.
ADVANTAGE -- Granted, a humongous difference between these two is that the Cowboys have three Super Bowl rings during Jones' reign. However, to be fair, since 1999 when Snyder bought the Redskins, the Cowboys have only one playoff win in a span when the Raiders -- the Raiders -- have four wins in the postseason. My friends, if this is America's team, America is in deep doo-doo. Edge: JERRY
Students of history
FLEM'S LONGREADS

More from Flem File columnist and ESPN The Magazine writer David Fleming:
Flem File
• Extra points aren't expendable
• Jim Harbaugh's greatest fits
• Measuring coach-QB relationships
• Cup check: Protection lacking
• 2013 Turkey of the Year Awards
• Beginning of end for NFL
• In appreciation of batted passes
• Who did it: Lions or Will Ferrell?
• Luck-Manning link goes way back
From The Mag
• Brees, Payton belong together
• Packers' blaze of glory
• OTL: Marathon of their lives

JONES -- Shortly after buying the team in 1989, Jones fired the Cowboys' legendary and dignified Hall of Fame coach Tom Landry, saying later that the way he handled the situation was one of his biggest mistakes as an owner. You don't say?
SNYDER -- Although he loves to recall how, at 6, he was awestruck after walking into RFK Stadium while holding his father's hand, one of his first acts as owner was to rip the name of beloved former owner Jack Kent Cooke off the stadium. It's now named after a delivery company.
ADVANTAGE -- No one.
Have a seat
JONES -- Jerry World is worth $1.3 billion and has a lingerie store and works of art worth more than most of his players (on defense, at least), but somehow he couldn't get a few rows of seats built in time for Super Bowl XLV, leaving 400 fans without a place to sit. Well, at least they enjoyed the nice Texas weather.
SNYDER -- He once charged fans to attend training camp, hit them up for $25 parking on Fan Appreciation Day in 2006 and sued season-ticket holders who could not pay for their seats during the recent recession.
ADVANTAGE -- Snyder gave Steve Spurrier $5 million a year but wanted 25 bucks for parking on Fan Appreciation Day? Edge: DANNY
Ugly defeat circa 2013
[+] Enlarge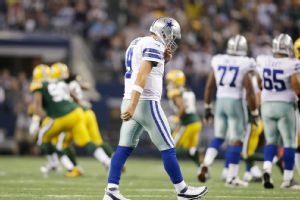 Tim Heitman/USA TODAY SportsWas it really that much of a shock when Tony Romo and the Cowboys melted down against the Packers?
JONES -- Week 15's 37-36 loss to the Packers was not just the worst loss of the season but one of the worst in Dallas history. The Cowboys had been 42-0 when leading by 20 at the half. Not anymore. The defense gave up 433 yards and Tony Romo threw two picks in the final three minutes, proving once and for all that it's impossible to be a clutch QB while throwing from the fetal position.
SNYDER -- A 45-10 loss to the Chiefs in Week 14 in front of the smallest crowd ever at FedEx Field was the Redskins' fifth defeat in a row, was the fifth double-digit loss of the season and guaranteed the third double-digit losing season of Mike Shanahan's four-year tenure.
ADVANTAGE -- The Cowboys were 30 minutes from writing their own playoff ticket, and then, as it always seems to do with this gutless team, disaster struck. This is the work and indelible trademark of Jones the GM: a historically bad defense, a coach lacking command and a $100 million franchise quarterback who wilts under pressure. On Sunday, RG III will be the best player in the stadium. Or, well, I mean he would be if he hadn't gotten benched by Shanahan for being healthy. Edge: JERRY
Worth
JONES -- Forbes says the Cowboys are the most valuable NFL franchise at $2.1 billion. It's official: The perpetually .500 Cowboys have become the Kardashians of the NFL -- the Cowdashians, if you will -- all hype and style and flash with no substance or talent or accomplishments.
SNYDER -- According to that same Forbes report, the Redskins are ranked third in value at $1.8 billion.
ADVANTAGE -- Based on personal net worth, by my calculations, Jones could buy and sell Snyder -- twice. His stadium is also worth about five times what Snyder's is. Oh, and did I mention that Jones also has a 25,000-square-foot TV? Edge: DANNY
Personnel
[+] Enlarge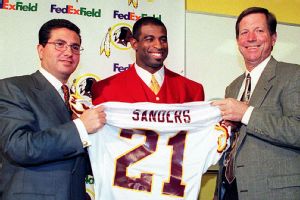 MARIO TAMA/AFP/Getty ImagesRemember the huge impact Deion Sanders had when he went to the Redskins in 2000? Neither do we.
JONES -- The Cowboys' problem has always been the combination of a bad GM and an owner not smart enough to get rid of him. In the pass-happy era of the NFL, Jones has been particularly bad with QBs (Quincy Carter, Chad Hutchinson, Romo) and receivers. He passed on drafting Randy Moss, gave up two first-round picks for Joey Galloway and forked over $54 million and three draft picks for Roy Williams.
SNYDER -- Any list of the top 10 free-agent busts usually includes between four and six players signed by the Redskins. Snyder gave Albert Haynesworth $100 million. He gave Deion Sanders $56 million. Bruce Smith got $23.5 million. And Jeff George (four years, $18.25 million) got $18.25 million more than he was worth.
ADVANTAGE -- Because he also serves as the Cowboys' GM, Jones probably does deserve more of the blame for what looks like another wasted season in Texas. But is that any worse than Snyder's employing Vinny Cerrato for almost a decade? Edge: PUSH -- The only winners here are NFL agents.
Foot in mouth
JONES -- "Any one of 500 coaches could have won those Super Bowls," Jones said, drunk on ego, in 1994, leading to the departure of coach Jimmy Johnson and pretty much the end of hope inside the Cowboys dynasty.
SNYDER -- "We'll never change the name. It's that simple. NEVER -- you can use caps," Snyder told USA Today in May.
ADVANTAGE -- Although he has softened his stance on the racist nickname that, essentially, everyone on the planet wants changed, Snyder's response has largely been a window into his entire regime: petulant, entitled, thin-skinned and lacking any kind of self-awareness or tact. Sure, Jones seems to say something odd or counterproductive about once a week (if not more frequently) but, hey, at least he says something. Snyder, who once banned fan signs inside FedEx, seems petrified at the prospect of having to answer for any of his actions. For all his faults, Jerry, at least, is a big enough man to be able to laugh at himself and accept criticism. Besides, Barry Switzer kinda proved Jones' point when he won a Super Bowl in Dallas. Edge: DANNY
Not a good look
JONES -- Last season when, I guess, the Cowboys played so poorly Jones simply couldn't believe his eyes, his son-in-law Shy Anderson cleaned his glasses for him as a national audience looked on, giggling.
SNYDER -- For me, the enduring image of Snyder has always been when, shortly after buying the team, he showed up to practice in a puffy, bright, brand-spanking-new Redskins Starter jacket that made him look like a fanboy, not an owner or a leader. It was the NFL equivalent of Michael Dukakis in a tank.
ADVANTAGE -- After all the media attention from the glasses incident, Anderson put out Jerry Wipes and turned the thing into a money-making venture (for charity). You just gotta respect that kind of hustle. Edge: DANNY
Coaching hires
[+] Enlarge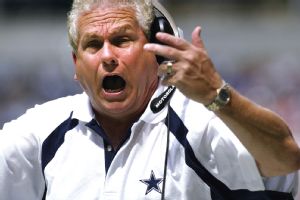 Ronald Martinez/Getty ImagesAt least Dave Campo was consistent. Dallas won five games in each of his three seasons as its coach.
JONES -- I knew Dave Campo (15-33 as a HC in Dallas) was not exactly the next Tom Landry when he pulled out his lunch during one of our conversations and it was a Tupperware container full of tuna salad marked with a piece of tape with his name on it, I guess because the other kids had been stealing his food from the fridge. I once thought Jason Garrett was Jones' most inspired choice, and a natural for the Cowboys, but he's making me long for Chan Gailey.
SNYDER -- To one of the most illustrious lists of head coaches in NFL history (Lambeau, Lombardi, Allen, Gibbs), Snyder has added Jim Zorn and Spurrier, who once bragged (more than likely from a golf cart somewhere) that, hey, 5-11 wasn't the worst in the NFL.
ADVANTAGE -- Snyder's franchise is so dysfunctional it has neutralized the coaching prowess of Joe Gibbs, Marty Schottenheimer and, now, Mike Shanahan, who, I fear, has gone batty. Edge: DANNY
Final tally
By my count, Snyder is way behind on the scorecard -- for now.
But if the Cowboys collapse (again) in D.C. against another backup quarterback and end up missing the playoffs (again), that could possibly be enough of an epic fail for Jones to retake the title of Worst NFL Owner.
Of course, that would require something controversial, bizarre and pathetic to transpire with one, or both, of these teams.
And, shoot, we all know nothing like that ever happens with the Cowboys or Redskins.
ESPN The Magazine
Senior writer for ESPN The Magazine FlemFile columnist for ESPN.com.
Has written more than 30 cover stories for SI and ESPN.
Author of "Noah's Rainbow" (a father's memoir) and "Breaker Boys" (stolen 1925 NFL title).
SPONSORED HEADLINES
MORE NFL HEADLINES
MOST SENT STORIES ON ESPN.COM
EDITORS' PICKS
Ray Rice deserves more than a two-game suspension.
McManus »

TMR supplies the right questions to ask on draft day.
Berry »

Andrew Luck heads the list of best U-25 players.
FBO