Darrelle Revis: Sherman out of line
Updated:
January 23, 2014, 3:24 PM ET
ESPN.com news services
Richard Sherman wasn't thinking about his fellow Seattle Seahawks teammates following their win over the San Francisco 49ers in the NFC Championship Game, according to Tampa Bay Buccaneers cornerback Darrelle Revis.

In what has become a topic of national discussion, Sherman has been blasted for comments he made about 49ers wide receiver Michael Crabtree after the Seahawks' thrilling 23-17 victory Sunday that sent them to the Super Bowl.
More Super Bowl XLVIII Coverage

Richard Sherman has said many times that one of his heroes is Muhammad Ali. After his recent braggadocios rant Sunday, some people have compared Sherman to Ali in his heyday, writes Terry Blount. Blog
---

Pete Carroll and the Seahawks are hoping to ride an old-school defensive formula all the way to a Super Bowl title. John Clayton discusses that topic, and many others, in this week's mailbag. Mailbag
Add Revis, who had a well-publicized Twitter feud with Sherman earlier this year, among those who think the cornerback was out of line.
"I didn't think that was good on his part," Revis told the Tampa Bay Times. "If you listen to what the reporter asked him, it was nothing about him, it was about the team, and he put himself ahead of the team.
"Other than that, he's an entertainer. … He talks. He probably talks in his sleep. I thought he shouldn't have said all that."
Sherman tipped away a pass in the end zone that was intended for Crabtree in the final seconds. Seattle linebacker Malcolm Smith intercepted the tipped pass to seal the victory, sending the Seahawks to their second Super Bowl in franchise history.
Moments later, Sherman was interviewed on Fox Sports and was asked to describe the play.
"I'm the best corner in the game,'' Sherman said, yelling. "When you try me with a sorry receiver like Crabtree, that's the result you're gonna get. Don't you ever talk about me."
SN: Do You Like Richard Sherman?

What did you think of Richard Sherman's postgame rant? Is Sherman the best CB in the NFL? Vote now »
Sherman then was asked who was talking about him.
"Crabtree," he said. "Don't you open your mouth about the best, or I'm gonna shut it for you real quick."
Sherman said Wednesday his postgame comments Sunday were ''misdirected and immature" but he is not a villain or a thug.
"We're talking about football here, and a lot of people took it further than football," Sherman said. "I was on a football field showing passion. Maybe it was misdirected and immature, but this is a football field. I wasn't committing any crimes and doing anything illegal. I was showing passion after a football game.
"It is what it is. Things like that happen and you deal with the adversity. I come from a place where it's all adversity, so what's a little more or people telling you what you can't do. I really was surprised. If I had known it was going to blow up like that I would have approached it differently, just in terms of the way it took away from my teammates. That's the thing I feel regretful about."
ESPN.com Seahawks reporter Terry Blount contributed to this report.
THE NFL ON ESPN.COM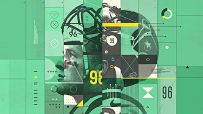 FiveThirtyEight.com reveals the secret process used to determine "Madden" ratings.
EDITORS' PICKS
If Adrian Peterson's court victory doesn't mean he's been reinstated, what does it mean? We sort it all out.
Seifert »

Is Jameis Winston still the top pick? Here's how the combine impacted Todd McShay's first-round outlook.
Mock 3.0

How would an everyday schlub fare in an NFL game? "Madden" utilized a human guinea pig to find out.
FiveThirtyEight »

MOST SENT STORIES ON ESPN.COM