Chargers, city to start stadium talks
SAN DIEGO -- Newly elected San Diego mayor Kevin Faulconer and the San Diego Chargers have started the process of establishing a dialogue that both sides hope will ultimately lead to a new stadium project that keeps the team in the city.
In his first comments on the subject since taking office on March 3, Faulconer reaffirmed that he remains committed to keeping the Chargers in San Diego, but he said he will not do so at the taxpayers' expense.
"The Chargers are incredibly important to the city and the region," Faulconer said. "I firmly believe that it's incumbent for everyone to work together. My main priority is going to be ensuring that any proposal that moves forward protects us as taxpayers here in San Diego. That will be my guiding principle. But I'm confident that we can achieve that."
Although Faulconer has not had formal talks with the team, preliminary conversations involving the Chargers' stadium proposal have taken place between the mayor's office and representatives of the team.
[+] Enlarge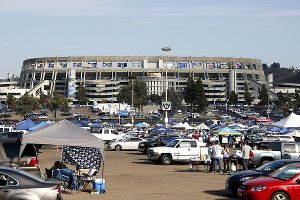 AP Photo/Ric TapiaThe Chargers have long sought a new home to replace Qualcomm Stadium, which was built in 1967.
"We're certainly going to be beginning the dialogue soon," Faulconer said. "Ultimately, it's one that I'm convinced that has to involve the greater San Diego community. And I look forward to playing a role in that.
"When you look at the success that Petco Park has had in the community, the opportunity for a new stadium has to be an entire package that makes sense for San Diego. That's my job as mayor."
The mayor assigned his deputy chief of staff for policy, Jaymie Bradford, to serve as a point person for his office on the stadium project. Bradford worked on the stadium issue in the past on the city's behalf.
Said Mark Fabiani, special counsel to Chargers president Dean Spanos, and the team's point person on the stadium issue: "We've been in close contact already with the mayor's office and are encouraged by the working relationship that has already been established."
The Chargers propose to build a $800 million to $900 million, football-only facility downtown and to the east of Petco Park -- home of San Diego Padres -- that could seat as many as 70,000 for Super Bowls.
Funding for the stadium would include contributions from the Spanos family and the NFL, along with selling and developing 166 acres of city-owned property that Qualcomm Stadium sits on, and another 100 acres of city-owned property that houses the San Diego Sports Arena, for the city's contribution.
Selling off the parcels of land could generate the city's financial contribution to the project without raising taxes, along with creating new tax revenue from the development of the land.
The Chargers propose that the facility be city-owned but privately run -- so the city would not be responsible for annual maintenance costs. The team has a development partner in Colony LLC out of Santa Monica, one of the biggest investment funds in the world. The Chargers also have interest in naming rights from a couple of multinational corporations.
The team could seek a city-wide special election as early as June 2015 for approval of a replacement for Qualcomm, which was built in 1967.
Several hurdles remain before the project can gain momentum locally. City of San Diego council president Todd Gloria, who represents East Village, the district where the stadium would be built, still seeks more clarity on the financing and location of the project.
Gloria said he's supportive of keeping the Chargers in town wants to see more specifics on the team's proposal.
"My sort of refrain has been, 'Where do you want to go? What it's going to cost? And how are you going to pay for it?'" Gloria said. "It's three simple questions, but they're big ones, right?
"Their decades' worth of work has taken them to East Village, in my council district. And there are a variety of reasons why they got there. So I think the question now becomes how much does it cost and how are you going to pay for it? When you have those things answered, then I think, like with these other big projects, they sink or swim based on the merits of the project."
Serving as a backdrop for the effort is the possibility of an NFL team relocating to the lucrative Los Angeles market. The Chargers are keeping a watchful eye on what happens in L.A., with 30 percent of the team's premium sales -- including advertising, sponsorships, club seats and suites -- originating in the Los Angeles market.
St. Louis Rams owner Stan Kroenke recently purchased 60 acres of land in Inglewood, Calif., near Hollywood Park racetrack that could house a stadium.
And Oakland Raiders owner Mark Davis has reportedly made inquiries about the possibility of returning to Los Angeles if his franchise cannot get a new stadium deal done in Oakland.
Los Angeles has not had an NFL team since the Rams and Raiders departed for St. Louis and Oakland, respectively, in 1995. The Chargers have a year-to-year lease with the city for Qualcomm Stadium. The agreement permits the team to terminate the lease at any time between Feb. 1 and May 1 of each calendar year.
NFL commissioner Roger Goodell addressed the issue of a team relocating to Los Angeles at the league's owners meetings this week in Orlando, Fla.
"We know there are millions of fans who want a team there," Goodell said. "We would love to do that, but it has to be successful. We are going to do it right if we are going to do it. There are different proposals out there and different opportunities, but not one that we are focused on and can say that we have the right solution."
ESPN San Diego Chargers reporter
Covered Seahawks for Tacoma News Tribune for six seasons.
Played college football at University of Puget Sound
THE NFL ON ESPN.COM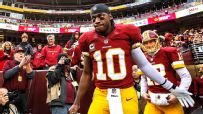 Skip Bayless examines why QB draft picks often fall short of experts' expectations.
EDITORS' PICKS
Many teams created buzz, but who has done the best work in free agency? Our experts hand out grades.
Sando

Mark Ingram had a breakout 2014. That's not the only reason the Saints RB is feeling blessed these days.
Triplett »

Darrelle Revis is just what the Jets' D needed. Which other '15 acquisitions will pay immediate dividends?
Williamson
Nike Men's Away Game Jersey San Diego Chargers Philip Rivers #17 Shop »

MOST SENT STORIES ON ESPN.COM