NFL playoff expansion talks tabled
ATLANTA -- NFL team owners have tabled discussions about an expanded playoff system until the fall after the topic was discussed during the spring meetings Tuesday, Cowboys executive vice president Stephen Jones told ESPN.com.
Percent of Teams To Make Playoffs
Of the four major North American sports leagues, only MLB has a lower percentage of its teams qualifying for the playoffs than the NFL, where 12 of 32 teams reach the postseason each season.
League
Pct. In Playoffs
NBA
53.3 (16 of 30)
NHL
53.3 (16 of 30)
NFL
37.5 (12 of 32)
MLB
33.3 (10 of 30)
-- ESPN Stats & Information
Commissioner Roger Goodell said at his news conference later Tuesday that the playoffs will not be expanded in 2014. He does expect expansion to happen in 2015, however.
"I would say that the primary reasons that we looked at, we looked at the competitive issues, we looked at the ticket-sale issues, we looked at issues with respect to the advertising market,'' Goodell said. "And I think our general view here is that we should proceed with a Thursday night focus that we have this year. We're adding additional inventory into the marketplace. And this makes the most sense for us for the 2014 season.''
Under consideration is expanding the playoff format from 12 teams to 14 teams. The owners, however, never indicated a vote would take place at the meeting.
More than anything, a handful of owners wanted to take a wait-and-see approach as they discussed details such as revenues, format and even workers' compensation concerns recently brought up by the NFLPA in reaction to legislation in Louisiana.
Goodell said he has talked to NFLPA executive director DeMaurice Smith about expanded playoffs.
"This is something that I've had numerous conversations with DeMaurice about,'' Goodell said. "I just spoke to him about it two weeks ago. And I think there are a lot of benefits to the players. That's something they'll have to evaluate. But they're our partners. And I've said on many occasions before, we're going to continue dialogue with all our partners to make sure that it can be done the right way.
"I do believe there's some real benefits to the players. The revenue, obviously, will increase. And they share in that. And they get a larger percentage of that.''
Goodell said Smith did not raise the question of workers' compensation when they spoke two weeks ago.
The NFL's fall meetings are scheduled for Oct. 7-8 in Detroit. For a playoff expansion change to become official, 24 of the 32 owners would have to vote in favor of it.
Giants owner John Mara repeated his opposition to expansion but conceded it is likely to happen.
"My guess is that if it happens, it will be for 2015, but that's not set in stone,'' Mara said. "I've always been against it. I just like it the way it is right now.''
The NFL last expanded the playoffs in 1990, adding a sixth qualifier in each conference.
The Steelers' Art Rooney seemed open to the idea when asked Monday night about expanded playoffs.
"I think it's worth some discussion,'' Rooney said. "I'm not opposed to it. It just depends on what all goes into the package with it: the schedule, the seeding arrangements, all those kinds of things. I don't want to see us change things too drastically. But I think it's fair game for discussion.''
ESPN Atlanta Falcons reporter
Covered Bears for seven seasons at Chicago Tribune
Also worked at Chicago Sun-Times, Fresno Bee
Honorable mention, Football Writers Association of America for enterprise writing, 2002
SPONSORED HEADLINES
MORE NFL HEADLINES
MOST SENT STORIES ON ESPN.COM
THE NFL ON ESPN.COM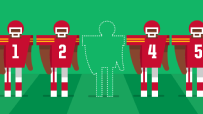 How many good or elite players away from Super Bowl contention was your favorite team?
EDITORS' PICKS
Who'll take Lombardi home from Arizona, the Seahawks or Patriots? Our experts make their predictions.
ESPN.com picks »

Rob Gronkowski regularly puts up monster stats. But the numbers ring hollow to him absent a SB ring.

MacMullan »

Flem File: The Seahawks' expertise in manipulating the NFL rulebook makes them somewhat impervious to penalties.
Fleming »