NFLPA prez critical of NFL, Goodell
Updated:
May 22, 2014, 7:51 PM ET
By
Mike Wells
| ESPN.com
INDIANAPOLIS -- A day after Washington Redskins safety Ryan Clark talked about the hypocrisy of the NFL -- and specifically commissioner Roger Goodell -- on ESPN's "First Take," NFLPA president Eric Winston said team owners need to be held to a higher standard.
Players have been critical of Goodell after he allowed Colts owner Jim Irsay to pitch Indianapolis' Super Bowl bid during the league's owners meetings earlier this week in Atlanta.
More from ESPN.com

Lack of action by Roger Goodell over misbehavior by NFL owners gives the impression that there's a discipline double standard, but there's more to the story, Jim Trotter writes. Story
Irsay was arrested March 16 for allegedly operating a vehicle while intoxicated.
"I don't understand why the discipline for an owner of one of these 32 teams that hold the shield of the league is compared to a 22-year-old kid," Winston told Pro Football Talk Thursday. "That's what I don't understand, is why are we trying to compare? To me, there should be a much higher standard for an owner, there should be no doubt because I think he represents that team, and that's what we've always said about the shield, right?
"To me it's not an apples-to-apples situation, it's a situation where we have an owner who has unfortunately gotten into some trouble, and I don't understand why we're trying to compare it to ... a player. This guy is an owner of a National Football League team, and to me that should mean so much more and in a way that he should be held to a much higher standard. And that's just my opinion of this situation."
[+] Enlarge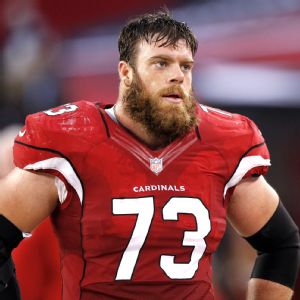 AP Photo/Rick ScuteriNFLPA president Eric Winston says that NFL owners should be held to a higher standard than players.
Goodell has remained adamant that he will wait until the legal process plays out before deciding what course of action to take with Irsay, who had $29,000 in cash and bottles of prescription drugs in his vehicle at the time, according to police. He faces four felony counts of possession of a controlled substance.
Irsay has been taking part in the Colts' day-to-day operations for several weeks since returning from a rehabilitation facility. He's back using Twitter, a favorite of his, was in the team's war room during draft weekend earlier this month, and was at the league meetings this week, where he declined to talk about the arrest or his stay at a rehabilitation facility.
On the final day of the meetings, when asked about Irsay's situation, Goodell said: "There have been no charges. So the answer is, until we have more information or more facts, we will let it play out."
"Players are looking very closely at this situation," Winston, who is not on an NFL roster right now, told Pro Football Talk. "They're looking and they're waiting to what happens. I've fielded the calls and I've talked to the guys. They're not happy with the way this system works, and they're not happy with the way the process really works. ... These players are going to have a very keen eye on seeing how the commissioner deals with this and what kind of suspension or punishment, if any, ends up being leveled on Mr. Irsay."
ESPN Indianapolis Colts reporter
Previously worked at Indianapolis Star, covering the Indiana Pacers for nine seasons
Also covered Vikings for St. Paul Pioneer Press
SPONSORED HEADLINES
MORE NFL HEADLINES
MOST SENT STORIES ON ESPN.COM
THE NFL ON ESPN.COM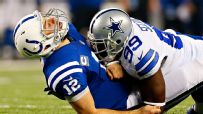 The Colts are in the playoffs, but they didn't look anything like a contender in Dallas.
EDITORS' PICKS
Marshawn Lynch and Seattle ran over Arizona to take control of the NFC West.
Rapid Reaction »

In what was a historic game by Tony Romo, the Cowboys routed the Colts and claimed the NFC East title.
Archer »

The Falcons beat the Saints to set up a winner-take-all matchup against Carolina for the NFC South title.
McClure »