Dan Marino files concussion lawsuit
Updated:
June 3, 2014, 10:09 AM ET
Associated Press
PHILADELPHIA -- Hall of Fame quarterback Dan Marino is among the latest group of football players to file a concussion-related lawsuit against the National Football League.
Mike and Mike
ESPN NFL analyst Merril Hoge talks about his experiences with concussions during his NFL career, football's safety and Dan Marino's concussion lawsuit against the league.
The 52-year-old former Miami Dolphins quarterback is one of 15 former players who filed a lawsuit in federal court in Philadelphia last week.
Marino and the other 14 plaintiffs join more than 4,800 others who have alleged the NFL misled players about the long-term dangers of concussions. The NFL has denied those claims.
The lawsuit doesn't specify any medical problems suffered by the plaintiffs including Marino, who retired in 1999. It seeks unspecified damages and medical monitoring.
The NFL and the original group of players agreed on a $765 million settlement last August. But the settlement was rejected by a federal judge in January.

Copyright 2014 by The Associated Press
SPONSORED HEADLINES
MORE NFL HEADLINES
MOST SENT STORIES ON ESPN.COM
CONCUSSION COVERAGE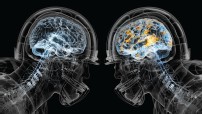 In the wake of the new book League of Denial, the subject of concussions remains in the national consciousness. Here is some of ESPN.com's more recent coverage of the story.
EDITORS' PICKS
Analysis, predictions and more for all 32 teams.
2014 preview »

A new Super Bowl champ
is a highlight of Nos. 30-21.
Story »

Browns receiver Josh Gordon has been suspended for year.
Story »