Brees wants Graham deal resolved
Updated:
July 14, 2014, 12:56 PM ET
By
Ed Werder
| ESPN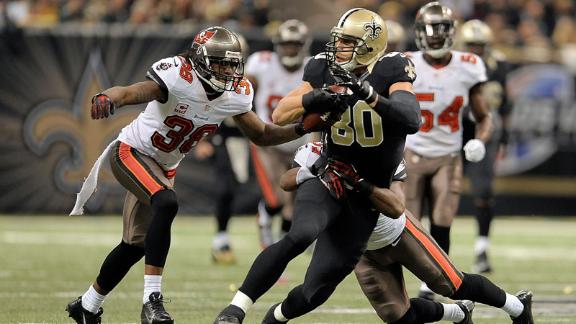 Inside The Huddle: Jimmy Graham
Saint's Jimmy Graham wasn't the only loser in getting the franchise-tag decision as TE.
Inside The Huddle: Jimmy Graham
Quarterback Drew Brees told ESPN he wants Jimmy Graham's contract situation to be resolved so he has time on the field with his star tight end before the New Orleans Saints' season opens.
"Jimmy's my guy," Brees said in a sit-down interview late last month. "I want what's best for him. I want what's best for the team. Certainly there's a way that everybody can be happy coming out of this deal. But it is part of the process, and I went through something similar to this two years ago, so I get it."
"

Jimmy's my guy. I want what's best for him. I want what's best for the team. Certainly there's a way that everybody can be happy coming out of this deal.

"

-- Drew Brees, on Jimmy Graham's contract situation
Brees said he's very confident that the sides will agree on an equitable, long-term deal that pays Graham what he deserves as the premier tight end in the NFL.
"And I think you just hope that it's as amicable as possible and nothing is taken personal and it's just the business side of this thing sometimes, and hopefully it gets resolved sooner than later because I'd like to have some time with him before the season," he said. "But I'm very confident it will get resolved, he'll get a long-term deal, the one that he deserves, and we'll be able to move forward.''
The Saints have eight days to accomplish that -- July 15 is the deadline for franchise players to sign multiyear contracts. Sources told ESPN they expect negotiations will extend right until the deadline, as was the case with Brees two years ago.
The Saints are $7 million under the salary cap and could create more space if they structure a long-term contract with Graham.
More from ESPN.com

Mailbag: There are no easy fixes for a franchise tag system that hasn't kept up as the NFL game has evolved, writes John Clayton. Story
It remains uncertain whether Graham will appeal arbitrator Stephen Burbank's decision that he's a tight end rather than a wide receiver, which means the franchise tag is $7 million rather than $12 million.
One thing for certain, according to league sources, is that the decision makes Graham more attractive to other teams around the league that might consider making an offer. Any team signing Graham would have to surrender two first-round picks to the Saints if they chose not to match.
The teams likeliest to consider that would be those that believe they'll be drafting in the Nos. 27-32 range next year, making the Atlanta Falcons, New England Patriots and Indianapolis Colts teams to watch.
The Green Bay Packers also would make some sense, as general manager Ted Thompson knows that predecessor Ron Wolf's greatest regret was not providing Brett Favre enough top receiving targets, but Thompson also values his draft choices. Pursuing Graham would almost certainly prevent the Packers from being able to re-sign Jordy Nelson or Randall Cobb.
SPONSORED HEADLINES
MORE NFL HEADLINES
MOST SENT STORIES ON ESPN.COM
THE NFL ON ESPN.COM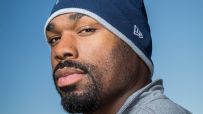 Overwhelmed by requests for money,
Tyron Smith had to back away from family.
EDITORS' PICKS
Source: Jay Gruden has benched Robert Griffin III in favor of Colt McCoy, who will start in Indy.
Story »

The Packers have risen to No. 2, setting up a rare showdown between our top two teams.
Rankings »

Overwhelmed by demands for money, Cowboys LT Tyron Smith took drastic action against his family.
Keown »