Commentary
Browns can't abandon Josh Gordon
Standing by talented but troubled receiver will help salvage promising career
Originally Published:
July 16, 2014
By
Ashley Fox
| ESPN.com
The Cleveland Browns should not release Josh Gordon.
They have a moral obligation to help and support him so he can get his extremely promising career and life back on track.
It is the right thing to do. The Browns are the team that drafted Gordon knowing full well about his history of failed drug tests. Instead of providing a stable environment, Cleveland has been the poster child of NFL dysfunction. Gordon has been through two owners, three general managers, three head coaches, three offensive coordinators and three wide receivers coaches.
[+] Enlarge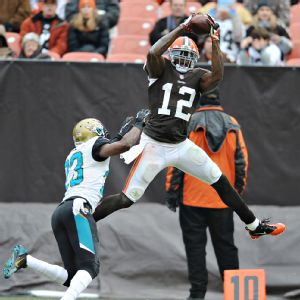 David Dermer/Getty ImagesDespite sitting out the first two games due to suspension, Josh Gordon led the league with 1,646 receiving yards.
Gordon worked for a man in former general manager Michael Lombardi who, as an analyst for NFL Network in 2012, called him a wasted draft pick after Cleveland selected him in the second round of the supplemental draft. He endured trade rumors last season and then exploded on the field after the trade deadline passed and he was still with the Browns.
Owner Jimmy Haslam twice has wiped out his front office and coaching staff and now is presiding over a third, led by rookie head coach Mike Pettine and first-time general manager Ray Farmer.
Haslam has claimed that he is learning on the go, but he has made questionable decisions about the men he has chosen to employ -- or not employ -- and they haven't led to success.
That's not to make excuses for Gordon. He needs to quit smoking pot. He is perilously close to throwing his immense talent away. Gordon is facing at least a yearlong ban for violating the NFL's substance abuse policy. He missed the first two games of last season serving another suspension for the same infraction. Shortly after learning he could miss the 2014 season -- he is appealing -- Gordon was arrested and charged with driving while impaired in Raleigh, North Carolina.
Going back to his days at Baylor, Gordon has displayed a pattern of making bad decisions. That does not make him unique. What does make him unique is his talent on the football field. At 6-foot-3 and 225 pounds with an 82-inch wingspan, Gordon is long, strong and fast. He has huge hands. He is a top-three talent at wide receiver, right up there with Detroit's Calvin Johnson and Arizona's Larry Fitzgerald.
Playing in only 14 games last season, Gordon racked up 87 catches and 1,646 receiving yards. He became the only receiver in NFL history to have consecutive 200-yard receiving games. In a blistering six-game stretch following the Oct. 29 trade deadline, Gordon caught 39 passes for 818 yards. He led the NFL in receiving yards and made his first Pro Bowl despite catching passes from three different mediocre starting quarterbacks.
More from ESPN.com

Don't assume Josh Gordon's career is over. Top talents typically get numerous chances to right the ship. Story
---

What is the Cleveland Browns' contingency plan for Josh Gordon's possible suspension? Field Yates examines that replacement plan and others involving injured or suspended star NFL players. Story

The smart business decision for the Browns would be to help Gordon get his life on track. Fair or not, there are different rules for different players depending on talent and production. Gordon proved last season that he has a wealth of both, but at 23 years old, he needs help navigating life. He is still growing, learning and maturing.
Gordon needs structure, and the Browns should give it to him when they can. Haslam should take a page from Dallas owner Jerry Jones' playbook. Create the Josh Gordon rules, much like Jones created the Dez Bryant rules.
Bryant comes from a rough background. He was deemed a character risk by many talent evaluators in 2010, when the Cowboys moved up a few slots to select him 24th overall in the draft. After Bryant had an altercation with his mother during the 2012 offseason, Jones instituted strict rules for Bryant and made him comply.
Bryant was not allowed to drink alcohol. He was not allowed to go to strip clubs and could only go to nightclubs that the team approved. Bryant had to attend counseling twice a week. He had a three-man security team, and someone was with him at all times, driving him to and from practices, games and team functions.
The Cowboys have kept a finger on Bryant, and while he has still had his moments, like when he walked off the field last year against Green Bay before the game was over, he has not gotten into significant trouble. Ultimately, Bryant has matured.
The problem the Browns and Gordon likely will face is that if he is banned for a calendar year, Gordon will not be allowed at the team's practice facility. He will not be around teammates, coaches or the player development staff. He will largely have to fend for himself.
That could be a problem.
What would be worse is the Browns abandoned Gordon altogether. The team owes it to Gordon to help him get his life together, and if he does, the reward on the back end will be huge.
ESPN.com NFL columnist
Joined ESPN in 2011
Also worked at Sports Illustrated, Philadelphia Inquirer and Louisville Courier-Journal
THE NFL ON ESPN.COM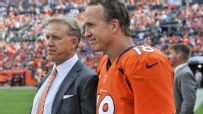 Peyton Manning bought into the Broncos' Super Bowl vision with a $4 million pay cut.
EDITORS' PICKS
Mastery of the salary cap's intricacies, with its spending limits and minimums, is a necessity in today's NFL.
Ashley Fox »

How much does the combine matter in draft analysis? Look at Kevin White's surge up Mel Kiper's board.
Mock 3.0

Durable, fiery and talented, Ndamukong Suh would thrive on any NFL team. We size up his leading suitors.
Dominik

MOST SENT STORIES ON ESPN.COM