Drew Brees: Feel like I'm 25
WHITE SULPHUR SPRINGS, W. Va. -- Allegedly, New Orleans Saints quarterback Drew Brees turned 35 years old earlier this year. But he's not buying it.
In fact, he insisted that he truly believes he's capable of playing another 10 years.
Going The Distance
Saints quarterback Drew Brees trails Brett Favre by 20,757 yards on the NFL's all-time list. What would he need to average over the next few years to top that? Here's a look:
Time frame
Avg. yards
Over the next 4
5,190
Over the next 5
4,152
Over the next 6
3,460
Over the next 7
2,963
Over the next 8
2,595
Over the next 9
2,307
Over the next 10
2,076
-- Brees threw for 5,162 yards in 2013
-- ESPN Stats & Information
"I'm not in the decline like most guys maybe in their mid-30s. In my eyes, I'm not in my mid-30s, I'm 25," Brees said after the first practice of his 14th NFL training camp Friday.
"I think it's a mindset," said Brees, whose rigorous offseason workout routine was chronicled in a cover story by Sports Illustrated this week. "Certainly there are things that come with getting a bit older. A bit more maintenance, a bit more recovery, some of these things. Maybe a little bit different in the way that you train, and I feel like I've evolved along with that. But I think so much of it is a mindset.
"If I tell myself I'm 25, I'm 25. And honest to God, that's my mindset. I could play for another 10 years. And that would be my goal. I mean, I'm taking it one year at a time, but there's no reason why I couldn't do that."
Brees was asked what drives him, even though he's already accomplished so much on and off the field, including a Super Bowl MVP, the first $20 million-per-year contract in NFL history in 2012, and four of the eight 5,000-yard passing seasons in league history.
"I love to compete. I love to win. I love the game of football. I like to do things that people haven't done before or that people would say are impossible or extremely difficult to do," Brees said. "At the end of the day, I'd love for people to be able to look at my career, my legacy and say, 'Man, he did it the right way. He's a pro. And he did for a long time and was consistent.'
"When I say consistent, I just don't want to be at the same level each year. I want to consistently get a little bit better. And I still feel like I'm at that point where each and every year I can get a little bit better."
ESPN New Orleans Saints reporter
Covered Saints for eight years at New Orleans Times-Picayune
Previously covered LSU football, San Francisco 49ers
Iowa native and University of Iowa graduate
SPONSORED HEADLINES
MORE NFL HEADLINES
MOST SENT STORIES ON ESPN.COM
THE NFL ON ESPN.COM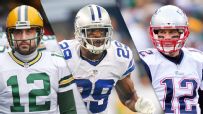 Could J.J. Watt or DeMarco Murray yank the MVP from the quarterbacks' grasp?
EDITORS' PICKS
New England has the only NFL offense that changes its game plan each week to attack opponents' flaws.
Roundtable »

Jay Cutler's contract is burdensome, but the Bears do have options. We dissect the various scenarios.
Sando

Big-name QBs lead off Todd McShay's first 2015 mock draft. Is RB Melvin Gordon far behind?
McShay