No clear winner in Browns' QB race
Updated:
August 19, 2014, 10:12 AM ET
By
Pat McManamon
| ESPN.com
LANDOVER, Md. -- Brian Hoyer and Johnny Manziel did little to shift the race for the Cleveland Browns starting quarterback job on Monday night. When it mattered most in a 24-23 preseason loss to the Washington Redskins, the two struggled.
Manziel's night also might be remembered more for the middle-finger gesture he gave toward the Redskins bench after a third-quarter incompletion than for the game he played on the field.
"I have to understand that the cameras are probably solidly on me, so I need to be smarter about that," Manziel said postgame.
Coach Mike Pettine has said he wants to decide on a quarterback by Tuesday or Wednesday, but it's tough to see what he has to work with based on this game. After the game, he left open the possibility of extending the competition another week but said he preferred not to.
More from ESPN.com

With poor play by both candidates and Johnny Manziel's obscene gesture, Cleveland's QB picture is as fuzzy as ever, Pat McManamon writes. Story
"I think all options are on the table," Pettine said. "We'll see."
In the first half, with starters facing starters or the Redskins defensive second team, the pair struggled as they tried to complete the simplest of passes. When they did throw catchable balls, the receivers didn't help. Josh Gordon dropped a short throw from Hoyer, and Jordan Cameron didn't see a quick throw from Hoyer on the first possession.
The first half revealed so little that Pettine brought Manziel back in for two series in the third quarter, though Pettine said that because Manziel needs the work, the plan was to bring him back after halftime. He was able to guide the Browns to their first preseason touchdown, but he benefited from a defensive penalty that negated a third-down incompletion, and he made no memorable throws on the drive. The touchdown came on a short dropoff to Dion Lewis over the middle that he ran into the end zone for an eight-yard score.
Manziel's second half was played against Washington's middle- to end-of-the-roster players. The touchdown was good, but it's tough to tell if Manziel's second half helped him greatly. After going 2-for-7 in the first half, he went 5-for-9 for 36 yards with the TD in the second.
"I'm just glad we got into the end zone," Manziel said. He added that he knew he did not do a very good job overall.
Hoyer played in the first half and finished 2-for-6 for 16 yards, with four coming on the last play of the half when the Browns were running out the clock. His other completion was for 12 yards to MarQueis Gray, who fumbled the ball to Washington at the end of the play.
"It's disappointing," Hoyer said. "It's embarrassing."
Hoyer had the drop by Gordon, a missed connection with Andrew Hawkins in the end zone and the missed connection to Cameron. He started drives at the Washington 48 and 15 and could not get a touchdown.
"We started off poorly, and it never changed after that," Hoyer said.
Manziel was 2-for-7 for 29 yards the first half and never looked comfortable against Washington's starters. He made a good throw on the run to Hawkins but threw other passes low or behind receivers.
"We're a work in progress," Pettine said.
ESPN Cleveland Browns reporter
Covered Browns, Cleveland sports since 1998
Previously worked at Fox Sports Ohio, AOL Fanhouse, Akron Beacon Journal/Ohio.com
Cleveland native, proud father of two daughters
SPONSORED HEADLINES
MORE NFL HEADLINES
MOST SENT STORIES ON ESPN.COM
THE NFL ON ESPN.COM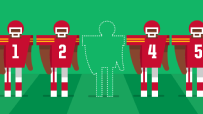 How many good or elite players away from Super Bowl contention was your favorite team?
EDITORS' PICKS
Who'll take Lombardi home from Arizona, the Seahawks or Patriots? Our experts make their predictions.
ESPN.com picks »

Rob Gronkowski regularly puts up monster stats. But the numbers ring hollow to him absent a SB ring.

MacMullan »

Flem File: The Seahawks' expertise in manipulating the NFL rulebook makes them somewhat impervious to penalties.
Fleming »