Bill O'Brien defends D.J. Swearinger
HOUSTON -- Texans coach Bill O'Brien backed his safety a day after D.J. Swearinger drew the ire of Denver Broncos quarterback Peyton Manning for a hit that concussed receiver Wes Welker.
Swearinger A Big Hitter
This isn't the first time that D.J. Swearinger has made headlines for a controversial hit.

• Aug. 23, 2014: Swearinger knocked Broncos receiver Wes Welker out of the game with a shoulder-to-head hit, drawing the ire of Peyton Manning. Welker was concussed on the play.

• Aug. 18, 2013: Swearinger ended Dolphins tight end Dustin Keller's season with a low hit that shredded his knee.

• Sept. 17, 2012: Swearinger, then with the University of South Carolina, was suspended by the SEC for one game for an illegal hit on a defenseless UAB receiver.

-- ESPN Stats & Information
"D.J. was not trying to do any harm," O'Brien said. "He was trying to make a play, make a tackle. The call was correct. What you continually have to do is show the guys on tape what a proper tackle is. It's not leading with the head. It's hitting with your shoulder and hitting basically between the shoulders and the waist and not above the neck area. But last night's play was a tough one to say, 'You were really at fault there.'"
Swearinger hit Welker late in the second quarter of the Texans' 18-17 preseason win against the Broncos. The safety's shoulder collided with the receiver's head as Welker lowered it to make the catch. Welker left the game shortly thereafter and was later found to have a concussion.
It is Welker's third concussion in less than a year.
Manning took issue with the play and told Swearinger so right away. Then, he threw a touchdown pass on the next play and then took a penalty for taunting when he barked at Swearinger again.
After the game, Swearinger said he was surprised his hit drew a penalty flag, but that he tried to make the play cleanly.
"I led with my shoulder," Swearinger said. "That's the only thing I can do. He's a short guy. I led with my shoulder. The results are the results and that's all I can do on that play." O'Brien generally concurred with Swearinger's perspective. When asked if he was confident that Swearinger could play within the rules, O'Brien said, "Yes."
"D.J. is playing hard," O'Brien said. "... I'm enjoying having him on this team. The way he plays the game ... he's an emotional guy. He loves football. That's what I love about him. From the day we arrived here he was one of the first guys in the building. He worked hard in our weight room, worked hard out on the practice field in OTAs (and) has worked extremely hard to get better in training camp. He's just an emotional guy. That's something every team needs.
"We all need to understand how to reign in our own emotions during the game. I could point to myself. I was probably barking at the referee about something I shouldn't have."
ESPN Houston Texans reporter
Previously covered Texans for Houston Chronicle and Jaguars for Florida Times-Union
Northwestern University graduate
SPONSORED HEADLINES
MORE NFL HEADLINES
MOST SENT STORIES ON ESPN.COM
THE NFL ON ESPN.COM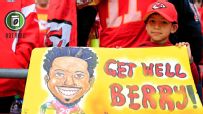 Eric Berry has received an outpouring of support since being diagnosed with cancer.
EDITORS' PICKS
The NFC North and AFC North are two of four divisions to be settled in a Week 17 packed with intrigue.
Game previews »

Getting these workload warriors to leave the field is no easy task. Here is this year's NFL All-Ironman team.
Pro Football Focus

Can the Lions win in Green Bay? Here are all our Week 17 picks.
NFL Nation »