Poll: Raiders least desirable team
Updated:
August 25, 2014, 3:56 PM ET
By
Rich Cimini
| ESPN.com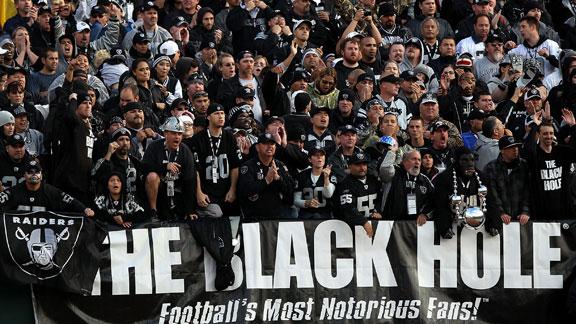 NFL Nation Confidential: Play Where?
Brian Dawkins discusses the results from the NFL Nation Confidential poll about where players do not want to play.
NFL Nation Confidential: Play Where?
It pays to be a member of the Oakland Raiders -- but only if the pay is extraordinary.
The Raiders are the least desirable team to play for in the NFL, according to an NFL Nation Confidential survey posed to 100-plus players on the following question:
"The only way I'd play for [team name] is if they doubled my salary."
[+] Enlarge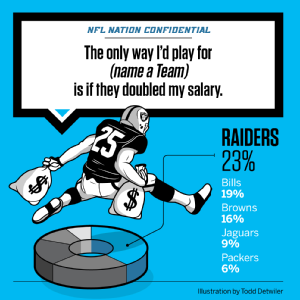 Illustration by Todd Detwiler
Of the 82 players who answered, 23 percent named the Raiders, followed by the Buffalo Bills (19 percent), Cleveland Browns (16 percent), Jacksonville Jaguars (9 percent) and Green Bay Packers (6 percent). These are tough times for the Raiders, who have endured 11 consecutive nonwinning seasons and last reached the postseason in 2002 -- the season the Tampa Bay Buccaneers routed them in the Super Bowl.
Since then, the organization has become known for its instability. Dennis Allen is the team's sixth different head coach since 2004. Questions about the franchise's future in Oakland also have fueled a cloud of uncertainty.
Nevertheless, Raiders defensive back Charles Woodson was stunned when informed of the results of the leaguewide survey.
"I've never heard anybody that said they didn't want to play for the Raiders, so that's pretty shocking," he said. "I think you've got to take the attitude that if you didn't want to come here, it doesn't matter anyway. Over the years, I've known and talked to countless players that said, 'Man, I would love to come play in the silver and black.' So I think that poll might be kind of skewed."
Teammate Marcel Reece said he wasn't shocked with the results because it was an anonymous poll. He lashed out at those who picked the Raiders, saying, "Whoever said it, they're telling a lie. They didn't think about it. They thought about the one team that has the biggest stigma of negativity around them. From the media. From the masses.
More from ESPN.com

NFL players talk to each other, and teams get reputations -- good and bad. And if you have a bad one -- like the Raiders -- it's pretty tough to shake, Dan Graziano writes. Story
"The most hated team in the world? The first thing that comes to mind is the Oakland Raiders. The bad boys. The black sheep of the NFL. And it's not really a negative thing because we don't do bad things. We're not the team that's having the most arrests in the NFL, or the DUIs or the drug cases or throwing the big parties. But we just have that stigma around us.
"If guys really would be honest with themselves, and think about when they were little kids, or when they wanted to be tough guys, or they wanted to play football, what team did they think about? Or what helmet did they want to put on? What colors did they want to put on? What shield did they want to represent? I can guarantee you that 80 to 90 percent of true lovers of this game -- lovers of competition and have passion for this game -- would say the Oakland Raiders.
"I would play for this team if they paid me half of what they pay me, and I have taken pay cuts to stay. I guarantee you, if half those guys would have the opportunity to come play for this franchise, they'd be on board. They'd get it."
Wide receiver Jacoby Ford, who played with the Raiders from 2010 to 2013, agreed with Reese's strong opinion, saying outsiders are buying into the perception, not the reality.
"I think people have a certain persona of the Raiders," Ford said. "When you've actually been in that organization, you know how it is. That statement isn't true. I've been in that organization. Anyone who came to the Raiders, it was always, 'I always wanted to be a Raider.' They love the silver and black."
Evidently there's not as much love as they believe. One opposing player, speaking on the condition of anonymity, said the survey was dead-on. Alluding to the Raiders' reputation for overpaying aging veterans, the player said of the survey result: "It's true. They've got a bunch of players who got double their salary."
ESPN.com reporter Paul Gutierrez contributed to this story.
ESPN New York Jets reporter
Longtime Jets beat writer for New York Daily News
Syracuse University graduate
SPONSORED HEADLINES
MORE NFL HEADLINES
MOST SENT STORIES ON ESPN.COM
THE NFL ON ESPN.COM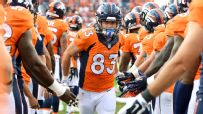 Will the toughness that helped Wes Welker succeed damage his long-term health?
EDITORS' PICKS
Wes Welker built a stellar career on fearlessness. Does that attribute put his long-term health at risk?
Van Valkenburg »

New England has the only NFL offense that changes its game plan each week to attack opponents' flaws.
Roundtable »

Jay Cutler's contract is burdensome, but the Bears do have options. We dissect the various scenarios.
Sando