Peyton Manning: Broncos 'prepared'
Updated:
September 3, 2014, 6:47 PM ET
By
Jeff Legwold
| ESPN.com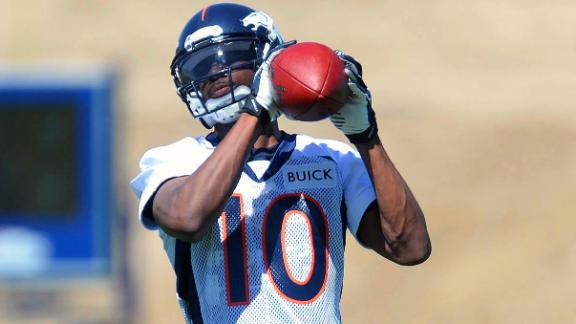 How Will The Broncos Replace Welker?
Jeff Legwold discusses how Emmanuel Sanders and Cody Latimer will make up for the offensive production usually carried by WR Wes Welker.
How Will The Broncos Replace Welker?
NEXT VIDEO
ENGLEWOOD, Colo. -- There may have been plenty of folks who were surprised to hear this week that Denver Broncos receiver Wes Welker had been suspended for four games for violating the league's policy on performance-enhancing drugs, but quarterback Peyton Manning wasn't one of them.
"I guess I wasn't shocked, I guess (I) had an idea it might be happening," Manning said when asked after Wednesday's practice, the team's first since Welker's suspension was announced, if he was taken aback by the news. "It was something we prepared for.''
Because of the timeline involved in league discipline with the policy on PEDs, the Broncos likely knew about Welker's "notice of discipline'' for a failed test by the time the players reported for training camp on July 23.
More from ESPN.com

Receiver Wes Welker is the second Bronco to be suspended this week. A team that had coveted a quiet summer has had anything but that as the regular-season opener approaches, writes Jeff Legwold. Story
---
Players must request an appeal hearing within five days of receiving the notice and the appeal hearing, the policy says, must be within 20 days after the request for it.
So the Broncos have indeed tried to prepare themselves for Welker's absence by how they constructed their roster with six wide receivers, including Welker, at the initial cutdown to 53 players to go with two more on the practice squad.
Welker, Broncos head coach John Fox said, came to the team's complex Wednesday morning -- "he was allowed to be in the building, not for very long'' -- but because of the rules in the PED policy, can't visit the complex or use any of the team's facilities during his suspension.
For his part, Manning was fairly blunt in discussing the Broncos' habit in his three seasons in Denver of having a starter suspended by the league. He also said the approach inside the team's complex is, once again, to push through it.
"It's the third year running we've had a starting player suspended at the start of the season," Manning said. "That's not something the Broncos want to brag about, but it's the reality. We've been able to still win games despite that. So no question it's a test; we'll see how we handle this test."
In 2012, linebacker D.J. Williams was suspended for the first nine games of the season. Last season it was linebacker Von Miller who was suspended for the first six games of the season for violations of the league's substance-abuse policy.
And this year, in a span of a week, kicker Matt Prater and Welker were suspended for the first four games of the season. Because of a Week 4 bye players can be reinstated to return to practice Oct. 6, after the Broncos' Week 5 game against the Arizona Cardinals, and be eligible to play Oct. 12 against the New York Jets.
"There is a difference when you have an injured player or a player suspended,'' Manning said. "Losing Wes is a self-inflicted. It's different than an injury. But I still put it in the adversity category. I try to stay positive in these situations. Everybody else is talking about the negative going on. What we're talking about is the positives. You find out a little bit about your team, and can you handle it."
ESPN Denver Broncos reporter
Covered Broncos for nine years for Denver Post and Rocky Mountain News
Previously covered Steelers, Bills and Titans
Member of Pro Football Hall of Fame Board
of Selectors since 1999
THE NFL ON ESPN.COM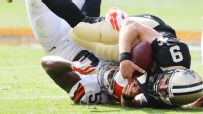 The Saints are off to a disappointing start, mainly because they've lacked a finishing touch.
EDITORS' PICKS
Better savor Week 3's SB rematch, it may be a while before there's another one.
TMQ »

Devon Still provided an update on his daughter's cancer fight.
NFL Nation TV

The Vikings reinstated Adrian Peterson because they know they can't win without him.
Seifert »
ESPN FAN SHOP